Walter Schott Hall

In the mid-1960's, the Xavier Jesuit Community outgrew Hinkle Hall. Through the generosity of the Walter E. Schott Family Foundation, a new 10-story residential building was constructed for the community and appropriately named Schott Hall. Today, the building is the home of a number of offices and departments, including the Office of Admission, making it the first building on campus that most prospective students and their families visit.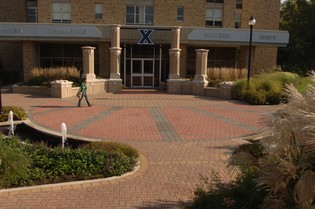 Quick Facts
Dedicated: 1966
Named After: The Walter E. Schott Family Foundation
Square Footage: 245,000
Home to:
Additional Notes:
Considered a high rise (10-story building).

"Learning, Serving, Achieving, Together"

The words above the entrance to the Admissions Office reflect the heart of the Xavier community. It is what we do and how we do it; together. In the words of our mascot, "All for One".