Xavier graduates: Changing the world since 1831
98 percent of our students are employed, attending grad school or working in service positions within six months of graduation. See below for outcomes specific to your major. View how this data was collected through our Office of Institutional Research.
Success Rate
Top Employers
Top Jobs
Success Rate Components
View Additional Information from our Office of Institutional Research.
Serving in the Military or a Volunteer Program
Majors in this category
---
Xavier students become graduates, and they use their experiences to be successful in the world.
Xavier helped to instill and foster hard work, love of learning, love of others and compassion, all of which are the tools I use on a daily basis to care for my patients. Xavier also taught me that life is more than a sum of its parts and being well-rounded is the foundation for living a balanced and fulfilling life.
Laura T. Broxterman
Obstetrician Gynecologist, The Christ Hospital Health Network
Biology '05
I felt very well prepared and ahead of the others in the workplace. The things I learned at Xavier covered a broad base of computer science, including the ability to learn new things on my own. This is a field that changes.
Mike Helmick
Senior Software Lead and Technical Engineer, Google
Computer Science '00
My Xavier experience gave me many opportunities to understand and get to know myself. I probably learned as much about my own though processes and motivations as I did about academic content. And the community at Xavier is truly special—its members are supportive, compassionate and committed to growth.
Paul Moeller
Lead Teacher at Ethel M. Taylor Academy
Middle Childhood Education '08
Success After Graduation
Xavier students land jobs as analysts, accountants, teachers, nurses, doctors, researchers, software developers, social workers, lawyers, and so much more. Our outcomes rates for the class of 2019 indicate how many students are employed, volunteering or in graduate school within six months of graduation.
97%
College of

Arts and Sciences
98%
College of

Professional Sciences
99%
Williams

College of Business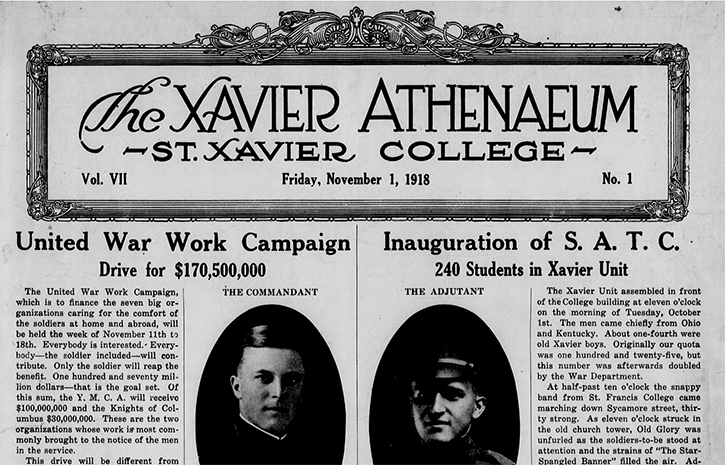 One of the ways Xavier is making sure people will not forget the pandemics of the past is with the COVID-19 & Xavier: A Digital Collection project. In an attempt to capture and document the impact of the virus on the Xavier community, as well as our response to the challenges it poses, University Archives is asking for stories, photos and other contributions.