ADSUM: Contemporary Paintings on Ignatian Spirituality
Quick Facts
Artist: Holly Schapker, a 1992 Xavier art graduate, created the collection of paintings titled
Adsum, Latin for "Here I Am," which depicts the life of St. Ignatius Loyola.
Location: The Center for Mission and Identity in Justice Hall
A statement from the artist:
"On the night Gabriel visited Mary, as the biblical story goes, he asked her to bear a child who would be called Emmanuel, a name that means: 'God is with us.' Perhaps there was a pause until she answered, 'Adsum' which is the Latin expression for, 'I am here.' Not a word easily translated into the English language, 'Adsum' means being in a state of mind where the person is completely available and willing to serve God. St. Ignatius' Spiritual Exercises allowed me to approach this state in my painting studio and outside of it. The body of work contained in this exhibition is derived from my interpretation of St. Ignatius' life, mission, and Spiritual Exercises. I present this work as a woman on her own pilgramage to spiritual understanding in the tradition of the Jesuits."
- Holly Schapker

Holy Schapker '92 receives Presidential Citation
In recognition of her dedication to the mission of the University, the Jesuit network, and the Christian community through her artistic talents and educational services, including gifting her Adsum: Contemporary Paintings on Ignatian Spirituality to the Center for Mission and Identity. Xavier University is proud and honored to present you with a Presidential Citation on this day, Monday, April 11, 2016.
---
ADSUM ARTWORK COLLECTION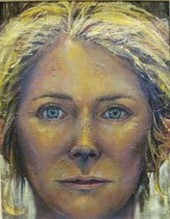 Self Portrait
Oil, dirt, leaf, and twigs on canvas
11" x 14"
Eye Slits Landscape
Oil on canvas
72" x 42"
Ignatius of Loyola's Spiritual Exercises look to a transformation of consciousness, and the freedom that comes with it, to move beyond the constraints of vision imposed by the limited atmosphere of society.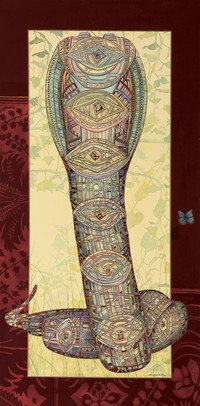 Serpent-like Creature
Oil on canvas
24" x 48"
One of Ignatius Loyola's spiritual visions was a serpent-like creature that assisted him in forming his rules for discernment of spirits.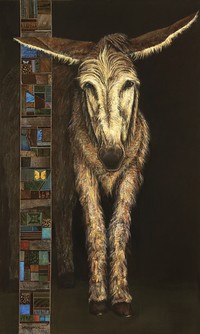 Donkey
Oil and maps on canvas
36" x 60"
On his way to Montserrat Ignatius did not know which path to take. He allowed the donkey to decide, symbolizing the relinquishment of his own self-will.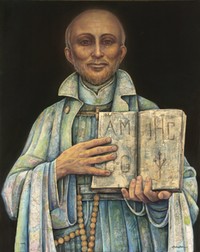 Ignatius Portrait
Oil and maps on canvas
40" x 60"
The contemporary maps embedded in Ignatius' garment represent his close relationship with "Our Lady of Our Way." It also represents the worldwide mission work of the Jesuits and the contemporary relevance of his story.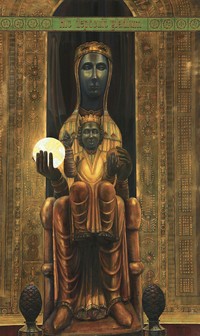 Black Madonna of Montserrat
Oil on canvas
36" x 60"
St. Ignatius of Loyola, taking a leap of faith, laid his sword at the foot of the statue of the Black Madonna of Montserrat.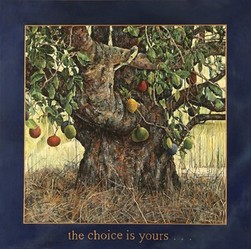 Fruit Tree/Tree of Life
Oil on canvas
36" x 36"
The tree of free choice -and responsibility- becomes clear when realizing the extent of God's love for us.
Sword
Oil on wood
60" x 7"
The sword that Ignatius laid down at the foot of the Black Madonna.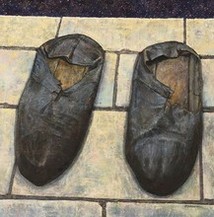 Shoes
Oil and maps on canvas
40" x 40"
Ignatius Loyola looked to the stars for inspiration throughout his life, yet he remained grounded walking the earth one step at a time. He was a pilgrim who mapped a path to God.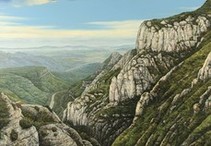 Montserrat Landscape
Oil and maps on canvas
72" x 50"
In Montserrat, Ignatius Loyola pondered his life and contemplated his confessions and desires in hopes of a future with God. The landscape represents the vastness of the possibilities opening to him and the ongoing expansion of his vision.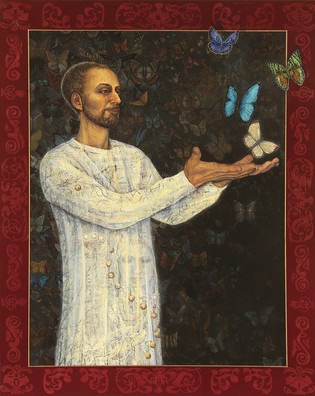 Epiphany Outside Manresa
Oil and maps on canvas
40" x 60"
In early Christianity, the butterfly symbolized the Resurrection. Ignatius had a spiritual epiphany while living in Manresa. One day on his way to a church about a mile from town, he took a break to admire nature. On this single occasion, he experienced a clarity that totally changed his understanding of everything.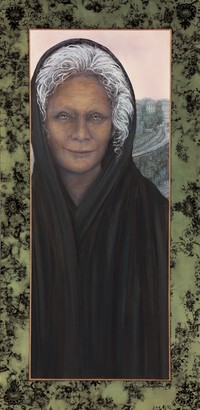 Unamed Manresa Woman
Oil on canvas
24" x 48"
Spiritual guide to Ignatius Loyola.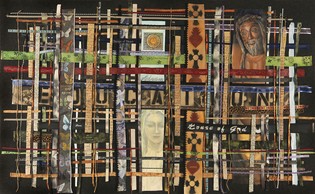 Ignatian Tapestry
Oil and ribbon on canvas
8' x 5'
Ignatian spirituality is interwoven with the threads that pronounce "God is in all things."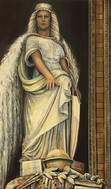 Angel Painting I and Angel Painting II
Oil on canvas
36" x 60"
Inspiration - divine influence
Intuition - perception of truth
Intuition and Inspiration are guides we often fail to recognize in contemporary society. They are embodied here as angels with messages from God.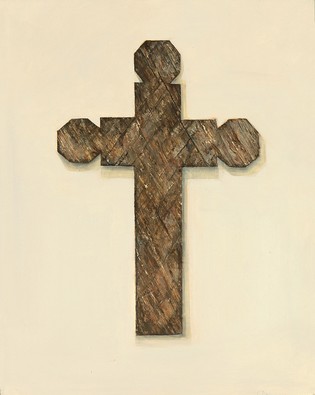 Cross
Oil on panel
11" x 14"
The cross represents an intersection point where all becomes one.