Edgecliff Hall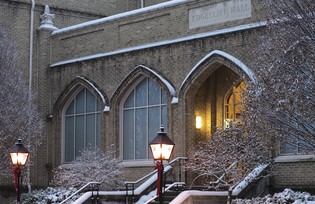 Edgecliff Hall serves as Xavier University's music building, housing multiple classrooms, music technology labs, soundproofed practice cubicles, and a recital hall. The building, built in 1920, was once known as the Alumni Science Building, until it was renovated and rededicated in 2000. The Alumni Science Building was home to all of Xavier's science courses until the annexation of Edgecliff College to Xavier University in 1980. Edgecliff College, a strictly female college founded in 1935, was facing declining enrollment and increasing costs the during years prior to 1980. The joining of Edgecliff to Xavier University was considered the best course of action to ensure the survival of the college.
Quick Facts
Dedicated: 2000
Named After: Edgecliff College
Home to:
Faculty Offices
Traditional classrooms
Music labs
Practice cubicles
Recital hall
Additional Notes:
Edgecliff was once a private, strictly female college devoted to the fine arts and human service programs. Edgecliff College became a part of Xavier University in July of 1980.
It was the first building to house classes on Xavier's current campus when the move was made from downtown Cincinnati in 1920.