Father James E. Hoff Statue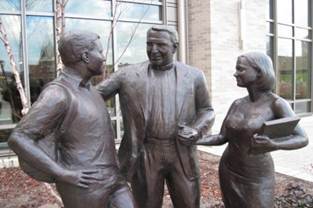 Fr. James E. Hoff, S.J., served as the University's 33rd President from 1991 to 2000 and as Chancellor until his passing in 2004. His vision for Xavier became a mantra for the entire campus, which he called his most important legacy, "to prepare students intellectually, spiritually and morally to take their place in a rapidly changing global society and work for the betterment of that society."

The Fr. James E. Hoff S.J. Statue honors his presidency. Once positioned on the west side of the Cintas Center (see bottom photo), it now sits in the center of campus life near the main entrance of Justice Hall. Talking to students, one of his favorite activities, is captured in the sculpture.
Quick Facts
Artist: Tom Tsuchiya
Dedicated: 2002
Medium: Bronze
Height: 6'2"
Location: Outside the main entrance of Justice Hall
Additional Notes:
Tsuchiya's design was inspired by a photo by XU's photographer, Gregory Rust.
Plaque Inscription:
Faith, Hope, and Love
These three endure
To the enduring achievements of
Father James Hoff