Start Your Graduate Journey
Congratulations on your decision to advance your education at Xavier University! Xavier offers more than 40 graduate programs across disciplines including health services administration, nursing, business and education. With our flexibility in format, strong partnerships with Cincinnati's top companies and our network of 65,000 Xavier alumni, we give students the tools to be successful and accomplish their goals on their schedule.
Graduate Programs 
Xavier graduates work as teachers, administrators, social service agency supervisors, ministers in churches, business managers and more. Each of Xavier's graduate degree programs is distinguished by the strength and reputation of the curriculum and the commitment of faculty to the needs of graduate students. 
Select a graduate degree program below to find out what is required, when applications are due and what you need to get started on your application. 
Athletic Development
Counseling, Health and Social Work
Criminal Justice
Education
Frequently Asked Questions
Each program has its own process to evaluate applications for evidence an applicant will be successful. There are no numerical formulas or absolute score/GPA used when evaluating applications. All of the information submitted is carefully considered to get a clear picture of the applicant as a whole. Grades from past college/university work, test score(s) and letters of recommendation and/or personal statements where required are all taken into consideration.
Send official transcript(s) directly from the college/university for all previous undergraduate and graduate course work (one per institution):

Xavier University
ATTN: Admission Processing Center
3800 Victory Parkway
Cincinnati, OH 45207-5131

For electronic transcripts, send to xugrad@xavier.edu
For some programs, a maximum of 6 semester hours (or the equivalent) of graduate work completed at another accredited graduate school prior to initial admission to Xavier University may be transferred with the permission of the program director and the dean. Coursework that is part of a previously earned graduate degree is not accepted for transfer credit. Only grades of "A" or "B" (3.00 or higher) are transferable. Decisions regarding transfer credit are made at the time of admission to degree-seeking status.
Yes! Students taking 4.5 credit hours or more per semester are eligible for federal student loans. See the Financial Aid page for more information.
You must pay or make arrangements to pay for your tuition when you register (unless you register early). Options include arranging for a payment plan, deferring payment until a student loan or employer reimbursement comes through, or paying with cash, check or credit card. See the Bursar page for more information about payment options.
For most programs, you do not need to submit a standardized test score if you already hold a graduate degree.
For some programs, you may register for a class on the day it begins. However, we recommend registering as early as possible to reduce the chances of your class being full. Registration for the fall semester and summer sessions begins in late March, and registration for spring begins in late November. If it is your first class at Xavier, you may complete an application for non-degree graduate status and register on the same day.
Xavier welcomes students from outside the United States to enroll in its online programs. However, some countries do not formally recognize foreign online degrees. This may have implications for enrolling in subsequent degree programs or for securing employment requiring these credentials. It is students' responsibility to determine whether the online degree will be recognized in their country of residence or in any country in which they plan to work. Additionally, students should inquire in their country of residence how the collection of student data may be used and whether they will be subject to additional withholding taxes in addition to the cost of tuition.
Although application processes vary depending upon your program of choice. In general, the following documents are required to complete an application at Xavier University:
All international students are strongly encouraged to submit an official third-party course-by-course evaluation of their high school and/or college transcripts from an international credential evaluation service accredited by the National Association of Credential Evaluation Services.
International students must pass the TOEFL exam if English is your second language.
International students may have additional application requirements. Connect with the International Admissions Office for more information. 
Note: International students in the U.S. cannot enroll in an online degree program to fulfill the legal requirement for an F-1 or J-1 visa.
---
Loyal Musketeer Scholarship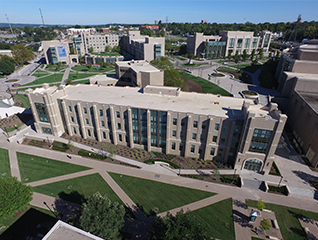 The Loyal Musketeer Scholarship reduces the graduate tuition rate by 25 percent and is available to all Xavier alumni enrolling as degree-seeking graduate students. The scholarship applies to graduate degree-seeking students for both part-time and full-time enrollment.
---
---
Cincinnati: A City of Opportunity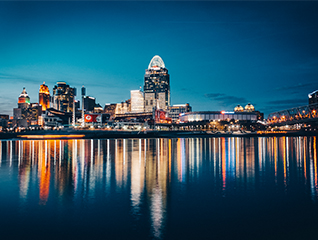 Cincinnati, Ohio is ranked the #1 Best City for College Graduates (smartasset.com) and the #15 Best Place to Start a Career (WalletHub). Graduate students take advantage of for-credit internships, mentors and employment opportunities at multiple Fortune 500 companies, private companies, nonprofit organizations and other businesses.
---
---
What is Jesuit Education?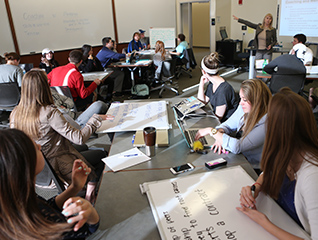 A Xavier education is more than your typical academic experience. Drawing on a Jesuit Catholic educational model which emphasizes ethics, responsibility and service, students get the support they need to succeed and make a difference in the world. The result is an education that's as encouraging as it is challenging, and as enriching as it is demanding.
---
Xavier University Notice of Non-Discrimination
Title IX is the federal civil rights law that prohibits discrimination based on sex in all federally funded education programs and activities. In compliance with Title IX, Xavier University does not discriminate based on sex in any education or activity, including admission and employment. Sex discrimination includes sexual harassment, sexual assault, dating violence, domestic violence, stalking, harassment or discrimination based on pregnancy, parenting, sexual orientation and/or gender identity. Xavier University does not tolerate sex discrimination. If a student or employee believes they have experienced sex discrimination or has questions about Title IX, please contact Kate Lawson of the Title IX Office at 332B Gallagher Student Center, 3800 Victory Parkway, Cincinnati, OH 45207, 513-745-3046, lawsonk1@xavier.edu or the Assistant Secretary for Civil Rights at U.S. Dept. of Education, Office for Civil Rights, 400 Maryland Ave., SW, Washington, DC 20202, 800-421-3481, OCR@ed.gov. For free, confidential advocacy and support, contact Xavier's Advocacy & Prevention Coordinator at 513-904-9013.