Health United Building (HUB)
"A 10-year exclusive affiliation between Xavier University and TriHealth. The Health United Building will serve 1,400 students academically from the College of Professional Sciences, plus an average of 1,000 students engaged in intramural sports, plus wellness," said Paul Gore, Dean of the College of Professional Sciences. "Up to 25 percent of the campus might be in the building at any given time-making their experience of campus and their learning richer and deeper. One of our emerging areas of expertise and national recognition is our capacity to provide interprofessional collaboration. These are students who are going to work together in the same type of facilities when they graduate and get jobs.  Learn about the Health United Building."

Quick Facts
Opening: Academic and Health and Counseling Services opened August 19, 2019
Recreation Center target opening: January 2020
Square Footage: approximately 150,000 square feet
Location: Cleneay Avenue/Musketeer Drive.
Home to:
New recreation center replaces the O'Connor Sports Center
New student health center replaces the McGrath Health and Wellness Center
Five academic programs in the College of Professional Sciences: Nursing, Occupational Therapy, Health Services Administration, Sport Studies and Radiologic Technology
Underground floor
Four-lane pool with locker rooms
three fitness studios
three full-sized wooden "rubberized" multi-purpose courts
11 general classrooms and 12 private study rooms
11 counseling and trainee offices
7 labs and a large lobby

HUB Medallions: A Freeze-Frame of Athletes in Motion:
Artist: Mike Schuster and Travis Barker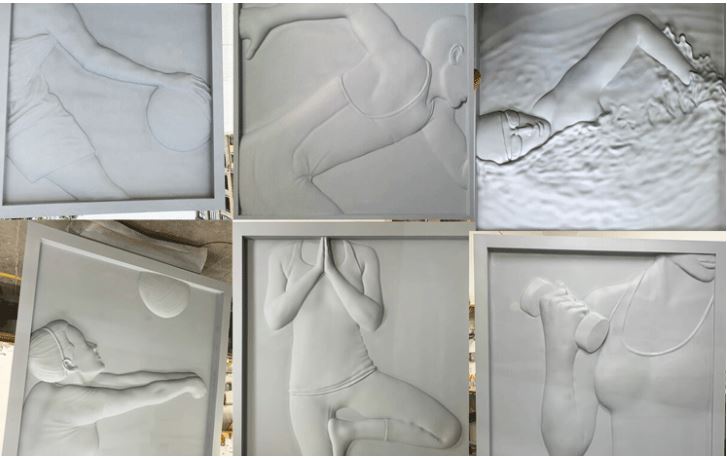 Dedicated: October 2019
Locations: Health United Building
Height: Each are 6 feet 8 inches square
Additoinal Notes:
As stated by Schuster, "The vision was to convey what is going on inside the center..."
Inspired by ancient Roman bas-relief marble sculptures of wrestlers and charioteers.
The Medallions focus on the essense of human sport, the athleticism itself.