Poster Printing
The Digital Media Lab offers poster printing services for faculty, staff, and students who need posters printed for academic purposes.
Please Note: Students who will have posters paid for by their department require pre-approval before we can charge the department. A department representative (faculty or staff) must complete the Student Poster Pre-Approval Form and the student will immediately be authorized for printing.
For more details and to submit a print request use the appropriate link below: 
Standard Templates
Click on a design below to download.
Blank Templates
Occupational Therapy Templates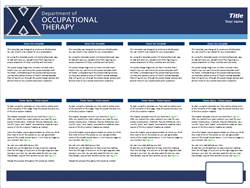 Occupational Therapy Logo (right click and "Save as" to download)
Print Cut-Off Information
To avoid content being cut off from your template when printing, please make sure to have all content above the bottom of the logo or follow the guides on the first slide of the template.