Frequently Asked Questions
Please review the list of questions our department frequently receives. We will be adding additional content to this page as we develop more resources. Thank you for your patience!
WHAT TO BRING TO CAMPUS

Personal Items

Laundry Bag/Basket/Detergent
Comforter/Pillow/Towels
Extra Long Sheets
Hangers
Shelving units/Storage Containers
Decorations/Posters/Pictures
Toiletries/Self care items
Cleaning Supplies
Bath Robe/ Bathroom Bucket
Bath Mat (if in own bathroom)
Air Freshener
Non-Halogen Lamp
Planner/Calendar
Flashlights/Batteries
Device Chargers
Computer/Laptop/Tablet
Power Strip/Surge Protectors
Sport Equipment
School Supplies
Snacks
Cups, Plates, Silverware

Discuss with Roommate

TV
Iron/Ironing Board
Coffee Maker
*Microwave (less than 700 watts)
*Refrigerator (less than 4.3 cubic feet or less than 4 amps of power)
Stereo System
DVD Player
Consoles
Carpet *only on per bedroom

DO NOT BRING

Candles/Anything Flammable
Halogen Lamps
George Foreman Grills
Pets (except fish)
Oversized Appliances
No Alcohol or Alcohol Paraphernalia

 

 

 
Outline of the Housing Process
The student housing process will be completely online. For first year students the dates are posted on Road to Xavier. For upper class students the Office of Residence Life will send details directly to Xavier email addresses. Step by step instructions can be found here. A snapshot of the process is below:
Complete the Housing Application: This serves as our contract with the students and must be completed before participating in the next two phases. It consists of signing the contract and inputting emergency contact information. Underage students will be asked to provide an email for their parents/guardians as the guardian will need to sign off on the contract as well.
Roommate Pairing: Students will complete a Roommate Questionnaire that the system will use to recommend potential roommates for those who do not know who they want to live with.  It is highly recommended that the students complete the questionnaire, not their parents. Students will be able to form roommate pairs (only groups of 2 are allowed for first year students). If they know the name of who they want to live with they can request the person directly. If they do not have someone in mind they can use a search function that pulls a list of students based on the criteria they set. This will help them to identify students who have similar living habits to their own. All roommate requests must be mutual or will not be honored in the housing process. Students can go through the process as an individual if they choose but will likely be assigned a random roommate(s). More info regarding the roommate process can be found below.  
Room Selection: Students will be given an access time to login to the housing system and pick the bed space they would like. One person will select a space for the roommate pairs so good communication and expectations prevent issues after the fact. We prioritize honors students in this process but it is still the responsibility of the student to login and select a space at their designated time. Students need to be certain of their selection as we do not allow room changes once assignments are made.
Roommate Pairing
Students completing the Housing Application Process will be sent an e-mail directly to their Xavier e-mail from My College Roomie notifying them the roommate pairing process has opened and provide details with how to get started.
Students should still complete a profile even if they do not want to select a roommate using the system as it will make pairs based upon their responses & compatibility. 
How to complete the Questionnaire
Why I don't have Matches yet?
Sending and Receiving Messages
There are plenty of additional How-To videos available that take you on walkthrough on every step of the process and tools within My College Roomie!
If any issues occur, please use the "Support" tab within My College Roomie.
Linens
All of the beds at Xavier University are either Twin or Twin XL. As we have replaced beds in our inventory we are standardizing them to Twin XL. We recommend bringing Twin XL so that you can be sure they will fit. If you are in need of linens please check out Our Campus Market's linens page for your linen needs. If you order in time they will be waiting for you when you arrive to campus.
Carpets
Brockman, Buenger, Husman, and Kuhlman do not have carpeted bedrooms. If you would like a carpet in your room that will be ready upon move in (already under the furniture!) please check out Our Campus Market's carpet page.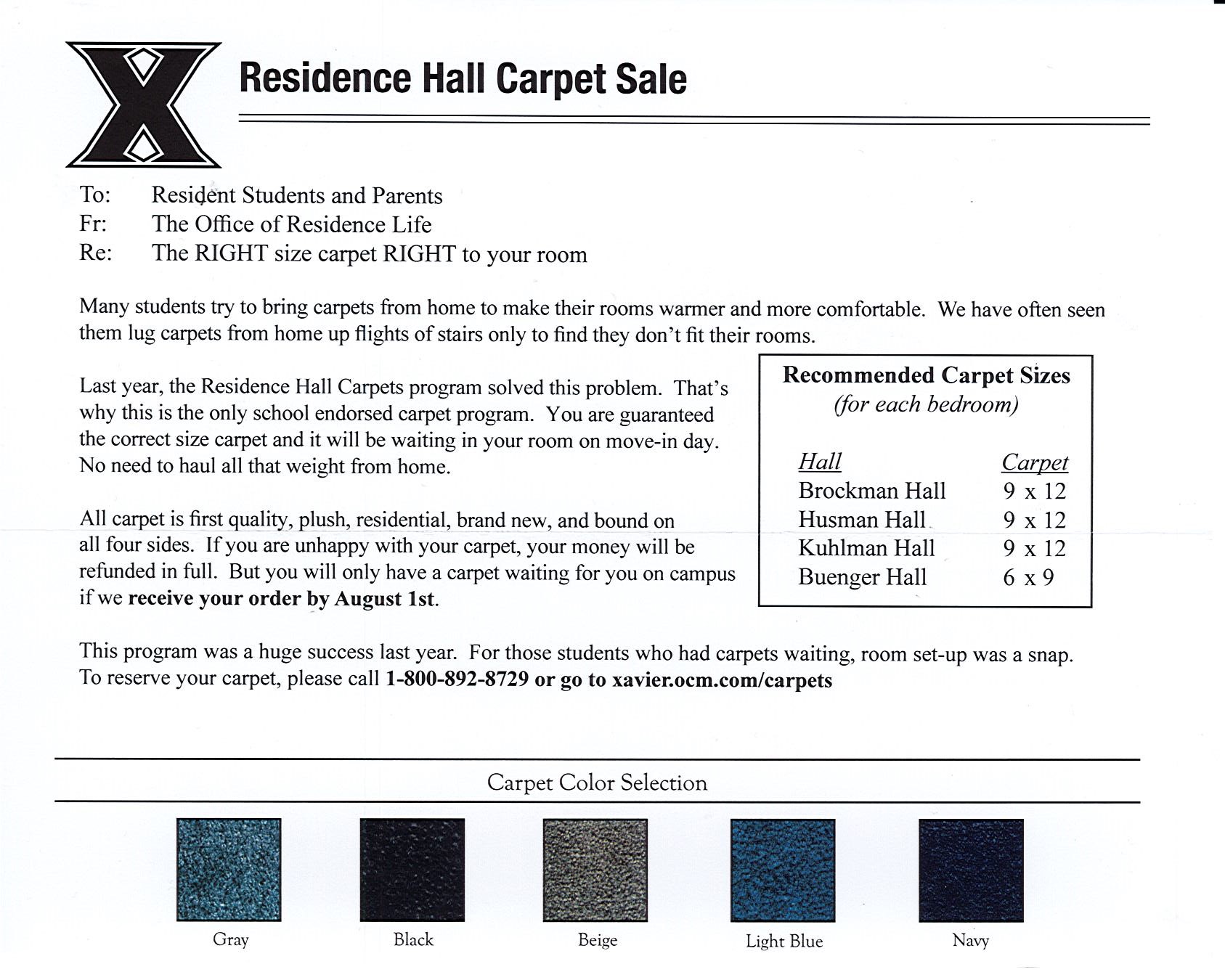 Television and Cable
If you purchase a new TV, it 
must
 say: FCC USA Digital Compliant or it will not work with the Xavier DirecTV service.
Recommended TVs:
 RCA, LG, Samsung, Toshiba. 
Do NOT purchase Sylvania.
 VIZIO is hit or miss. If you purchase a VIZIO, keep the receipt in case you need to return it.
Micro Fridges
Micro fridges are allowed on campus. They must be less than 4.3 cubic feet or pull less than 4 amps of power. Each bedroom may have its own micro fridge (not one per occupant). Buenger Hall has a micro fridge in each common area and therefore residents of that facility are not allowed to bring additional micro fridges unless you have a medical need for one. Please contact our office with your request if that is the case.
Renters Insurance
The University does not assume responsibility for theft, loss or damage to resident's personal property and the student hereby releases the University from any liability. Therefore, it is strongly recommended that each individual obtain insurance coverage for all items of personal property kept at the residence. This is point #10 in the Housing Agreement signed by all students.
First Year Student Orientation
Manresa is our First Year Student Orientation program and is a requirement of every incoming Xavier student. For more information on this program (including information on their dates) please visit their page here or contact the Office of Student Involvement.
Parking Permits
All parking related information can be found on the Connex website here.
Meal Plans
Students can sign up for meal plans using the Housing Self Service portal. If you have questions please check out the Dining Services FAQ page.
Room Dimensions
For the room dimension and floor plans of a specific hall please refer to the respective information pages found here.
Housing Accommodations FAQ
This process is handled entirely by the Office of Disability Services. The direct link to their web form to submit a housing accommodation can be found here.
Once you are approved for a housing accommodation you are forfeiting all rights to make a housing assignment for yourself and will not participate in the general housing selection process. The Office of Disability Services will work directly with the Office of Residence Life to secure the best accommodation for the student's needs.
A student granted a housing accommodation will be able to pull in a max of one other person to be there roommate. No groups will be considered for housing accommodation housing.
The housing accommodation form must be completed every year that the student remains in On Campus housing.
Students seeking housing accommodations must also complete all steps of the housing selection process, as we need a signed application from every student staying in on campus housing.
A student who is granted approval to have an emotional support animal is not guaranteed a single or a room in any specific building due to the presence of the emotional support animal.
Since all of our on campus housing facilities are air conditioned with air filtration, allergies will not automatically be considered for a housing accommodation.
Since all of our on campus housing options are close to the dining hall located in Fenwick Hall or have their own kitchens, having a diagnosis of diabetes is not a guarantee of a housing accommodation.
If your question isn't answered here please contact our office at 513-745-3203 or send us an email at reslife@xavier.edu.

You belong here!
All For One
Xavier University
Office of Residence Life Staff