Pre-Law Program
---
Undergraduate
Program Details
At Xavier University, the Pre-Law program is designed to support all students who have an interest in applying to law school. Xavier's Pre-Law Program helps guide individual discernment about law as a vocation by offering academic guidance, as well as experiential opportunities. Pre-Law prepares students for law school and supports them from the application process through their acceptance.
Students who want a competitive edge in their future law school applications are strongly encouraged to become involved in the Pre-Law program at Xavier University.
Pre-Law is not a designated major or minor.
Course Advice
Law schools do not require particular courses to admit students. Future law school applicants from Xavier University come from a diverse set of majors. Regardless of your major course of study, Pre-Law students are advised to take classes that will enhance reading comprehension, logical reasoning and research skills necessary for success in law school and legal practice. Students are encouraged to take classes that emphasize the following skills:
critical thinking
reading
 writing
speaking
problem-solving
logical reasoning
Program Overview
Xavier University's Pre-Law program serves as a guide for all students considering and pursuing application to law school. While any opportunity facilitated by the Pre-Law program or affiliated student run clubs will help inform and guide your interest in law school, here's a brief summary of notable opportunities that can put you on the right path towards law school, and a career in law:
First and Second Year Students
Sign up for Pre-Law Newsletter by joining the Pre-Law Society, or sending your request to: rhineys@xavier.edu
Register for your free account with the Law School Admissions Council (LSAC). Use their free educational, vocational, and testing resources to learn more about the application process and careers in law.
Shadow an attorney – You can sign up for a mentor through Career Planning or contact the Pre Law Advisor.
Seek out professional internships and research opportunities through your academic programs, or career planning postings.
Juniors and Seniors
Begin your law school search using LSAC and start attending law school open houses (in person and virtual).
Ask 2-3 faculty members to write a letter of recommendation on your behalf.
In the fall and spring, take advantage of virtual or in-person law school campus visits.
Attend a law school class (coordinated through XU Pre-Law Program).
Schedule and prepare for the LSAT after your junior year - take free tests and affordable LSAT prep opportunities available through LSAC and sign up for prep courses to supplement your efforts.
Fall of senior year, begin your application process.
Student Clubs
Xavier has more than 90 student-led clubs and activities. Interested Pre-Law students should involve themselves in extra-curricular activities and job shadowing opportunities that will help enhance their vocational choices and support their interest in law. Here are a few student clubs that our program recommends you consider based on your interests:
Criminal Justice Society
The mission of the Criminal Justice Society is to provide an opportunity for students to learn about those working in and impacted by the criminal justice system. The club emphasizes educational and hands on experiences to enhance the students' professional development.
St. Thomas More Pre-Law Society
Pre-law students are strongly advised to join the St. Thomas More Pre-Law Society. This group meets several times a year to discuss the law school application process and careers in the legal profession.
Xavier Mock Trial Club
Xavier's Mock Trial Club participates in regional and national intercollegiate competitions. Club members—who consist of students interested in acting or Pre-Law--use legal cases to participate in trial simulations where they are assigned specific roles, such as attorneys, witnesses, etc. in order to improve their skills in public speaking, critical thinking, and legal reasoning. The advisors for this club are professional attorneys from the Cincinnati area.
OIP-u
OIP-u is Ohio's collegiate network of innocence advocates. Their mission is to bring awareness to wrongful convictions, specifically in Ohio. The Xavier OIP-u chapter works to prevent wrongful conviction by promoting awareness on college campuses and to generate student and community support for the nonprofit Ohio Innocence Project.


Take the Next Step
Loading...
---
Core Curriculum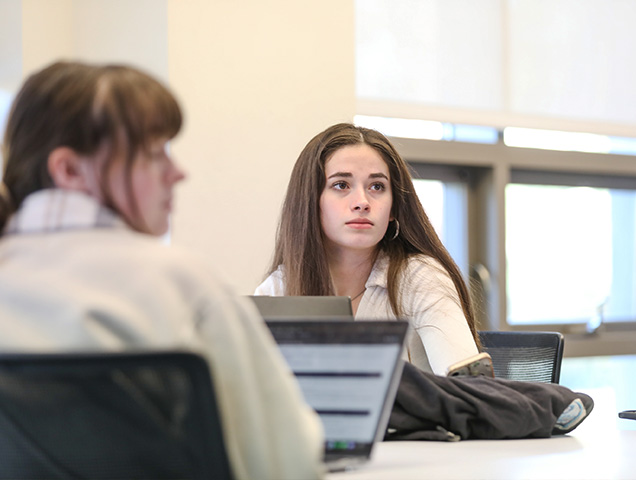 Law schools value academic diversity and a broad liberal arts background in their students. Xavier's core curriculum gives students in the pre-law program a valuable foundation for all further education.
---
---
Professional Mentorship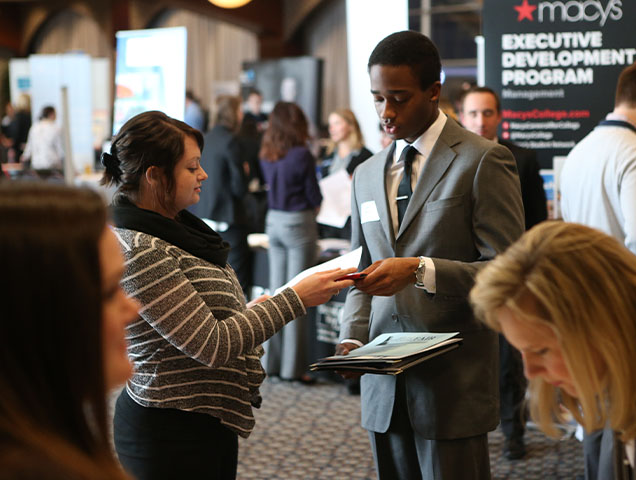 Students in the pre-law program are matched with a mentor who is a practicing lawyer from a prestigious private or government law office in the greater Cincinnati area.
---
---
Real Experience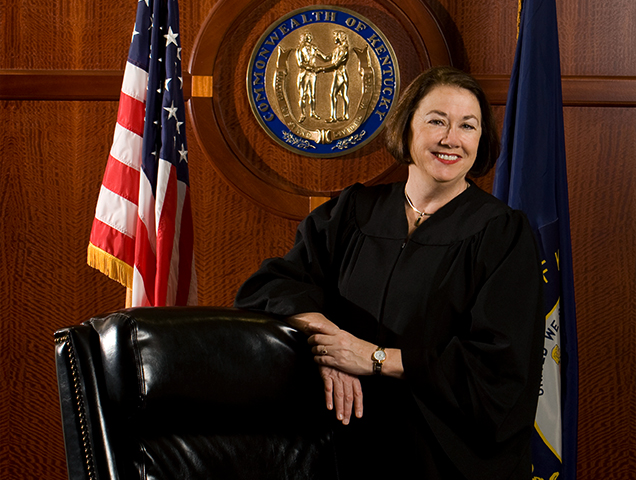 Students in the pre-law program have the opportunity to participate in our Mock Trial club and gain experience in regional and national competitions.
---
Graduate With Honors
Are you looking for an academic challenge? The University Scholars Honors Program offers incoming students a more challenging curriculum and close support from professors while completing their undergraduate degree. Acceptance into the program is highly selective and includes a $2000 travel grant.
Pre-Law Program Major at Xavier University
Many different majors can lead to a successful career in law. There is no particular course of study that is a prerequisite for admission to law school. At Xavier, students are instilled with strong communications skills, verbal and written, as they are both essential to a successful future in law. Courses requiring writing, research, and analytical thinking subjected to rigorous faculty criticism are tools used in the pre-law program to take students beyond mere preparation, to give them a competitive advantage in the field. Students also receive a solid understanding of human institutions and values. Xavier utilizes courses in political science, history, social psychology and sociology help to develop this discipline.
Xavier University's College of Arts and Sciences challenges students to develop an integrated understanding of humanity, the world, and God by pursuing the questions raised in Xavier's core and departmental curricula. The College of Arts and Sciences is the oldest and largest college at Xavier University. The college provides an excellent liberal arts education in the Jesuit tradition that prepares students for careers, professional or graduate school, and life in a global society.
Xavier University is a private university located in Cincinnati, Ohio, providing a liberal arts education in the Jesuit Catholic tradition. Founded in 1831, the University is the sixth-oldest Catholic university in the nation. It has been ranked among the top 10 master's-level universities in the Midwest by U.S. News & World Report for the past two decades. The Princeton Review names it one of the "Best 385 Colleges in America."