Philosophy, Politics and the Public
---
Undergraduate
|
Bachelor of Arts
Program Details
Do you want to change the world? As a student in the Philosophy, Politics, and the Public honors program (PPP), you'll get to fuel your passion for politics, government and community with challenging academics, meaningful internship experiences and international study.
Through multi-disciplinary coursework, you'll be able to develop and pursue your own interests in understanding and engaging in the public sphere. You'll also become actively involved in political life, working on political campaigns or interning with a legal or government office or non-profit organization, and researching and lobbying on behalf of important legislation. A grant will support you in studying abroad for a semester at your choice of institutions all over the world—from London or Paris, to Seoul or Dakar—or participating in a PPP faculty-led program in Berlin or Israel.
PPP is a rigorous, interdisciplinary honors program at Xavier University. Admission to the program is competitive. Students typically rank in the top 15 percent of their high school class, and present composite scores of at least 1300 (SAT) or 29 (ACT), however these are not strict requirements for admission.
Degree Awarded
Honors Bachelor of Arts in Philosophy, Politics, and the Public
Curriculum
The sample course sequence below illustrates class offerings for the Philosophy, Politics and the Public major. Consult the official Xavier University course catalog for detailed registration and advising information.
Fall
PHIL 100 Ethics as Intro to Philosophy............ 3cr.
ENGLISH 115 English Rhetoric............ 3cr.
second language............ 3cr.
Language I............ 3cr.
Historical Perspectives (International or Non- Western Focus)............ 3cr.
First-Year Seminar............ 3cr.
Spring
PHIL 200 Philosophical Perspectives............ 3cr.
PPUB 200 Power and the Public............ 3cr.
Language II............ 3cr.
THEO 111 Theological Foundations............ 3cr.
ECON 200 Microeconomic Principles............ 3cr.
Fall
EITHER (HIST 408 AND PPUB 210) OR (PPUB 246 AND 3 additional hours from PHIL, ECON, POLI, HIST) ............ 6cr.
MATH 156 General Statistics............ 3cr.
Lit and the Moral Imagination............ 3cr.
Theological Perspectives............ 3cr.
Spring
POLI 329 Public Policy Practice (includes policy research and advocacy in DC)............ 3cr.
HIST 300 Writing in Public OR 3 additional hours from POLI, PHIL,ECON............ 3cr.
ECON 201 Macroeconomic Principles............ 3cr.
Scientific Perspectives and Lab............ 3cr.
Scientific Perspectives and Lab............ 3cr.
Fall
PHIL 336 Liberalism or PHIL 338 Enlightenment & Revolution............ 3cr.
HIST 362 Global Cultures and Publics............ 3cr.
ECON 307 Empirical Analysis in Economics............ 3cr.
2 Free Electives............ 6cr.
Optional Winter Intersession: *Israel Study Abroad............ 3cr.
Spring
PHIL 337 Responses to Liberalism or PHIL 339 Revolution & its Aftermath............ 3cr.
Natural Science Elective............ 3cr.
3 Free Electives............ 9cr.
Optional Spring Intersession: *PPP International Study Abroad............ 3cr.
Fall
PPUB 400 Senior Supervision............ 3cr.
Free Elective............ 3cr.
Free Elective............ 3cr.
Free Elective............ 3cr.
Free Elective............ 3cr.
Spring
PPUB 401 Senior Seminar............ 3cr.
Free Elective............ 3cr.
Free Elective............ 3cr.
Free Elective............ 3cr.
Free Elective............ 3cr.
Sample Courses
Xavier is known for providing an education that's both challenging and personal. Here are some courses that are part of the Philosophy, Politics, and the Public major at Xavier:
Experience and mentorship: POLI 246 Mass Media and Politics/PPUB 246 Civil Society and Government - Learn by acting in public. Our students intern with electoral campaigns, legal non-profits, and government agencies as part of their sophomore year course work.
Learn with the experts: PPUB 400 Senior Supervision - In Senior Supervisions, ask hard questions and engage in advanced research under the guidance of dedicated faculty, along with a small number of your classmates.
Understanding power: POLI 329 Public Policy Practice - In Public Policy Practice, PPP students don't just learn about issues of public concern. They travel to the centers of government locally, regionally, and nationally and see first-hand how power works, and advance public policies that they care about.
International Travel: PHIL 397 Paris Seminar in Political Theory - Learn about American politics by examining it through an international lens alongside students from all over Europe at the University of Paris.
Career Outcomes
99% of Xavier students, including those in the philosophy, politics and the public major, are working, volunteering or in graduate school within six months of graduating (Class of 2022).
Career Opportunities: Congressional and Senatorial Aide, Corporate Affairs Manager, Government Affairs Director, Global Climate Program Coordinator, Communications Manager, Attorney, Campaign Manager, Marketing Manager, Policy Analyst, Professor
Top Companies for Graduates: United States Senators Rob Portman and Sherrod Brown, Cincinnati City Councilmembers, Deloitte, Kroger Company, City of Cincinnati Department of Community and Economic Development, Teach for America, Americorps
Student Clubs
Political Science Club
Xavier's Political Science Club is a fun and open platform for students of all backgrounds, political beliefs and ideologies to come together and discuss current events and political "hot topics." This club is meant to provide a non-partisan space to promote growth and further interest in politics.
The Xavier Newswire
Newswire is Xavier's weekly campus newspaper that is written and edited by the students of Xavier University. The goal of Xavier Newswire is to inform the campus community, spark conversation, voice student concerns and offer students an outlet to grow as journalists.
Take the Next Step
Loading...
---
Study Abroad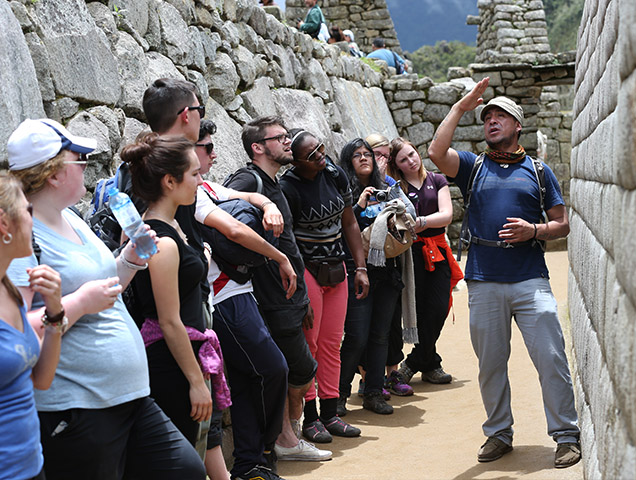 All PPP students receive a scholarship to study abroad in their Junior year. Spend a semester at a Xavier partner institution in locations like London, Buenos Aires, Seoul, or Bologna. Join your classmates on a PPP faculty-led trip to Israel or Paris. In addition, every Sophomore travels to Washington DC to engage in policy advocacy and research.
---
---
Cincinnati: A City of Opportunity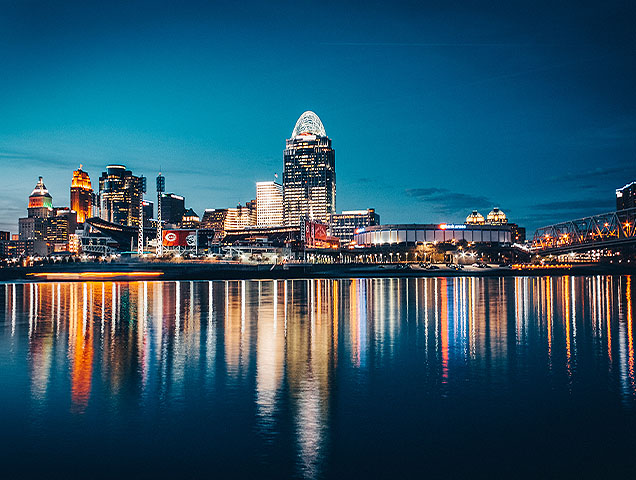 Cincinnati, Ohio is ranked the #1 Best City for College Graduates (smartasset.com) and the #15 Best Place to Start a Career (WalletHub). From Cincinnati City Hall to the US Capitol, students in the PPP major engage in public action through internship work in politics, government, civil society and policy advocacy.
---
---
What is Jesuit Education?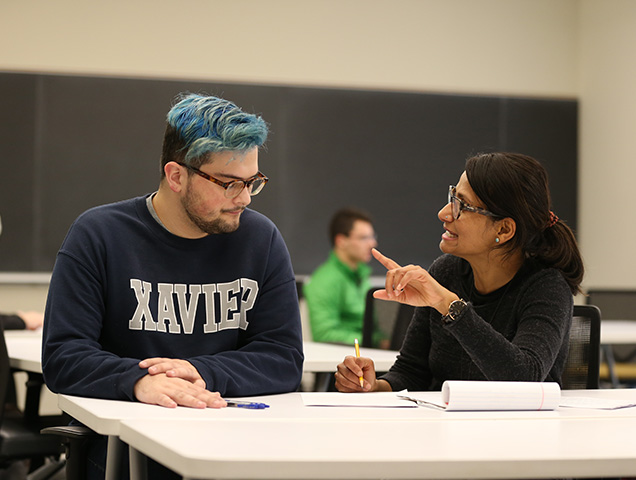 A Xavier education is more than your typical college experience. Drawing on a Jesuit Catholic educational model 400 years in the making, students in the PPP major get the personal attention and support they need to succeed. The result is an education that's as encouraging as it is challenging, and as enriching as it is demanding.
---
Faculty Spotlight: Timothy Brownlee, Ph.D- Philosophy
Meet Timothy Brownlee, Ph.D, professor of philosophy and Associate Dean of the College of Arts and Sciences.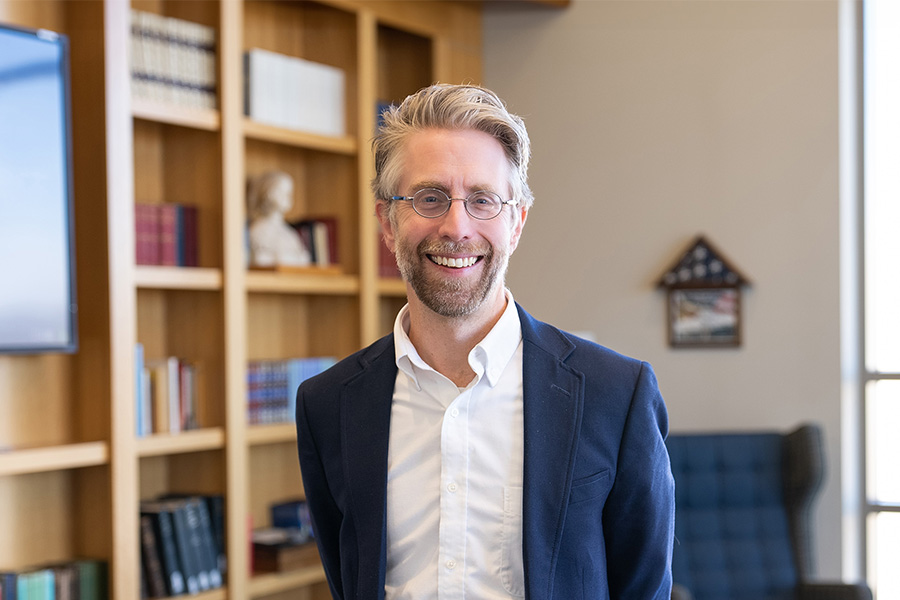 Graduate With Honors
Are you looking for an academic challenge? The University Scholars Honors Program offers incoming students a more challenging curriculum and close support from professors while completing their undergraduate degree. Acceptance into the program is highly selective and includes a $2000 travel grant.
Philosophy, Politics and the Public Major at Xavier University
The Philosophy, Politics and the Public Program brings together many of Xavier's traditional curricular strengths in an innovative and rigorous undergraduate honors program of study focusing on the unifying concept of "the public sphere" in democratic societies. The program is inspired by the Philosophy, Politics & Economics programs commonly found in the British university system, but differs from them by placing greater emphasis upon philosophical conceptions and historical context. Students are encouraged to follow their own interests in the theoretical engagement of the public in its many embodiments and meanings. In addition, the theoretical work in the program is complemented by engagement in the active world of politics through working on political campaigns, lobbying of behalf of legislation, internships in local and national government offices and summer study in Paris that includes a seminar in Brussels, the seat of the European Union. The program is highly selective, with 15 to 20 freshman students enrolling each fall.
Xavier University's College of Arts and Sciences challenges students to develop an integrated understanding of humanity, the world, and God by pursuing the questions raised in Xavier's core and departmental curricula. The College of Arts and Sciences is the oldest and largest college at Xavier University. The college provides an excellent liberal arts education in the Jesuit tradition that prepares students for careers, professional or graduate school, and life in a global society.
Xavier University is a private university located in Cincinnati, Ohio, providing a liberal arts education in the Jesuit Catholic tradition. Founded in 1831, the University is the sixth-oldest Catholic university in the nation. It has been ranked among the top 10 master's-level universities in the Midwest by U.S. News & World Report for the past two decades. The Princeton Review names it one of the "Best 385 Colleges in America."
Additional Resources