Philosophy, Politics, and the Public
Undergraduate Program (HAB)
Do you want to change the world? First you'll need to understand it! We fuel our students' passion for politics, government, and community with meaningful internship experiences and international study, built into our curriculum. Straddling disciplinary boundaries, PPP equips you with the tools and wisdom you need to make a difference and do well.
Sample Four-Year Philosophy, Politics, and the Public Course Sequence
Sample Courses
Xavier is known for providing an education that's both challenging and personal. Here are some courses that are part of the Philosophy, Politics, and the Public major at Xavier:
Experience and mentorship: POLI 246 Mass Media and Politics/PPUB 246 Civil Society and Government - Learn by acting in public. Our students intern with electoral campaigns, legal non-profits, and government agencies as part of their sophomore year course work.
Learn with the experts: PPUB 400 Senior Supervision - In Senior Supervisions, ask hard questions and engage in advanced research under the guidance of dedicated faculty, along with a small number of your classmates.
Understanding power: POLI 329 Public Policy Practice - In Public Policy Practice, PPP students don't just learn about issues of public concern. They travel to the centers of government—locally, regionally, and nationally—and see first-hand how power works, and advance public policies that they care about.
International Travel: PHIL 397 Paris Seminar in Political Theory - Learn about American politics by examining it through an international lens—alongside students from all over Europe at the University of Paris.
100% of graduates from Xavier's Philosophy, Politics & the Public program are employed, enrolled in a full-time graduate program or volunteering within 6 months of graduation.
100%
of graduates from Xavier's Philosophy, Politics & the Public program are employed, enrolled in a full-time graduate program or volunteering within 6 months of graduation.
POLITICS, GOVERNMENT, AND COMMUNITY
ACT IN THE WORLD
Whatever your political persuasion, our faculty, alumni, and friends of the program help connect you. Serious internship experiences in campaigns, government, and non-profit administration, and policy research and advocacy, from Cincinnati to Washington D.C. are baked into the program's curriculum.
NO LIMITS
Ask the big questions in your PPP classes. Add a second major that's tailored to your interests and passions. Our interdisciplinary honors program blends intensive study and research with powerful experiences outside of classroom. Each of our students receive a scholarship to support international study.
PERSONAL ATTENTION
Small class sizes allow you to ask the right questions and get the attention you need to succeed and learn. Our small, cohort-based program means that you study and learn with a small group of students who share your interest in the public. A community of friends support you as you come to challenge, analyze, and critique your own views.
Xavier by the numbers
100%
SUCCESS RATE
ALL
PPP STUDENTS STUDY ABROAD
50%
ENROLLMENT INCREASE WITHIN THE PAST 5 YEARS
The Xavier Experience. There's Nothing Like It.
Play Video
Related Stories
Xavier Alum Lands Gig at Pinterest-Marketer Ahalogy
Her skills landed Traci Garcia in her current position at Ahalogy, a Cincinnati-based startup co-founded by two former Proctor and Gamble employees that focuses on Pinterest-focused digital marketing.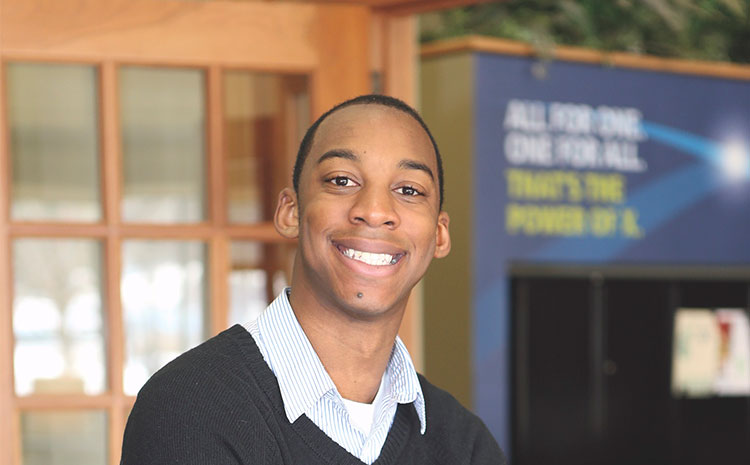 Alumni Spotlight: Chuma Nnawulezi ('15)
At a Xavier scholarship event with philosophy Professor Paul Colella, Chuma Nnawulezi learned about the PPP program and knew right away it was for him.
Xavier is in the heart of Cincinnati