Program Features
History is the examination of the significant events, people, and ideas that have shaped human civilization. Xavier's location in Cincinnati brings history to life through the surrounding landscape and cultural institutions like Cincinnati Museum Center and the Underground Railroad Freedom Center. Graduates from the program progress to careers in education, media, law, business and politics.
Curriculum
The sample course sequence below illustrates class offerings for the History major. Consult the official Xavier University course catalog for detailed registration and advising information.
Fall
Historical Perspectives............ 3cr.
Scientific Perspectives............ 3cr.
ENGLISH 100/115 Composition/Rhetoric............ 3cr.
second language I............ 3cr.
CORE 100 First-Year Seminar............ 3cr.
CORE 101: GOA Co-Curriculum Program I............ 0cr.
Spring
THEOLOGY 111 Theological Foundations............ 3cr.
Creative Perspectives............ 3cr.
PHILOSOPHY 100 Intro to Ethics............ 3cr.
second language II............ 3cr.
Mathematical Perspectives............ 3cr.
CORE 102: GOA Co-Curriculum Program II............ 0cr.
Fall
History Elective............ 3cr.
History Survey I............ 3cr.
Literature & Moral Imagination............ 3cr.
Social Science Elective............ 3cr.
Theological Perspectives............ 3cr.
Spring
History Elective............ 3cr.
History Survey II............ 3cr.
Natural Science Elective............ 3cr.
Philosophical Perspective............ 3cr.
General Elective............ 3cr.
Fall
History Seminar............ 3cr.
History Elective............ 3cr.
E/RS Elective............ 3cr.
General Elective............ 3cr.
General Elective............ 3cr.
Spring
History Elective............ 3cr.
General Elective............ 3cr.
General Elective............ 3cr.
General Elective............ 3cr.
General Elective............ 3cr.
Fall
History Seminar............ 3cr.
History Elective............ 3cr.
General Elective............ 3cr.
General Elective............ 3cr.
General Elective............ 3cr.
Spring
History Elective............ 3cr.
History Elective............ 3cr.
General Elective............ 3cr.
General Elective............ 3cr.
General Elective............ 3cr.
Sample Courses
Xavier is known for providing an education that's both challenging and personal. Here are some courses that are part of the HISTORY major at Xavier:
Slavery In the Atlantic World (HIST 231) - Transatlantic Slave Trade Scholars are continually exploring the historical connections between continents and regions of the world. One major area of study that has emerged from this effort has been the Atlantic World. The slave trade that occurred between the early 1500s to the mid-1880s is one of the experiences that link the continents of Europe, Africa and the Americas. Using the Atlantic World as the focus, we will examine the themes of slave trade, slavery, abolition, and emancipation on both sides of teh Atlantic over three and a half centuries. We will be particularly interested in comparing experiences of slavery and emancipation in different parts of the New World and Africa. This course is very much a history from below in which we examine the lives and experiences of those who were enslaved. The role of slave owners and slave traders will be considered as well, but the will not be the focus of the course.
Introduction to Public History (HIST 290) - This course will introduce students to the practice of presenting history to the public at large. It will provide students with basic preparation for work in cultural resource management, historic preservation, and museum fields.
Sports & Leisure in the US (HIST 336) - This course examines the histories of American sport as not only a form of exercise, leisure, competition and entertainment but also as a form of monopolistic business, nationalism, and contesting identities of race, class and gender. We trace the multiple histories of sport (including colonial notions of play, bare-knuckle boxing in the early republic, the Victorian bifurcation of "amateur" and "professional," the rise of folk heroes, racial inclusion and exclusion, the nationalistic struggles of the Olympics, the industry of sport, gender equality and inequalities, and medical understandings of brain injuries dating back to the 19th century) because sport and sport culture serves as a useful mirror of American society.
Contemporary Latin America (HIST 344) - This course examines political, economic and social processes that have shaped Latin America from approximately 1930 to the present. The sources that students will encounter in this course include memoirs, newspapers, testimonios, novels, films, and popular music, in addition to monographs and scholarly articles. These sources will help students to understand how major events influenced ordinary people's lives and how social movements, in turn, shaped the history of Latin America in the 20th and 21st centuries.
Vikings! (HIST 364) - What do we know about Vikings? Scandinavian marauders who pillaged at will throughout Europe, or highly efficient tradesmen who built kingdoms on their success? Or perhaps they were great poets who tamed time, space, and gods with their words and raised memorials in stone to their loved ones? Or men with horned helmets and furry leg-warmers who quaffed mead in copious quantities while yearning to die in battle and fly to Valhalla, the sky-hall of the gods? We will use their own words, as well as the words of their enemies, friends and descendants, to address these questions.
Clubs
History Club
The Xavier History Club's purpose is to expand the knowledge of history and to make history enjoyable. Students discuss diverse historical topics and engage in interactive simulations of historical events. They also explore the history of the tri-state region through exciting and enriching field trips.
Pre-Law Society
The Pre-Law Society is a club for all students who are interested in going to law school after Xavier. Meetings help prepare/inform students about applying to law school and what the life of a lawyer entails. Meetings typically revolve around a guest speaker or panel of speakers, followed by an informal Q&A session.
Outcomes
97% of students from Xavier's College of Arts and Sciences programs, including History, are working, volunteering or in graduate school within six months of graduating.
Top Jobs: Lawyer, Teacher, Research Analyst, Anthropologist, Librarian, Archivist, Curator, Journalist/Writer
All For One
Xavier is ranked #1 for its excellent academic reputation among top competitors in the region. Students get the most out of their education, from rigorous classroom studies to experiential learning in the real world.
Research Opportunities
Students are active, productive scholars who contribute new ideas to the field of history by participating and presenting original research.
---
Internships
Students land internships at the Cincinnati History Museum, the Center for Holocaust and Humanity Education and the National Underground Railroad Museum.
---
Personal Academics
Courses include anything from U.S. pop culture to South Asian history to the American dream. Classes are small and there is an elective for everyone.
---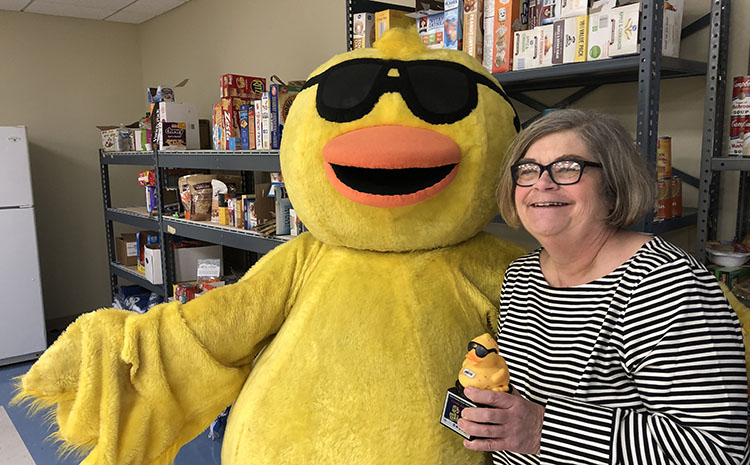 In front of Xavier officials, as well as those from the Cincinnati Freestore Foodbank, which sponsors the regatta, professor Christine Anderson presented her $2,600 prize to The Store amid cheers and applause.
History Major at Xavier University
History is an academic major with a long and proud tradition at Xavier University. Our faculty engage in research and are active in a wide array of professional and civic organizations. Classes are small and students get to know our teachers on an individual basis.
Xavier University's College of Arts and Sciences challenges students to develop an integrated understanding of humanity, the world, and God by pursuing the questions raised in Xavier's core and departmental curricula. The College of Arts and Sciences is the oldest and largest college at Xavier University. The college provides an excellent liberal arts education in the Jesuit tradition that prepares students for careers, professional or graduate school, and life in a global society.
Xavier University is a private university located in Cincinnati, Ohio, providing a liberal arts education in the Jesuit Catholic tradition. Founded in 1831, the University is the sixth-oldest Catholic university in the nation. It has been ranked among the top 10 master's-level universities in the Midwest by U.S. News & World Report for the past two decades. The Princeton Review names it one of the "Best 385 Colleges in America."
Get More Information