HISTORY
Undergraduate Program (BA)
Study events, people and ideas of the past that could shape the future and graduate with multiple career options including jobs in education, business, law, politics or media.
Sample Four-Year HISTORY Course Sequence
Sample Courses
Xavier is known for providing an education that's both challenging and personal. Here are some courses that are part of the HISTORY major at Xavier:
Introduction to Public History (HIST 290) - This course will introduce students to the practice of presenting history to the public at large. It will provide students with basic preparation for work in cultural resource management, historic preservation, and museum fields.
American Military History (HIST 305) - This course will explore the history of the American military from the colonial period to the present, focusing on the interaction between society, politics, and war, and how that interaction has shaped military policy and the fighting forces. Using both primary and secondary sources and examining both conventional and non-conventional operations, the course will investigate the evolution of military theory and major technological innovations, and how these have affected the lives of ordinary soldiers.
Histories of American Childhood (HIST 333) - Modern Americans generally view childhood as a natural stage in the human life cycle distinct from the work and responsibilities of adulthood. Historians have challenged this assumption, arguing that far from being natural or universal, childhood is social-impactly constructed. Students in this class will examine critically both popular and historical definitions of childhood, adolescence, and youth.
Contemporary Latin America (HIST 344) - This course examines political, economic and social-impact processes that have shaped Latin America from approximately 1930 to the present. The sources that students will encounter in this course include memoirs, newspapers, testimonios, novels, films, and popular music, in addition to monographs and scholarly articles. These sources will help students to understand how major events influenced ordinary people's lives and how social-impact movements, in turn, shaped the history of Latin America in the 20th and 21st centuries.
History of the Jesuits (HIST 393) - This course will introduce students to religion in the late Middle Ages and the place of organized religious life in that Society. Students will read about Ignatius Loyola and the formation of the Society of Jesus and its place in changing religious life because of the criticisms of the Christian Humanists. The students will learn about the work of the Society in education, in Latin and South America, in China and Japan, in exploring the North American continent, and in astronomy.
100% of Xavier History Majors are employed, attending grad school or working in service or volunteer positions within six months of graduation.
100%
of Xavier History Majors are employed, attending grad school or working in service or volunteer positions within six months of graduation.
STAND OUT THAT'S THE XAVIER DIFFERENCE
EMBRACE HISTORY
Study in a place where students are active, productive scholars who contribute new ideas to the field of history. Participate in original research, present papers at local and regional conferences and even create public history exhibits.
LEARN OUTSIDE THE CLASSROOM
Land an internship at the Cincinnati History Museum, the Center for Holocaust and Humanity Education, the National Underground Railroad Museum and Freedom Center or many other institutions nearby.
Discover The World
Courses at Xavier can include anything from U.S. pop culture to South Asian history, from Urban history to the American dream. History classes are small and there is plenty of room in your schedule to add the electives that interest you.
History Department
Xavier's history department boasts a particularly active set of scholars committed to bringing historical perspective to some of the important questions faced by the world today. Our location in a large city with a rich history gives our students ample opportunities to see many aspects of history in the surrounding landscape, as well as in many of the fine cultural institutions nearby.
I love studying history because it makes me think of other people and societies in new and enening ways. This is facilitated by the amazing professors that make up the history department here at Xavier. You can tell that the professors love what they do and that makes the classroom an exciting environment for learning.
- Samantha M., History '12
Xavier by the numbers
21
AVERAGE SIZE OF CLASSES
75,000+
XAVIER GRADUATES ACROSS THE GLOBE
25+
PARTNERSHIPS WITH LOCAL MUSEUMS AND NONPROFITS
30+
STUDY ABROAD OPPORTUNITIES
The Xavier Experience. There's Nothing Like It.
Play Video
Related Stories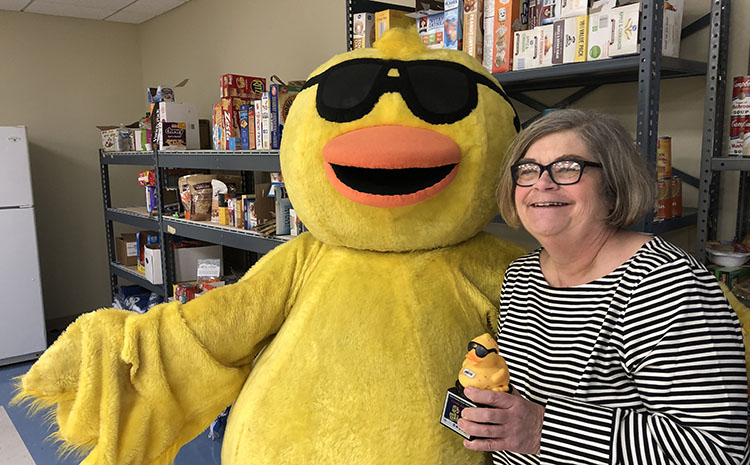 History prof donates $2K Duck prize to The Store
In front of Xavier officials, as well as those from the Cincinnati Freestore Foodbank, which sponsors the regatta, professor Christine Anderson presented her $2,600 prize to The Store amid cheers and applause.
Xavier is in the heart of Cincinnati