Political Science Major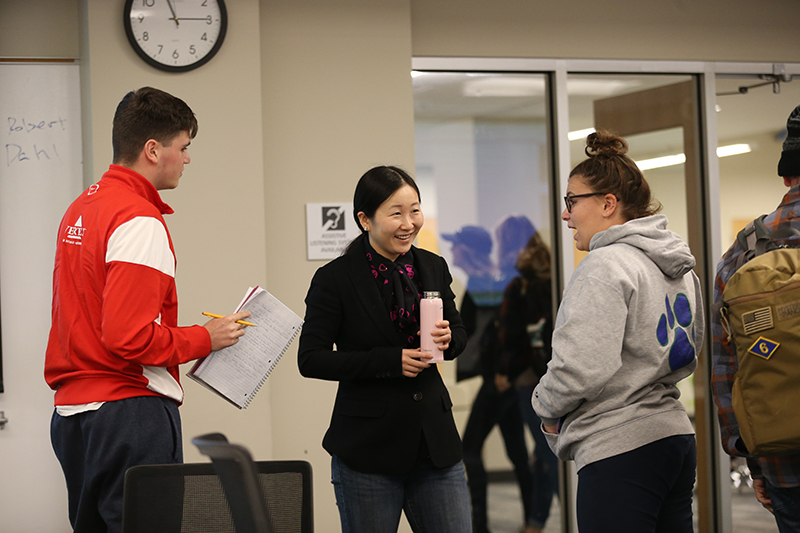 Political Science involves the study of political theory, processes and institutions and the practice of government and politics. Xavier's program is structured to give students a systematic view of the various elements of political science, including American government, comparative government, political theory, and international relations.
Xavier's political science majors, upon graduation, are equipped with knowledge of theory and practice of modern government and politics. In addition to formal course work, students are encouraged to include job experience by participating in an internship in their program. The department supports a number of internship programs, including the State Politics Internship Program, the Washington Center Program, and local internship programs in Cincinnati or most places that students call home. Students also can receive course credit for studying abroad.
Foundational Courses
All Political Science majors complete four foundational courses (12 credit hours) which introduce students to the major subfields in the discipline:
POLI 120: Comparative Government and Politics
POLI 140: American Government and Politics
POLI 277: International Relations
POLI 301: Political Theory
Elective Courses
Political Science majors also complete 6 courses (18 credit hours) in political science elective courses. These courses allow students to more closely examine topics and areas of study of particular interest.
POLI 224: Middle East Politics
POLI 234: Chinese Politics
POLI 240: State and Local Politics
POLI 246: Media and Politics
POLI 275: Politics of War and Peace
POLI 280: Irish Political Culture
POLI 308: Rousseau's Human and Political Vision
POLI 309: Politics of Commerce and Character
POLI 316: Globalization
POLI 320: Global Islamic Politics
POLI 345: Pressure Groups and Congress
POLI 347: Supreme Court on Civil Liberties
POLI 350: Political Theory and the American Political Regime
POLI 359: Campaigns, Elections and Parties
POLI 367: Gender and Politics
POLI 368: Politics in Dictatorships
POLI 372: International Political Economy
POLI 374: US Foreign Policy
POLI 393: Advanced Political Analysis
Students may also take internship courses for elective credit. Internships allow students to observe politics firsthand, connecting what they see to the theories and concepts learned in the classroom while gaining skills and experience that will help them lead successful careers. Internship courses include:
POLI 397: Political Internship
POLI 398: Internship: City Government
POLI 399: Political Communication Internship
POLI 401: Washington Center Internship
POLI 402: Washington Center Internship Course
Seminar Courses
All political science students must take one of the department's seminar courses, which are offered in the Fall of each year. Most students take this course in their fourth year of study, though students interested in graduate work should discuss with their advisor to determine whether they should take the seminar in their third year. In seminar courses, students work closely with faculty to create a research design on a subject of their own choosing. Students are encouraged to work with faculty in the spring semester to complete their project. Many students go on to present their papers at an undergraduate research conference and exceptional papers are published in the department's undergraduate research journal, the Xavier Journal of Politics.
Seminar courses include:
POLI 390: International Relations Seminar
POLI 391: American Politics Seminar
Other requirements
Political Science majors are required to take two semesters of economics coursework (ECON 200 and ECON 201) as well as a statistics course (MATH 116 or 156) plus an additional 3 hours of Math elective.
A 2.000 cumulative average must be attained in the political science courses.
Upon successful completion of the undergraduate program, students receive a Bachelor of Arts in political science.
Four-Year Course Sequence
view an example of a four-year course sequence for a political science major. Note that the major is very flexible, so few students follow this sequence exactly.
Questions?
If you have questions or need more information, contact Dr. Mack Mariani, chair of the political science department at marianim@xavier.edu.