Political Science at Xavier
At Xavier, students in political science examine political ideas, systems and institutions in an effort to better understand and engage vital questions of equity, community, liberty, justice, and peace in the modern world.
Stimulating Coursework
The Department of Political Science offers intellectually stimulating introductory courses in the fields of American Government, Comparative Government, International Relations and Political Philosophy, as well as upper-level courses that are limited in size and scope to allow students to debate the political and social issues that interest them most. Our students also take courses in economics and statistics and an upper-level political science seminar in which they work closely with a faculty member on a research project of their own design.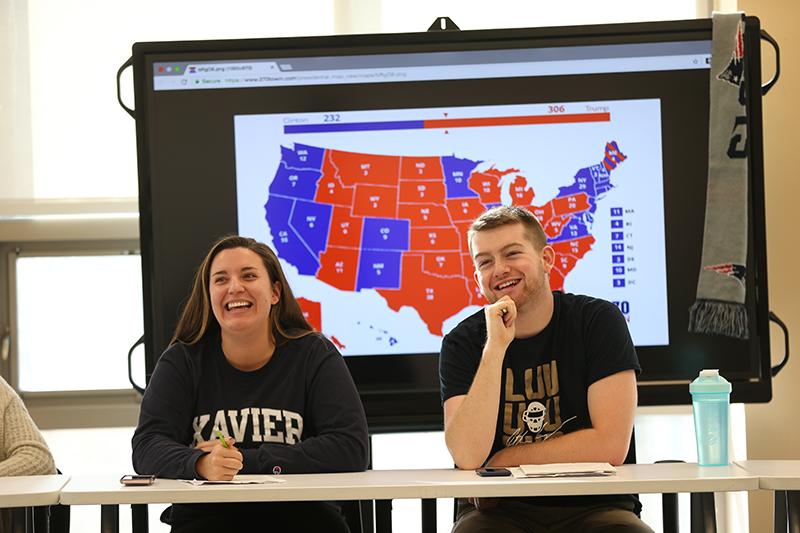 Internships and Study Abroad
As a political science student, you can learn about international politics firsthand in one of our study abroad programs. You can study in Paris, Ireland, Costa Rica, Nicaragua, Australia and a host of other countries. You can also engage in domestic politics directly by interning in Washington, DC, the state capitol, or participating in our local internship program in Cincinnati or wherever you call home. With our internship courses, you can work directly with political professionals to tackle real-world problems while gaining a broader understanding of how your real-world observations connect to the political ideas, institutions, and relationships that you study in the classroom.
A Student-Centered Approach
As a political science student, you'll get to know your professors and your classmates through faculty mentorships, student clubs, and activities that allow you to grow socially, intellectually and morally. You'll have the opportunity to present your work at an undergraduate conference, participate in service-learning activities, and connect with your community through lectures, debates, and service. Throughout your time at Xavier, you will work with a faculty advisor from your department who will help guide your choices so that you can make the most of your opportunities while you develop the understanding and skills needed to make a difference in the world.


Contact Information
Dr. Anas Malik
Chair, Department of Political Science
Walter Schott Hall 712
(513) 745-3227
malik@xavier.edu