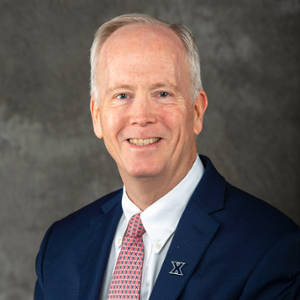 Dr. Edmond Hooker
Professor, Health Services Administration
Dr. Hooker received his B.S. degree from Hampden-Sydney College in Virginia. He earned his M.D. degree from Eastern Virginia Medical School. He then completed his residency training in Emergency Medicine at the University of Louisville. Dr. Hooker works clinically in the emergency department at the University of Cincinnati Medical Center, where he is an associate professor. Dr. Hooker serves as the chief medical officer for Trinity Guardion.

Since 2003, Dr. Hooker has been teaching in the Department of Health Services Administration at Xavier University. In the spring of 2007, Dr. Hooker earned his Doctorate in Public Health from the University of Kentucky. In 2015, he was promoted to Professor at Xavier University.

Dr. Hooker continues to be active in emergency medicine and public health research. He has authored more than 60 publications in leading journals, published many book chapters, and has an active research agenda in both emergency medicine, infection control, and health administration. He has numerous online consumer oriented medical chapters on eMedicineHealth.
Expertise
Epidemiology and Clinical Medicine
First Year at Xavier
2003
Resume