Educational Administration (MED)
Graduate Program (MEd)
Sometimes, teachers find that they have an additional calling. A master's in Educational Administration gives you the tools you need to lead a school or school district in a positive direction-and make an even greater difference in the lives of children every day.
Admission
Applications are accepted throughout the year from students with a bachelor's degree and a solid academic background. You may begin the program in the summer, fall or spring term.
To apply, submit the following application materials to the Office of Graduate Admission.
The online graduate application
One official transcript sent directly from the college/university of all previous undergraduate and graduate coursework to
Xavier University
Admission Processing Center
3800 Victory Parkway
Cincinnati, Ohio 45207-5131
OR
Electronic transcripts to

 

xugrad@xavier.edu

Official test scores from the Graduate Record Exam (GRE) are required starting in Summer 2020. If you have previously taken the GRE and want to have your scores sent to Xavier, please contact GRE at 1-888-GRE-SCORE.
Applications are processed immediately upon receiving all of the necessary materials, and you will be notified of your status as soon as possible. The admission committee considers all of the information contained in the admission application, including prior grades, test scores and evidence of potential for success in graduate study.
Test Waiver Option
*All graduate students wishing to pursue their first (initial) teaching license at Xavier University are required to take the GRE.
Applicants to Graduate Programs in the School of Education Must Have:
Undergraduate degree from a regionally accredited university AND

Admission test score
Test score may be waived under one of the following conditions:
State licensed teacher
Pursuing a M.Ed. or M.S.Ed. without licensure
Pursuing a principal or administration license
Pursuing a second license or endorsement
Pursuing a Montessori teaching credential only
*International students may have additional application requirements. See International Graduate Admissionsfor more information.
**This applies to all Graduate Degree Programs in the School of Education, excluding Human Resource Development and Leadership Studies.
For questions regarding the application process, e-mail the Office of Graduate Services at xugrad@xavier.edu.
Curriculum
Core Courses
Core Education courses are required for the Masters of Education in Administration and all of the administration licensure options.
MEd Core Education Courses (9 semester hours):
| Course Name | Credit Hours |
| --- | --- |
| Total Core Hours: | 9 |
| EDFD 500: History and Philosophy of American Education | 3 |
| EDFD 505: Organization of Educational Systems in the United States | 3 |
| EDFD 507: Educational Research | 2 |
| EDFD 508: Educational Research Paper | 1 |
Please note all course requirements are subject to change.
Administration Courses
All licensure courses listed below (except electives) are required for all licensure options (in addition to the appropriate internships). An academic advisor will evaluate your previous transcripts to determine if you have already completed any of the courses listed below for licensure.
The following courses total 21 semester hours and will, when combined with the 9 core hours, equal 30 semester hours and thus qualify the candidate to apply for the M.Ed. in Educational Administration graduate comprehensive examination. Upon successful completion of the comprehensive examination the M.Ed. will be awarded.
Candidates must have a resident educator or professional teaching license.
Administration Total:
21
EDAD 543: Supervision of Instruction and Staff Personnel
3
EDAD 548: Principalship
or
EDAD 561: Administration of Pupil Personnel (for non-Principals)
3
EDAD 562: Political Structures and School/Comm Relations
3
EDAD 563: School Finance, Business Affairs and Physical Facilities
3
EDAD 565: School Law
3
EDAD 570: Policy, Planning, Evaluation, and Assessment
3
EDAD 660: Curriculum Design and Teach Strategies
3
Internship
To receive a Principal or Administrative Specialist License in the State of Ohio, the candidate must complete two internship courses through Xavier totaling 6 semester hours.
After completing the Principal or Administrative Specialist License Program, the candidate is eligible to complete the application for Ohio Licensure.
Internship(s) I
| Course Name | Credit Hours |
| --- | --- |
| EDAD 771: Principal | 3 |
| EDAD 772: Research | 3 |
| EDAD 773: Staff Personnel | 3 |
| EDAD 774: Curriculum, Instruction and Staff Development | 3 |
| EDAD 775: Pupil Services | 3 |
| EDAD 776: School/Community Relations | 3 |
Internship(s) II
| Course Name | Credit Hours |
| --- | --- |
| EDAD 781: Principal | 3 |
| EDAD 782: Research | 3 |
| EDAD 783: Staff Personnel | 3 |
| EDAD 784: Curriculum, Instruction and Staff Development | 3 |
| EDAD 785: Pupil Services | 3 |
| EDAD 786: School/Community Relations | 3 |
Note: Internship(s) are required for licensure. Please see an advisor for specific licensure you are seeking.  You may schedule an appointment by calling 513-745-4210. All educational administration students must successfully complete the Master of Education (M.Ed.) Comprehensive Examination upon completion of required coursework to earn the M.Ed. degree.
Sample Courses
Supervision of Instruction (EDAD 543) - Study of formative and summative supervision processes with emphasis on accountability and utilizing supervision for individual professional growth. Includes practical application of state mandated instructional policies and processes.
Principalship (EDAD 548) - Designed to incorporate both administrative theory and practice, especially as it relates to the role of the principal, this course provides a special emphasis on the changes in the role of a principal as a result of demographic changes in society, state and local regulations, and in schools.
School Law (EDAD 565) - Legal framework within which schools operate. Federal and state precedents. State code. Legal provisions for school finance.
Curriculum Design and Teach Strategies (EDAD 660) - Theory and practice of curriculum design, development, implementation and evaluation. Correlates curriculum and teaching strategies. Includes formative and summative supervisory functions.
Tuition & Fees
| Tuition, per credit hour | Cost |
| --- | --- |
| MEd and Non-degree Licensure/Endorsement Students | $570 |
| Catholic School Rate | $360 |
| Offsite | $485 |
| Student Fee, per semester | |
| --- | --- |
| Graduate Student Association Fee, degree seeking full-time | $8 |
| Graduate Student Association Fee, degree seeking part-time | $4 |
The amounts listed are for the 2020-2021 academic year, and include classes from Summer 2020 though Spring 2021. For the full, official listing, please visit xavier.edu/costs. Xavier University reserves the right to correct any computational or clerical errors.
SCHOOL ADMINISTRATORS in the Cincinnati region complete their administration licensure coursework from Xavier.
SCHOOL ADMINISTRATORS
in the Cincinnati region complete their administration licensure coursework from Xavier.
EDUCATIONAL ADMINISTRATION
LICENSURE PROGRAM
Xavier's licensure program ensures master's degree candidates are prepared to obtain licenses required to lead schools and school districts in Ohio and other states.
FLEXIBLE SCHEDULES
Flexible schedules let students start classes year-round. Evening classes allow working professionals to finish their degrees as full-time or part-time students.
OFF-SITE LOCATIONS
Off-site locations allow students to start core courses at one of five Cincinnati area locations near work and home.
Educational Administration Design
The MEd in Educational Administration program consists of 9 credit hours of core courses plus 21 credit hours of licensure courses.
Appropriate internships will be added to the Med in Educational Administration or equivalent master's program for principal, specialist or superintendent licenses.
Benefits
Collaborate with area school administrators.
Learn from faculty who are experts in their field.
Gain hands-on experience through internships in local school settings.
Core education courses are offered at five Cincinnati area locations, making it even easier for students to take courses. The locations include:
Covington Catholic High School in Northern Kentucky.
Middletown Fenwick High School north of Xavier.
Wilmington High School, northeast of Xavier.
Oak Hills High School west of Xavier.
Amelia Middle School east of Xavier.
View Offsite Programs »
Xavier by the numbers
$87,700-$101,000
AVERAGE SALARY FOR PRINCIPALS AND SUPERINTENDENTS (BUREAU OF LABOR STATISTICS 2012)
100%
OF STUDENTS ARE PROVIDED JOB SEARCH AND PLACEMENT ASSISTANCE FROM THE OFFICE OF CAREER DEVELOPMENT.
Related Stories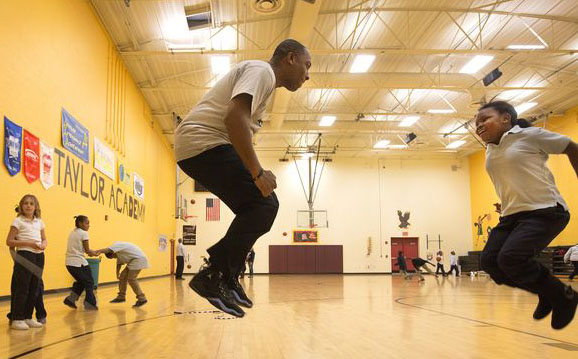 Alumni Spotlight: Ceair Baggett
Baggett found his educational footing at Xavier, where he earned a Bachelor of Liberal Arts in 2009 and Master of Education in Educational Administration in 2010. Now he is one of the youngest principals in the Cincinnati Public Schools system.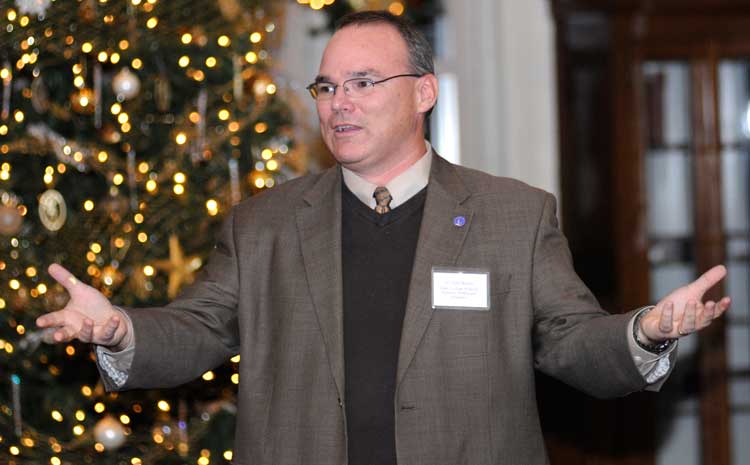 Faculty Spotlight: Mark Meyers, PhD
When Mark Meyers first stepped onto Xavier's campus, his prime objective was to goof off. Granted, he was around 6 at the time.