EARLY CHILDHOOD EDUCATION
Undergraduate Program (BS)
Everyone has a favorite teacher from childhood, that special person who encouraged and motivated you to do your best. As an Early Childhood Education graduate, you'll have the skills to teach preschool through grade three in public and private schools. And, because Xavier uses a holistic approach that emphasizes care for the whole person, you could become that special teacher for someone you have yet to meet.
Sample Four-Year EARLY CHILDHOOD EDUCATION Course Sequence
Sample Courses
Xavier is known for providing an education that's both challenging and personal. Here are some courses that are part of the EARLY CHILDHOOD EDUCATION major at Xavier:
Early Childhood Development (EDEC 210) - Specific study of children ages 3 to 8, developmental differences in young children, growth and health, developmentally appropriate practice in educational settings, assessment practices with young children.
Play in Early Childhood Educ (EDEC 230) - Theory and practice concerning developmental aspects of play, creativity, imagination, and their relationship to music, movement, and creative drama. Teacher's role in preparation of the play environment, including issues of special needs children.
Community Advocacy in Education (EDME 359) - Research supported theories and issues concerning developmentally appropriate practices for early childhood centers, birth to 8 years of age.
Diagnosis/Correcting of Reading Disabilities (EDRE 478) - Formal and informal testing for reading related disabilities surveyed. Factors associated with reading problems.
99% Of Xavier education students pass state exams
99%
Of Xavier education students pass state exams
STAND OUT IN TODAY'S JOB MARKET
FIELD WORK IN CINCINNATI
Experience different kinds of classroom environments—urban, suburban, public and private. We have partnerships with 50+ school districts in southwestern Ohio and northern Kentucky for field experiences and student teaching.
HISPANIC FOCUS
The Hispanic population is the fastest-growing ethnic group in the country, and the need for teachers who speak Spanish is unmatched. Gain a competitive edge in our exclusive program.
GET INVOLVED
See and do things that will change your life—and the world. Sign up to tutor, coach and mentor students in local community schools, or volunteer for a service trip where you'll make connections and memories you'll never forget.
Xavier by the numbers
50
SCHOOL DISTRICTS IN SOUTHWEST OHIO AND NORTHERN KENTUCKY PARTNER WITH US
21
AVERAGE SIZE OF CLASSES
98%
SUCCESS RATE
200+
HOURS OF FIELD EXPERIENCES EARNED IN URBAN, SUBURBAN AND RURAL SCHOOLS
The Xavier Experience. There's Nothing Like It.
Play Video
Related Stories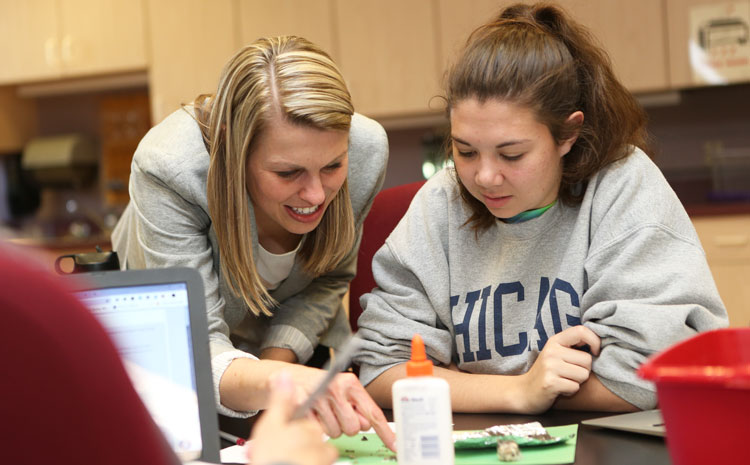 Faculty Spotlight: Lauren Angelone
Lauren Angelone's education students, who are preparing to become early and middle childhood education teachers, take her Instructional Technology class to learn how to incorporate technology into their elementary classroom lesson plans.
AFTER
 GRADUATION
Our students leave Xavier ready to enter the job market. Early Childhood Education graduates go on to work in
public and private schools
educational settings such as hospitals and child care centers
outdoor education and nature centers