Elementary Education (MED)
Graduate Program (MEd)
You're already doing quality work in your classroom. An MEd in Elementary Education can help you do even better by providing a strengthened foundation in professional knowledge, experience combining the latest theories and practice, and opportunities for curriculum development and application. At Xavier, we offer small classes with a personalized experience to help teachers take the next step and provide the network to help you connect with the Cincinnati education community.
Admission
Admission
Applications are accepted throughout the year from students with a bachelor's degree and a solid academic background. You may begin the program in the summer, fall or spring term.
To apply, submit the following application materials to the Office of Graduate Admission.
The online graduate application
One official transcript sent directly from the college/university of all previous undergraduate and graduate coursework to
Xavier University
Admission Processing Center
3800 Victory Parkway
Cincinnati, Ohio 45207-5131
OR
Electronic transcripts to

 

xugrad@xavier.edu

Official test scores from the Graduate Record Exam (GRE) are required starting in Summer 2020. If you have previously taken the GRE and want to have your scores sent to Xavier, please contact GRE at 1-888-GRE-SCORE.
Applications are processed immediately upon receiving all of the necessary materials, and you will be notified of your status as soon as possible. The admission committee considers all of the information contained in the admission application, including prior grades, test scores and evidence of potential for success in graduate study.
Test Waiver Option
*All graduate students wishing to pursue their first (initial) teaching license at Xavier University are required to take the GRE.
Applicants to Graduate Programs in the School of Education Must Have:
Undergraduate degree from a regionally accredited university AND

Admission test score
Test score may be waived under one of the following conditions:
State licensed teacher
Pursuing a M.Ed. or M.S.Ed. without licensure
Pursuing a principal or administration license
Pursuing a second license or endorsement
Pursuing a Montessori teaching credential only
*International students may have additional application requirements. See International Graduate Admissions for more information.
**This applies to all Graduate Degree Programs in the School of Education, excluding Human Resource Development and Leadership Studies.
For questions regarding the application process, e-mail the Office of Graduate Admission at xugrad@xavier.edu.
Curriculum
The Master's in Elementary Education is the appropriate graduate degree for students seeking licensure in early or middle childhood education, or for the licensed teacher seeking to enhance his or her teaching with coursework in a variety of subject areas. The Master's in Elementary Education does not in itself convey licensure, but is usually accomplished in combination with the licensure program since the majority of courses are taken at the graduate level. Therefore, it is important that the student applying for the M.Ed. in Elementary Education speak with a program director, or with the graduate office for further information.
MEd Core Education Courses (9 semester hours):
| Course Name | Credit Hours |
| --- | --- |
| Total Core Hours: | 9 |
| EDFD 500: History and Philosophy of American Education | 3 |
| EDFD 505: Organization of Educational Systems in the United States | 3 |
| EDFD 507: Educational Research | 2 |
| EDFD 508: Educational Research Paper | 1 |
Sample Courses
Classroom Culture: - This is a required course for graduates seeking initial licensure in elementary education. The course examines the historical basis of American education, curriculum, and instruction. There is an emphasis on suitability for teaching. Field experience is a component of the course.
Early Childhood Care/Practices: - This course holistically examines aspects of working as an early childhood professional with families and children birth through age 8. Issues on the education and care of these young children with and without disabilities from various cultural and socioeconomic backgrounds will be studied. Issues include, but are not limited to, full day childcare, early intervention, early childhood special education, early childhood education, and best practices in facilitating young children's learning and development. The course content examines current theories, theorists, programs, and practices in early childhood care/education and child development.
Play and Arts in Early Childhood: - Theory and practice concerning developmental aspects of play and creativity and their relationship to music, movement, creative drama and the visual arts. Art production techniques. Active emphasis on age appropriate art activities as well as student's own artistic development. Teacher's role in preparation of environment for children from diverse backgrounds and special needs.
Tuition & Fees
| Tuition, per credit hour | Cost |
| --- | --- |
| MEd and Non-degree Licensure/Endorsement Students | $570 |
| Catholic School Rate | $360 |
| Offsite | $485 |
| Student Fee, per semester | |
| --- | --- |
| Graduate Student Association Fee, degree seeking full-time | $8 |
| Graduate Student Association Fee, degree seeking part-time | $4 |
The amounts listed are for the 2020-2021 academic year, and include classes from Summer 2020 though Spring 2021. For the full, official listing, please visit xavier.edu/costs. Xavier University reserves the right to correct any computational or clerical errors.
99% of Xavier's teaching licensure students pass their state exams.
99%
of Xavier's teaching licensure students pass their state exams.
CURRICULUM
30 credit hours are required for the master's degree consisting of 9 hours in core courses plus 21 hours of electives.
CONCENTRATION
Choose elective courses from elementary, Montessori, multicultural children's literature, reading and English language learners.
LICENSURE
Early Childhood or Middle Childhood Education Licensure involves additional coursework and can be pursued separately or at the same time as the MEd.
Elementary Education Program Design
The MEd in Elementary Education is appropriate for teachers of elementary and middle childhood classrooms from preschool through grade 9.
The developmental approach of the program is grounded in current and long-standing research findings.
Working relationships with professional practice schools provide continuing input from practicing elementary teachers and administrators.
9 hours of core courses include:
History and Philosophy of Education (3)
Organization of Educational Systems in the U.S. (3)
Educational Research (2)
Educational Research Paper(1)
Plus 21 Hours of Electives
Related Stories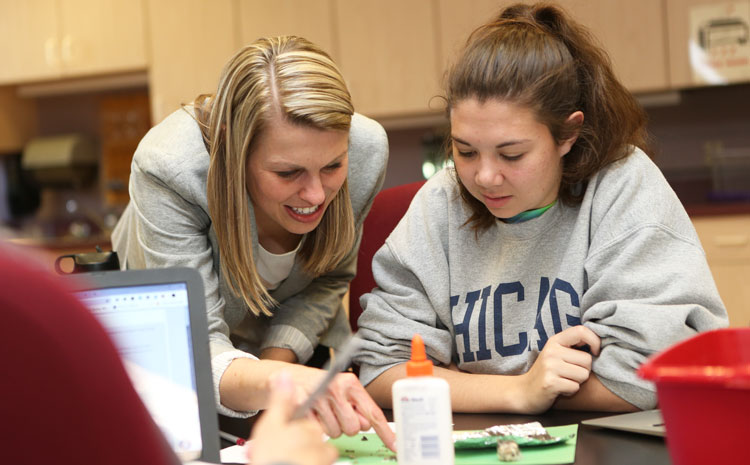 Faculty Spotlight: Lauren Angelone
Lauren Angelone's education students, who are preparing to become early and middle childhood education teachers, take her Instructional Technology class to learn how to incorporate technology into their elementary classroom lesson plans.
Core education courses are offered at five Cincinnati area locations, making it even easier for students to take courses. The locations include:
Covington Catholic High School in Northern Kentucky.
Middletown Fenwick High School north of Xavier.
Wilmington High School, northeast of Xavier.
Oak Hills High School west of Xavier.
Amelia Middle School east of Xavier.
View Offsite Programs »
Xavier by the numbers
100%
OUR STUDENTS GET RESULTS. EARLY AND MIDDLE CHILDHOOD EDUCATION STUDENTS AT BOTH GRADUATE AND UNDERGRADUATE LEVELS ARE SUCCESSFUL IN FINDING TEACHING POSITIONS.
$53,000
MEDIAN PAY FOR ELEMENTARY OR MIDDLE-SCHOOL TEACHER WITH BACHELOR'S DEGREE (BUREAU OF LABOR STATISTICS 2012).
15
WEEKS OF STUDENT-TEACHING EXPERIENCE FOR THOSE SEEKING LICENSURE.