Art
Undergraduate Program (BA)
Art isn't what you do. It's who you are. So consider this an invitation to be yourself. Whether it's printmaking, ceramics or photography, Xavier is ready to help you hone your craft.
Sample Four-Year Art Course Sequence
Sample Courses
Xavier is known for providing an education that's both challenging and personal. Here are some courses that are part of the Art major at Xavier:
Drawing I (Arts 102) - This introductory studio course will focus on the interpretation of form based on observation from life using a variety of traditional material including graphite, charcoal and White colored pencil. This class aims to enable the student to understand how to translate three-dimensional form to two-dimensional form. The class will introduce visual measuring, methods for determining shape proportions and linear perspective and tonal strategies (additive and reductive) for composition, volume and narrative effect.
Three (Arts 105) - In this studio course, students will learn about the elements and principles of three dimensional design, which will serve as an introduction to the study of three dimensional art forms. Students will be introduced to the basic design elements of form, space, volume, mass, weight, planes and surfaces, line texture, and color.
History of Art I (Arts 270) - A survey of art and architecture from its prehistoric beginnings through the Middle Ages.
Senior Seminar (Arts 441) - A study of the practical aspects and concerns of aspiring artists in the contemporary art scene, including its trends, patterns and venues. Provides graduating students with essential skills and knowledge to function as a practicing artist outside of the college environment. Art majors only, usually in senior year.
98% of Xavier students are employed, enrolled in a full-time graduate program or volunteering within 6 months of graduation.
98%
of Xavier students are employed, enrolled in a full-time graduate program or volunteering within 6 months of graduation.
BA in Art
So you want to be an artist. Or maybe you already are one. Whichever the case, we'll help you make your mark on the art scene by perfecting your craft—whether it's printmaking, ceramics, photography or fiber arts. Mentors are here to guide you on a path that may take you across the world or help you change it.
BFA in Fine Art
The Bachelor of Fine Arts (B.F.A.) program is distinguished from the Bachelor of Arts (B.A.) degree by its intensity, structure, and required number of required credit hours. Extended experience (at least 18 credit hours) in one of the Art concentrations is a graduation requirement. The B.F.A. degree is usually a prerequisite for acceptance into a M.F.A. program.
BA in Graphic Design
Graphic Design blends the worlds of art, technology and marketing. Graduate with a dynamic, detailed portfolio and the valuable internship experience needed to succeed as competitive, creative designers.
Go to the Graphic Design page
Art Concentrations
Specialize in the area of your choice:
Art History
The Art History offerings at Xavier include survey courses of the Western world and specialized courses in 20th Century, American Art, Women Artists and Art, and other topics.
Art History is taught from the perspective of the studio artist, with an emphasis on the contemporaneous nature of art and the experiential. Students learn to critique art from the basis of the work itself initially through the analysis of its facture, representation, and content, and then through the historical and biographical facts surrounding the art. Visits to local art museums, and other artistic and historical resources provide tangible experiences of art and the artist for students.
Art majors may pursue art history as a concentration area which culminates in a research thesis during senior year.
Photography
Photography is an intensive discipline that requires the student to be both creator and thinker. Through projects, readings, and class discussions emphasis is on understanding both the aesthetics issues of making a photograph as well as the theory and history of photography. Students are required to produce high quality work that is both visually successful and conceptually engaging and relevant.
Both traditional Black and White darkroom techniques and digital techniques (Adobe Photoshop) are taught in depth. Students will develop a strong sense for looking at their own work as well as others' and be able to articulate their critique both verbally and through written assignments.
Our photo studio consists of a traditional side with a new darkroom and a digital side with computers state-of-the-art software, color printers, and scanners.
STAND OUT THAT'S THE XAVIER DIFFERENCE
ART IN THE QUEEN CITY
Cincinnati's known for its love of the arts. Take advantage of faculty-mentored, for-credit internships or employment opportunities at local museums, magazines, design showrooms, foundations, media groups and other businesses.
SEE THE WORLD
Join classmates studying art in Rome during the Summer Study Abroad program. Students travel to Florence, Assisi and Siena, and have opportunities to visit Venice, Capri and Pompeii.
EXPRESS YOURSELF
Engage in original research working directly with faculty. Take advantage of opportunities to present at the National Conference of Undergraduate Research or exhibit your work locally and regionally as an undergraduate.
Xavier by the numbers
21
AVERAGE SIZE OF CLASSES
75,000+
XAVIER GRADUATES ACROSS THE GLOBE
ALL
ART STUDENTS HAVE ACCESS TO INDIVIDUALIZED STUDIO SPACES
100+
ARTS AND THEATRE ORGANIZATIONS IN CINCINNATI
The Xavier Experience. There's Nothing Like It.
Play Video
Related Stories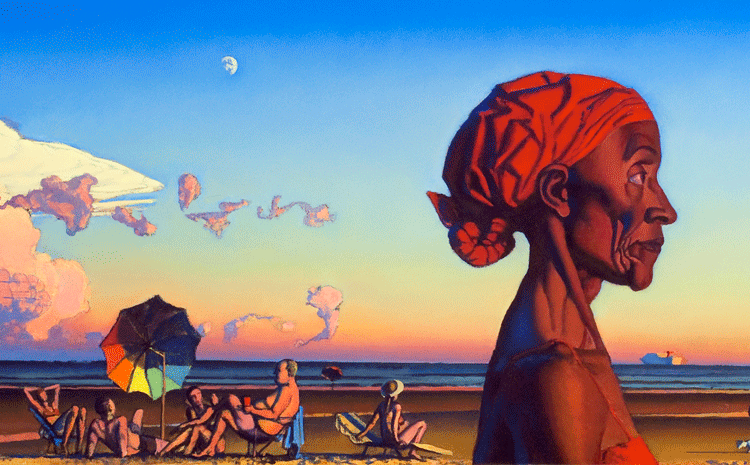 Art at the X: Celebrating Women
For 21 days this summer, 57 artworks depicting the unique and universal experiences of women were prominently displayed in the Xavier University Art Gallery. Though silent in their spaces on the gallery walls and tables, their messages loudly proclaimed the enduring presence and impact of women on the human experience—as a 19th-century midwife, as women who carry water in jugs, as part of the slave trade, as a Shawnee matriarch.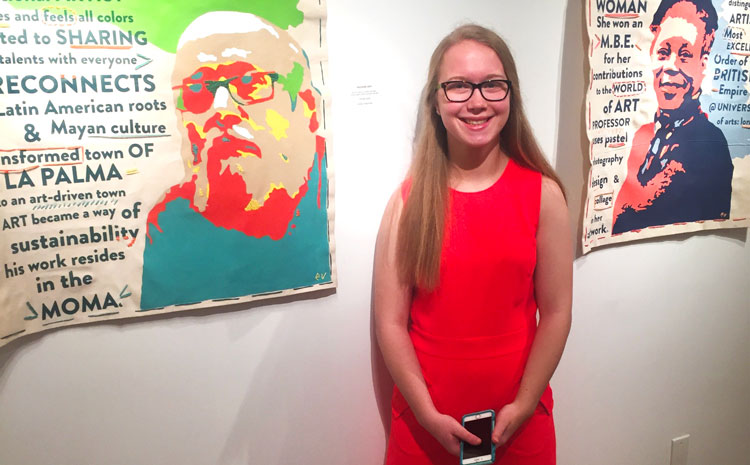 Alumni Spotlight: Emily Vriesman Payne, Artist
She calls herself a "designer for the greater good." For her senior thesis, "Excluded Warriors," Emily Vriesman Payne created tapestries for an international public school in Cincinnati, creating portraits of recognized individuals from each country to be inspirational role models for the children.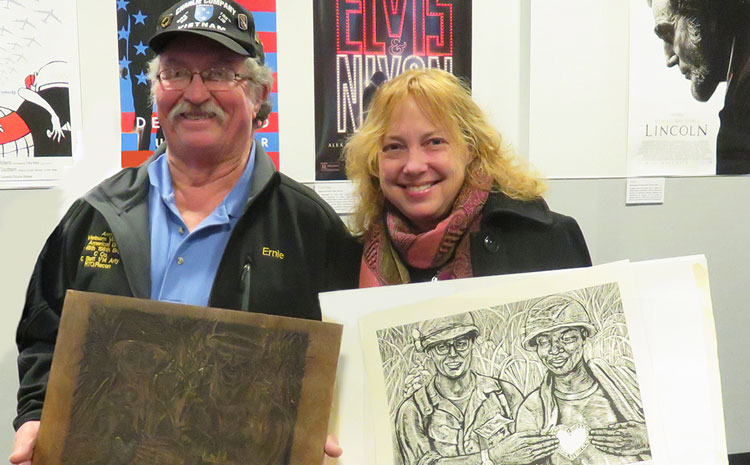 United We Live: A Story of Love, War and Saving One Another
I set out to create a print that would somehow capture the spirit of what Ernie and Jesse had gone through. I decided to create an image of them together in Vietnam, even though they had only met for that horrific moment during the war.
Xavier is in the heart of Cincinnati