Spirituality and Solidarity Minor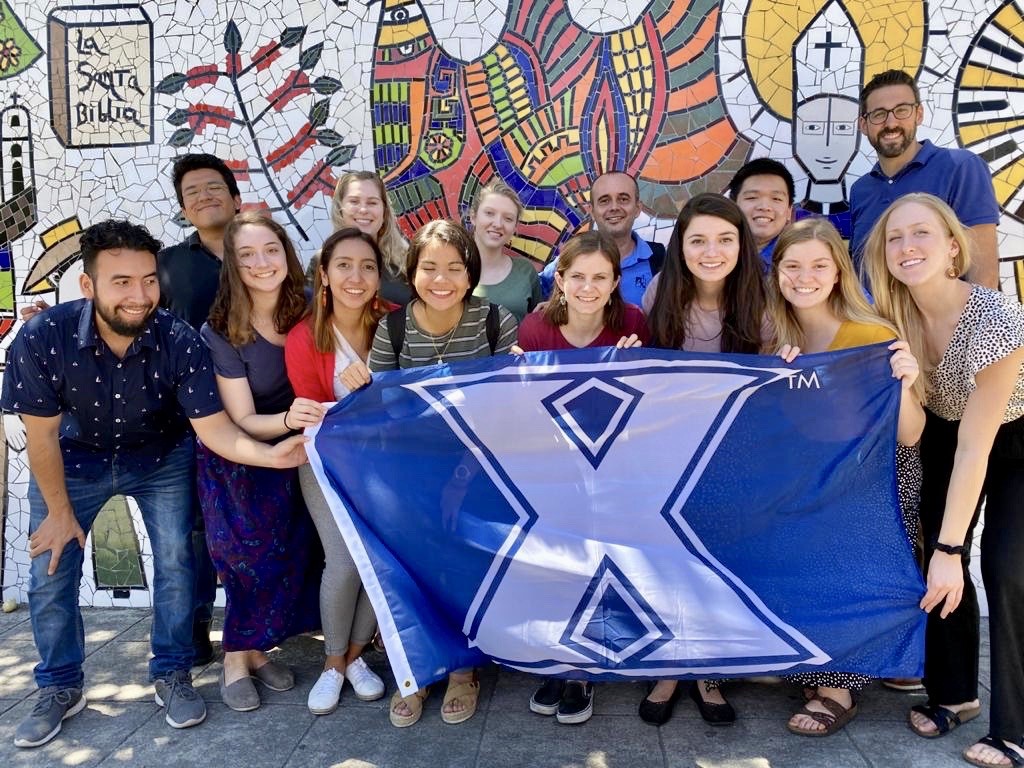 A group of Xavier University students gather with UCA students outside the home of Saint Óscar Romero in El Salvador in March 2020.
The Theology Department announces a new minor: Spirituality and Solidarity. This area of concentration invites students to more closely study the intersection of faith, spirituality, and social-ecological responsibility. This minor consists of 15 credits, including:  
1)  The foundational seminar, THEO 386: Spirituality and Solidarity 
2)  One course in spirituality, such as THEO 206 (Christian Mysticism), THEO 374 (Buddhist-Christian Explorations), or THEO 430 (Ignatian Spirituality). 
3) One course with a primary focus on contemporary social justice and/or ecological issues, such as THEO 303 (Christian Ethics), THEO 311 (Faith and Justice), THEO 322 (Black Theology), THEO 332 (God, Creation, and Ecology), THEO 345 (The Challenge of Peace), or THEO 444 (World Religions and Environment).  
4) Two electives in any area of theology (excluding THEO 111)  
This minor is designed to be flexible so students can pursue their own interests within a number of course offerings. Students are very strongly encouraged, though not required, to seek extra-curricular, service, and immersive learning opportunities to enhance their learning about spirituality and solidarity in the world today.  
The desired student learning outcomes of the Spirituality and Solidarity minor include: 
Building upon the foundation already in place through THEO 111 and the E/RS focus, students will deepen their ability to express what it means to be human and the relevance of religious/spiritual teachings for the building of a more just and inclusive society. 

 

Students will be able to identify key themes of Christian and non-Christian spiritualities and articulate what role, if any, such spiritual practices might play in their own lives 

 

Students will be able to express what it means to live in solidarity with people who are marginalized, excluded, and oppressed. 

 

Students will examine root causes of social divisions and unjust inequalities, critically analyze proposed solutions, and creatively apply what they have learned in order to constructively respond to social and ecological problems.

 

Students will discern and be able to articulate how spirituality, solidarity, and social justice fit into their own vocational and professional aspirations.

 

 
The courses offered in the Spirituality and Solidarity minor will fit with the E/RS flagged courses and many will be eligible for the Writing and Diversity flags as well as GDST electives. Students will be exposed to a diverse array of views and voices to exercise rigorous textual interpretation, analysis, and application. Students will be invited to reflect on their own experiences of crossing barriers and boundaries; integrate spirituality and solidarity into their decisions and relationships; and imagine what it will take to advance inclusive solidarity in the world on the personal, social, and structural levels. 
Faculty involved in the Spirituality and Solidarity minor will make students aware of internship and volunteer opportunities through a variety of schools, churches, and other organizations so that students can get real-world experience at the intersection of faith, spirituality, and social-ecological responsibility.   
To learn more about our Spirituality and Solidarity minor, please contact Dr. Marcus Mescher, associate professor of Christian ethics, at mescherm@xavier.edu.