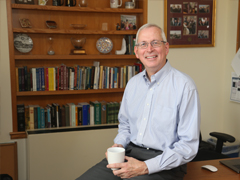 If you want to explore life's meaning; if you want to be challenged and inspired to change a world wounded by inequality, hatred, and ecological degradation; if you want to grow spiritually by drawing on the riches of the Christian tradition in open dialogue with others, come join us.
- Dr. William Madges, Chair of the Department of Theology  
Fall 2022 Course Highlights
THEO 207: Jesus and Power: 

This course examines Jesus in light of the power dynamics within first century biblical and modern social worlds.

THEO 294: Comparative Theology of the Body: 

This course is an exploration of theological perspectives on the meaning and role of human bodies, especially in the context of suffering and religious visions of its transformation. 

THEO 352: Judaism: Customs, Practice and Beliefs:

A basic understanding of Judaism and its component parts. Brief overview of Jewish history and study of holidays and life-cycle experiences.

THEO 389: Theologies of Food and Farm: 

At a time when journalist Michael Pollan describes the United States as a culture with a "national eating disorder," what wisdom can we gain from theological sources to shape a renewed ethics and spirituality of food and farming? This course probes this question with special attention to Christian, Jewish, and native American traditions.
Upcoming Events
No scheduled events - check again soon!
Recent News
DR. MARTIN MADAR PRESENTING AT AN INTERNATIONAL CONFERENCE ON SYNODALITY
Dr. Madar will be presenting a paper at an international conference on synodality in Slovakia on March 10, 2022. He is also a co-organizer of the conference. The conference will be live streamed on YouTube. All presentations in the afternoon will be translated into English simultaneously. The times on the program are in Central European Time (six hours ahead of EST). Feel free to join in.
DR. MARCUS MESCHER ON BUILDING THE "CULTURE OF ENCOUNTER"
In November 2021, Dr. Mescher contributed to a forum at Georgetown University, highlighting how Pope Francis' vision of encounter is shaped by his experience of Ignatius' Spiritual Exercises.
DR. WALKER GOLLAR REPORTS ON SLAVERY FOR THE XAVIER NEWSWIRE
Dr. Gollar was recently interviewed on Xavier's historical ties to slavery for the November 10, 2021 edition of the Newswire.
News about Dr. Marcus Mescher
In October, 2021, Dr. Marcus Mescher wrote a reflection for the publication, National Catholic Reporter, for the one-year anniversary of Pope Francis' encyclical, Fratelli Tutti.
Summer Research Symposium
On Friday, August 27, 2021, two Theology students, Samantha Mossing and Drew Schlidt, presented their summer research.  You can see more information here: 
summer research presentations
.
Dr. C. Walker Gollar Contributes to Archdiocese of Cincinnati Bicentennial Article
Dr. Walker Gollar, a Church Historian, comments on the early beginnings of the Archdiocese of Cincinnati, in commemoration of the Archdioceses' 200th anniversary, which was celebrated on June 19, 2021.
Summer 2021 Xavier Expeditions
Dr. Leon Chartrand and several Xavier students just completed two expeditions to Yellowstone National Park. July 20th begins one to Wrangell-St. Elias National Park in south central Alaska, followed by one to Gates of the Arctic in Fairbanks, Alaska beginning August 1st. Both expeditions emphasize climate change as well as the benefits of solidarity through the experience of survival as a community rather than as an individual. Learn more about Xavier Expeditions.  
News about Dr. Marcus Mescher and Dr. Ashley Theuring
In 2020, Dr. Marcus Mescher and Dr. Ashley Theuring were part of an interdisciplinary team of XU faculty awarded a $40,000 grant from Fordham University to create an instrument to measure moral injury caused by clergy sexual abuse and its cover-up. To date, no such tool exists, so their project represents a ground-breaking effort to explore whether and how moral injury has occurred and could be prevented. Working together as a moral theologian and a trauma-informed theologian, they hope to better understand the various dimensions of these emotional, spiritual, and moral wounds to inform steps toward personal, relational, and communal healing. They plan to collect data in 2021 and report their findings in 2022.
News about Dr. Kristine Suna-Koro
Dr. Suna-Koro received a Wheeler grant for Spring 2022 to develop a new course titled "Jesuits, Sacraments & Justice" which focuses on explorations of Jesuit sacramental theology and its intersections with social justice and ecojustice.