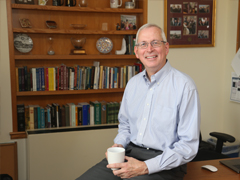 If you want to explore life's meaning; if you want to be challenged and inspired to change a world wounded by inequality, hatred, and ecological degradation; if you want to grow spiritually by drawing on the riches of the Christian tradition in open dialogue with others, come join us.
- Dr. William Madges, Chair of the Department of Theology  
Spring 2023 Course Highlights
THEO 335: African Religions: This class will use multidisciplinary approaches to introduce students to the study of religion and theology by examining the religious traditions of African peoples. In the first part of the course, we will explore major concepts, ideas and values of Africa's religious and ethical traditions and discuss the major theoretical and methodological issues that emerge. The second part of the course will be devoted to examining African and African derived traditions in the New World. We will focus on the revival of ancient Egyptian traditions, Yoruba and Voodoo and discuss how they respond to the problem of evil in the modern world.
THEO 354: Race, Gender and Islam: Using theological, historical, and anthropological perspectives, students will explore how gender and race have been constructed, negotiated, challenged, and policed by Muslims.
THEO 385: Earth, Matter, Bodies, Theology: Must theology be concerned solely with the otherworldly? Or might theology have something to offer to terrestrial life—here and now? This course introduces interdisciplinary approaches to the question of "materiality," exploring contemporary critical theories—such as new materialisms, quantum mechanics, & process metaphysics—and their relevance to constructive theologies in service of environmental justice. Students will have the opportunity to engage and analyze questions related to longstanding theological binaries (e.g. spirit/flesh, heaven/earth, soul/body, et. al.) and their consequences. In short, this course will investigate the intersections between theology and notions of matter, embodiment, land, environment, & beyond.
THEO 363: Comparative Theology: An introduction to the study and practice of engaging and learning from "Other" religions for the benefit of one's own "home" religious faith and practice. Issues of central concern for this course include: inter-religious encounters/dialogue, religious diversity and pluralism, theologies of religious diversity, globalization, and religious violence and war. The course will focus on a specific theme, for example, asceticism or sexuality."
Upcoming Events
LECTURE ON GAUDIUM ET SPES - FEBRUARY 15, 2023
Dr. Marcus Mescher will give a lecture on Gaudium et spes as part of a series hosted by Spirit Alive celebrating the 60th anniversary of Vatican II.  Wednesday, February 15 at 7:00 p.m. in Kennedy Auditorium.
Recent News
DR. MARCUS MESCHER AND DR. ASHLEY THEURING MEASURE THE MORAL INJURY CAUSED BY CLERGY SEXUAL ABUSE
Dr. Ashley Theuring and Dr. Marcus Mescher were among four Xavier University faculty awarded a $40,000 grant from Fordham University to create a new instrument to measure the psychological, spiritual, moral, and social fallout caused by clergy sexual abuse and its concealment. They joined a network of scholars at Jesuit universities across the country to help better understand the root causes of this crisis, its effects, and how to bring about greater transparency, accountability, healing, and prevention. The grant was sponsored by Fordham's Taking Responsibility project, which can found here. Xavier University's research project report on moral injury can be found here. It garnered national coverage from NCR here and local coverage from the Enquirer here.
DR. O'NEIL VAN HORN TO PRESENT AT A CONFERENCE OF THE CENTER FOR PROCESS STUDIES FEBRUARY 2023
Dr. O'neil Van Horn is an invited presenter at the international "50th Anniversary Conference of the Center for Process Studies." Part of "a new generation of process thinkers" invited by the organizers, Dr. Van Horn's work will be featured in a panel on "New Materialism, Poststructuralism, and Process Philosophy."
DR. MARTIN MADAR PRESENTING AT AN INTERNATIONAL CONFERENCE ON SYNODALITY
Dr. Madar will be presenting a paper at an international conference on synodality in Slovakia on March 10, 2022. He is also a co-organizer of the conference. The conference will be live streamed on YouTube. All presentations in the afternoon will be translated into English simultaneously. The times on the program are in Central European Time (six hours ahead of EST). Feel free to join in.
DR. MARCUS MESCHER ON BUILDING THE "CULTURE OF ENCOUNTER"
In November 2021, Dr. Mescher contributed to a forum at Georgetown University, highlighting how Pope Francis' vision of encounter is shaped by his experience of Ignatius' Spiritual Exercises.
DR. WALKER GOLLAR REPORTS ON SLAVERY FOR THE XAVIER NEWSWIRE
Dr. Gollar was recently interviewed on Xavier's historical ties to slavery for the November 10, 2021 edition of the Newswire.
News about Dr. Marcus Mescher
In October, 2021, Dr. Marcus Mescher wrote a reflection for the publication, National Catholic Reporter, for the one-year anniversary of Pope Francis' encyclical, Fratelli Tutti.
Summer Research Symposium
On Friday, August 27, 2021, two Theology students, Samantha Mossing and Drew Schlidt, presented their summer research.  You can see more information here: 
summer research presentations
.
Dr. C. Walker Gollar Contributes to Archdiocese of Cincinnati Bicentennial Article
Dr. Walker Gollar, a Church Historian, comments on the early beginnings of the Archdiocese of Cincinnati, in commemoration of the Archdioceses' 200th anniversary, which was celebrated on June 19, 2021.
Summer 2021 Xavier Expeditions
Dr. Leon Chartrand and several Xavier students just completed two expeditions to Yellowstone National Park. July 20th begins one to Wrangell-St. Elias National Park in south central Alaska, followed by one to Gates of the Arctic in Fairbanks, Alaska beginning August 1st. Both expeditions emphasize climate change as well as the benefits of solidarity through the experience of survival as a community rather than as an individual. Learn more about Xavier Expeditions.  
News about Dr. Marcus Mescher and Dr. Ashley Theuring
In 2020, Dr. Marcus Mescher and Dr. Ashley Theuring were part of an interdisciplinary team of XU faculty awarded a $40,000 grant from Fordham University to create an instrument to measure moral injury caused by clergy sexual abuse and its cover-up. To date, no such tool exists, so their project represents a ground-breaking effort to explore whether and how moral injury has occurred and could be prevented. Working together as a moral theologian and a trauma-informed theologian, they hope to better understand the various dimensions of these emotional, spiritual, and moral wounds to inform steps toward personal, relational, and communal healing. They plan to collect data in 2021 and report their findings in 2022.
News about Dr. Kristine Suna-Koro
Dr. Suna-Koro received a Wheeler grant for Spring 2022 to develop a new course titled "Jesuits, Sacraments & Justice" which focuses on explorations of Jesuit sacramental theology and its intersections with social justice and ecojustice.