MA in Ethics, Spirituality and Professional Practice
The Professional Practice track is designed for professionals in business and non-profit communities interested in developing deeper spiritual understanding as well as practical skills for competent, ethical and theologically informed professional practices. This track is also appropriate for students interested in careers in the management and administration of churches and church-related organizations and corporations such as dioceses and social ministries.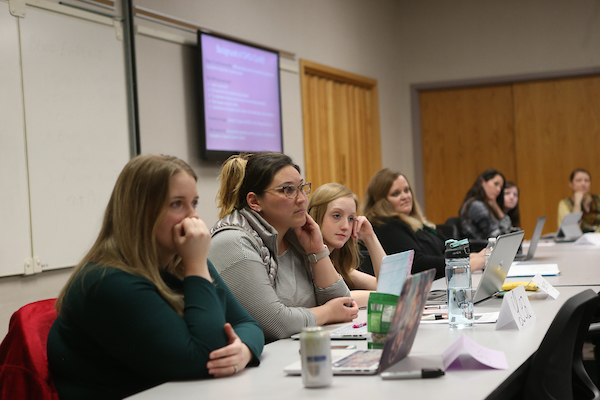 The Professional Practice track combines theory and practice, building on the traditions of spiritual discernment (Ignatian and others), theological reflection and purposeful action. It develops adult learners as knowledgeable, thoughtful and responsible professionals who improve their work environments and society as a whole. Students learn to respond to challenging situations presented in their professional environments in ethically and spiritually responsible ways.
The program presumes a pluralistic religious environment in the workplace, emphasizing ways to understand, recognize, negotiate and celebrate interfaith relationships. It also reflects Xavier's mission to educate students to serve with excellence and ethical integrity in professional fields and to work for social and economic justice.
The goals of the program are:
• To improve understanding of the Christian spiritual, theological and ethical tradition in dialogue with contemporary challenges of religious traditions.
• To prepare professionals with a sound knowledge of ethical traditions and a commitment to bringing social-ethical perspectives to business and service environments.
• To facilitate the spiritual and theological formation necessary for professionals to integrate professional expertise with competent, ethical, and spiritually informed management practices.
Course Curriculum:
Foundational Courses:
THEO 503 Liberating Bible
THEO 520 Journey Through Christianity I: Community, Authority and Expansion
THEO 524 Journey Through Christianity II: Reformations, Modernities and the Global Context
THEO 624 Theological Imagination: Approaches to the Sacred
THEO 547 Ethics in a Time of Planetary Crisis
THEO 690 Discernment and Integration: Capstone Course
ESPP Track Courses:
A course on the Ignatian tradition

A course on scripture and justice

A course on a world spiritual tradition
THEO 644 Human Person: Spiritual and Psychological Development
Two Electives