Pre-Professional Health
Undergraduate Program (BA)
As a student planning a career in the health profession, you have unique goals and educational plans. At Xavier, we have a solid track record of getting our students into medical school and graduate school. You'll find the support and personal attention you need, from academic advising to peer mentoring and MCAT preparation.
pre-medicine
pre-pharmacy
pre-dental
pre-veterinary
pre-ot
84% Medical school acceptance rate among Xavier students compared to 40% nationally
84%
Medical school acceptance rate among Xavier students compared to 40% nationally
Major Decisions
Pre-medicine, pre-dental and pre-veterinary are career intentions that you'll pursue along with your chosen major. With that in mind, you should consider declaring a major that you'll enjoy, perform well in and can use as a basis for further graduate work or employment. Whichever major you choose, your pre-professional health advisor will help prepare you for successful admission to the health profession graduate school of your choice.
All Majors and Minors »
First Year
Explore health careers
Visit your pre-professional advisor
Join the Xavier Pre-Med Society Club
Sophomore Year
Research admittance requirements for medical school
Plan your MCAT preparation schedule
Participate in research
Junior Year
Mock interview with the Health Sciences Committee
Take the MCAT
Submit medical school applications
Senior Year
Gather your letters of recommendation
Interview with the medical schools
Decide which school to attend
Support you can count on.
Preparing for admission to medical school requires careful long-range planning and accurate information. Your coordinator of pre-professional health advising will help with course selection, time management tips, information on individual medical schools, MCAT preparation advice, letters of recommendation and mock admission interviews.
The Xavier Experience. There's Nothing Like It.
Play Video
AFTER
GRADUATION
Xavier graduates practice in a range of fields of medicine, professional health care and other related careers. They go on to study at prestigious health schools like
Boston Universirt School of Medicine
Case Western Reserve University
University of Pennsylvania
Washington University
Duke University
Northwestern University
STAND OUT THAT'S THE XAVIER DIFFERENCE
CORE CURRICULUM
Medical schools value academic diversity and a broad liberal arts background in their students. Our recently revised core curriculum will give you a valuable foundation for all further education.
HOLISTIC APPROACH
A patient is more than a medical diagnosis. During your four years here, you'll learn a holistic approach to healthcare that's focused on a patient's overall health and wellness.
AFTER GRADUATION
Last year, 82% of our students who applied to medical school were accepted, compared to 40% nationally.
Related Stories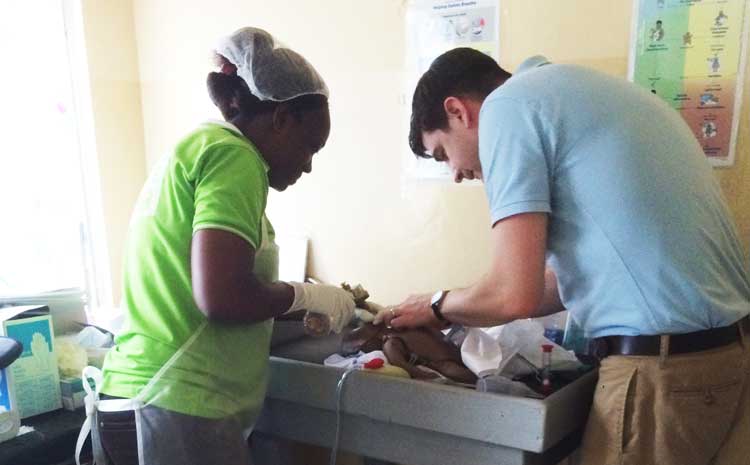 Alumni Spotlight: Matt Pellerite, MD
Natural Sciences major Matt Pellerite got his first taste of public health when he signed up for Xavier's Over-the-Rhine service learning program and learned the importance of caring for whole communities.