Exercise Science
Undergraduate Program (BS)
Serve others by improving and maintaining their health and fitness. Learn how to help people live healthier lives through exercise, rehabilitation, and nutrition—in our personalized program. In addition to the undergraduate program, utilize the 3+2 option to complete your undergraduate degree in exercise science and a master's degree in Athletic Training in five years.
Sample Four-Year Exercise Science Course Sequence
Sample Courses
Xavier is known for providing an education that's both challenging and personal. Here are some courses that are part of the Exercise Science major at Xavier:
Kinesiology (EXSC 200) - The study of human movement including analysis of muscular physiology, biomechanics, and principles of physics as applied to joint movement through muscular contractions.
Exercise Physiology (EXSC 300) - Human physiology as it relates to acute and chronic bouts of exercise and physical activities.
Resistance Training (EXSC 325) - Instruction in proper techniques used to develop muscular strength, power, endurance, and flexibility.
Nutrition for Sport & Exercise (EXSC 360) - Nutrition and its role in human performance and wellness. Nutritional supplements and ergogenic aids will also be addressed.
Fitness Assessment & Design (EXSC 380) - Knowledge necessary to effectively assess, develop, and implement an appropriate exercise prescription for adults.
ALL Xavier Exercise Science students have the opportunity to work in the field, learning outside the classroom.
ALL
Xavier Exercise Science students have the opportunity to work in the field, learning outside the classroom.
MS IN ATHLETIC TRAINING*
For undergraduate students interested in pursuing a career in Athletic Training, we offer a fast-track program to help students earn their bachelor's degree in Exercise Science and a Master's degree in Athletic Training—in just five years. Athletic trainers collaborate with doctors, physical therapists, registered dietitians and others to provide care for the entire person—not just the injury. Athletic trainers provide care for athletes in secondary schools, universities and in professional settings. They can be employed in hospitals, outpatient rehabilitation and physical therapy clinics, as well as in corporate, industrial and military settings. Athletic trainers also work in the world of NASCAR, rodeo, NASA and Cirque du Soleil.
STAND OUT THAT'S THE XAVIER DIFFERENCE
REAL WORLD LEARNING
Your Exercise Science coursework will conclude with a 6-credit hour (EXSC 460) practicum, where you'll complete 400 hours of exercise science-related learning experiences on or off campus with an exercise science professional.
STUDY ABROAD
Take advantage of one (or more!) of our international, for-credit programs in countries like Australia, France, Mexico, Italy, Spain, Japan, The Netherlands, Ireland, Greece, England, Germany and Costa Rica.
PREPARATION FOR GRADUATE SCHOOL
Be ready to enter graduate studies in athletic training, exercise physiology, cardiac rehabilitation, medical school, occupational therapy and physical therapy.
Xavier by the numbers
13%
PROJECTED INDUSTRY GROWTH FOR FITNESS TRAINERS
21
AVERAGE SIZE OF CLASSES
18
DIVISION I SPORTS TEAMS AT XAVIER
ALL
STUDENTS WORK WITH EXERCISE SCIENCE PROFESSIONALS.
The Xavier Experience. There's Nothing Like It.
Play Video
Related Stories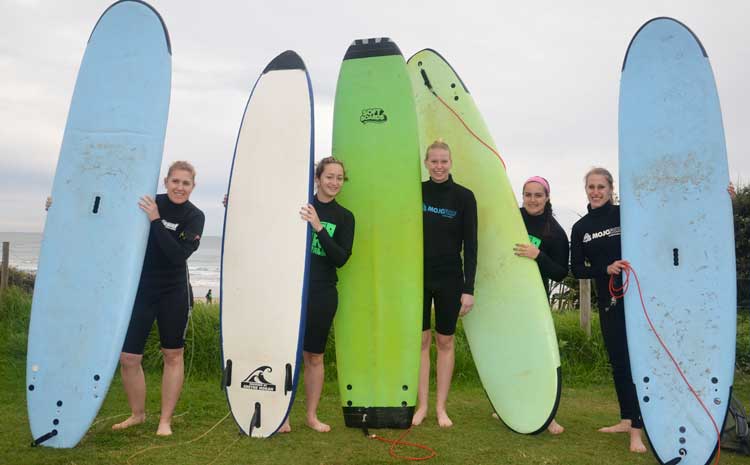 Faculty Spotlight: Lisa Jutte, Athletic Training
Lisa Jutte loves teaching about treating athletic injuries and Australia. So it's no stretch to understand her interest in taking Xavier students "down under" to learn about different approaches to healing and staying fit.
Career Opportunities
Athletic Trainer (3+2 XU Master's degree)*
Cardiopulmonary Rehab Specialists*
Community Health / Fitness Director
Corporate Fitness Director
Exercise Physiologist*
Fitness Center Director / Manager
Group Fitness Instructor
Health Educator
Occupational Therapist*
Personal Trainer
Pharmaceutical Salesperson
Physical Therapist*
Physician's Assistant*
Rehabilitation Specialist
Sports Nutritionist*
Strength and Conditioning Coach
Wellness Coordinator
* Additional graduate study needed
Certification Eligibility
American College of Sports Medicine (ACSM) Certified Exercise Physiologist
ACSM Certified Personal Trainer
National Strength & Conditioning Specialist (CSCS)
American Council on Exercise (ACE) Personal Trainer Certification
Xavier is in the heart of Cincinnati