Clinical Psychology (PsyD)
---
Graduate
Program Details
The APA accredited Doctor of Clinical Psychology (PsyD in Clinical Psychology) educates skilled generalists as Health Service *(Clinical) Psychologists who have a solid appreciation of the role of science in all aspects of professional activity. The program provides students with the knowledge and range of skills necessary to provide psychological services in today's changing professional climate. The full time, five-year program includes four academic years and one internship year.
The Psy.D. in clinical psychology program is rooted in Xavier's strong commitment to the service of others. Xavier's Clinical Psychology graduates are employed as psychologists in positions such as mental health centers, forensic or correctional agencies, medical centers, college counseling centers and private practices. Learn more about student outcomes at Student Admissions, Outcomes, and other Data.
Additional Program Details
Admission
The admission committee considers many variables. The entire set of credentials presented by the applicant is considered. However, a low standing on one criterion [e.g., grade point average (GPA), Graduate Record Examinations (GRE) score] does not automatically mean rejection, nor does one very high standing on one criterion mean automatic acceptance.
The School of Psychology has decided to waive the GRE test for those applicants seeking admission for Fall 2023.
The applicant must possess a bachelor's or master's degree or their equivalent from a regionally accredited institution. The prior academic record must indicate ability and preparation necessary for pursuing graduate studies.
The minimum prerequisite for the program is 18 semester hours of undergraduate courses in psychology. These include courses in general (intro) psychology, introductory statistics, psychological research methods, and nine semester hours in other upper-division, undergraduate courses. It is required that applicants have taken an undergraduate course in psychological testing, but this can be taken after acceptance.
A minimum 3.0 is required in undergraduate and/or graduate coursework. Overall GPA in a degree program and GPA in the psychology courses are both assessed.
The General Test portion is required for all applicants. Applicants are required to take the GRE subject test if they neither majored nor minored in Psychology. Xavier University's institution code is 1965.
Research experience is also considered. This may reflect anything from collecting data to publication in refereed journals.
In addition, work experience is also assessed. This may include internships and/or work experiences relevant to clinical psychology.
Three letters from academic/research sources, along with those describing other types of experience are required. It is strongly recommended that a minimum of two of the letters be from an academic resource.
Compatibility of the applicant's interests with those of the faculty is often considered, but is not necessary for acceptance.
The applicant's ability to write, as reflected in their response to the two personal statements, published research, and their response to a writing prompt given on interview day, is also taken into account.
Above all, the applicant should demonstrate why they are interested in pursuing graduate study in clinical psychology, and why they feel Xavier is appropriate for that study.
Admission Process
Please be advised that the deadline for completed applications is December 1.
Applicants from foreign countries or those who completed their degree overseas are required to submit transcripts evaluated by World Educational Services, a financial statement, a sponsorship letter, and official TOEFL scores. All applicants should see that the School of Psychology receives the following items:
Apply on-line.
A non-refundable $35.00 application fee.
One copy of official transcripts from all colleges and universities previously attended. These include colleges and universities that involve transfer credits.
Three letters of recommendation are required.
Written statements (Personal Statement and Diversity Statement) reflecting a commitment to clinical psychology.
GRE scores -- General Knowledge (required). Xavier University's institution code is 1965.
(NOTE: The School of Psychology has decided to waive the GRE test for those applicants seeking admission for Fall 2022.)
A completed application for financial assistance (optional).
Any other information that might aid in the selection process (for example, relevant research and/or work experience).
Curriculum
Fall / Spring
Assessment I: Psychometrics and Intelligence Testing
Assessment II: Personality
Clinical Psychopathology
Cognitive Aspects of Behavior
Diversity
Advanced Statistics I and II
Computer Statistical Language I and II
Introduction to Clinical Interactions
Social Aspects of Behavior
Summer
History & Philosophical Issues
Professional Problems & Ethics in Psychology
Fall / Spring
Assessment III: Cognitive Functioning
Advanced Research Design Analysis I and II
Biological and Affective Aspects of Behavior
Intervention Techniques: Cognitive Behavior Therapy
Integrative Life Span Psychology I and II
Professional Development and Practicum I and II
Summer
Area of Interest Elective
Elective
Fall / Spring
Intervention Techniques: Dialectical Behavior Therapy and/or Acceptance and Commitment Therapy
Intervention Techniques: Psychodynamic Psychotherapy
Major Research I & II
Clinical Practicum III & IV
2 Area of Interest Electives
Fall / Spring
Consulting
Interprofessional Education
Major Research III
Clinical Practicum V and VI
Area of Interest Elective
2 Electives
Interests
Interest Area - A unique feature of the program is the opportunity for students to develop an area of interest in clinical child and adolescent psychology, health care psychology across the life span or in individuals with severe and chronic psychopathology problems. The areas of interest are designed to expose the student to basic issues and methodologies in working with populations that are presently underserved in our society. All students are required to take eight elective courses. Four of these eight are specified as the student's "Area of Interest."
Certificate in Foundations of Health Sciences Administration - Another unique feature of the program is that students may elect to use the remaining elective credit hours to earn a "Certificate in the Foundations of Health Sciences Administration." This coursework enhances the students' understanding of the economic forces in the health care delivery system. By taking graduate credit hours developed in cooperation with the graduate program in health services administration, students can be educated and trained in the attitudes, beliefs, and skills that are becoming increasingly important in the changing delivery of health care in the United States.
Learn more about the program's areas of interests.
Tuition and Fees
Take the Next Step
Loading...
---
Focused Faculty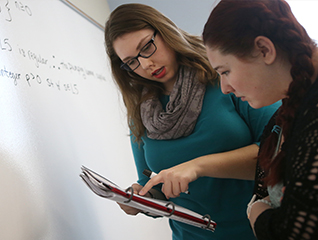 Students earning their PsyD in Clinical Psychology interact with faculty members who have diverse academic and research interests, as well as professional training. Teaching is the primary mission of the department.
---
---
Professional Opportunities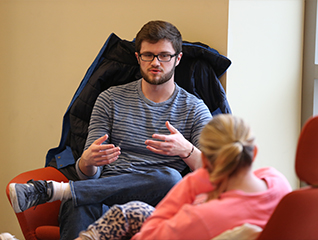 Clinical practicums during the second through fourth years of the program give students the opportunity to apply skills learned in the classroom to clients at a wide range of community settings under the supervision of a licensed clinical psychologist.
---
---
Accredited PsyD Program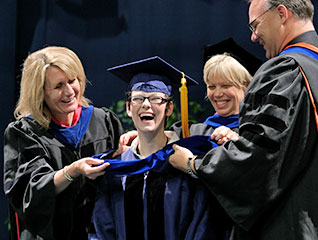 Xavier University's Clinical Psychology Doctoral (PsyD) program recently received a 10-year reaccreditation by the American Psychological Association (APA), the maximum length given by the association. The program has been continuously accredited by the APA since 2001, engaging in ongoing review and quality improvement.
---
Clinical Psychology (PsyD) Program at Xavier University
The Psy.D. program emphasizes the importance of a scientific foundation in psychology. It's designed to prepare students for the general practice of health service; it also provides training in three areas of interest: children and adolescents, individuals with severe and chronic psychopathology, and health care psychology in medical settings. The basic philosophy of the Psy.D. program is to educate skilled practioners who have a solid appreciation of the role of science in all aspects of professional activity. The program recognizes a need for the student to achieve a balance between a knowledge of the basic science of psychology and proficiencies.
Xavier University's College of Professional Sciences prepares undergraduate and graduate students intellectually, morally and spiritually for careers and professions of service. CPS challenges students to strive for academic excellence and life-long learning through promoting collaboration and community partnerships, and incorporating research, scholarship and innovation.
Xavier University is a private university located in Cincinnati, Ohio, providing a liberal arts education in the Jesuit Catholic tradition. Founded in 1831, the University is the sixth-oldest Catholic university in the nation. It has been ranked among the top 10 master's-level universities in the Midwest by U.S. News & World Report for the past two decades. The Princeton Review names it one of the "Best 385 Colleges in America."
Additional Resources