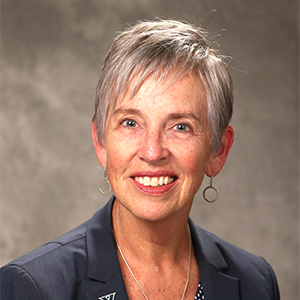 Linda Schoenstedt, EdD
Program Director,
Leadership Studies and HRD
Professor,
Sport Science & Management Programs - MED in Sport Administration
Born in Joliet, Illinois, Dr. Schoenstedt has been involved in several areas of the sport industry as a coach, athletic director, facility manager, and volunteer for several events and organizations within the sport industry countrywide. She has been a Professor in Sport Management, Marketing & Administration at Xavier University since 2010.  Dr. Schoenstedt has been named Big Ten Volleyball Coach of the Year, worked with the USA National and Olympic Volleyball Teams, posted from the Beijing Olympics using Social Media and she volunteers in the community at various events and non-profit organizations.  She has served on the National Sports Steering Committee for NASPE and AAHPERD/SHAPE, taught Sport Ethics for Ohio University, and is an Associate Editor for Sagamore Publishing. At Xavier, she has served as Faculty Committee Chair, Director of Faculty Programming for Mission & Identity and Chair of the Leadership Studies Doctoral Program.  Recently, Schoenstedt served as the Interim Dean of the College of Professional Sciences.  Her research interests include: Ethics in Coaching Education, Social Media in Sport, Fan Engagement, Sport Spectatorship and Consumerism, and Gender Issues in Sport. 
Dr. S has two children and resides on the Westside of Cincinnati.
Expertise
Coaching, Social Media, Sport Consumerism and Spectatorship, Ethics and Diversity in Sport
Professional Interests
Coaching Standardization, Social Media Marketing in Sport, Ethics and Diversity in Sport
First Year at Xavier
2010
Links
Degrees
Creighton University; BS;University of Montana; MST;Montana State University-Northern; M.Ed;Montana State University; EdD
Work Experience
Coaching: University of Iowa, Wright State University, Montana Tech, Montana State-Northern
Publications
Vickers, B. and Schoenstedt, L.J. (2011). Coaching Development Methods. Strategies. 24(4), 14-19. ;Schoenstedt, L.J. and Reau, J. (2010). Running a Social Media Newsroom: A Case Study of the 2009 Cincinnati Flying Pig Marathon. International Journal of Sports Communication, 3 (3), 377-386.;Lee, D., Cianfrone, B. A., Byon, K. K., and Schoenstedt, L. (2010). An examination of the relationships among personal values, team identification, product involvement, product attributes, and purchase intention of licensed team merchandise. International Journal of Sport Management, 11, 517-540. ;Vickers, B. and Schoenstedt, L.J. (2010). Identity Formation throughout Varying Levels of Coaching Expertise. Sports Science Review, Vol. XIX, No. 5-6, 209-230.;Knestrict, T. and Schoenstedt (Schoensteadt), L. 2005. Teaching Social Register and Code Shifting Directly in the Classroom: A Case study in Social Skills Instruction for Children in Poverty. Journal of Children and Poverty. 11(2). New York, NY.;Schoenstedt, L.J., Option Blocking: Championship Books and Video Productions, Ames, IA., 1995-2011. Currently in video for sale circulation from several sources including: http://www.onlinesports.com/pages/I,CBV-VV-351.html.;Lee, D., Schoenstedt, L. J. (2011). Comparison of eSports and Traditional Sports Consumption Motives. International Council for Health, Physical Education, Recreation, Sport, and Dance (ICHPER-SD) Journal of Research. 6 (2).
Awards, Honors, Certifications
Big Ten Coach of the Year, 1995;Wright State Coach of the Year, 1991