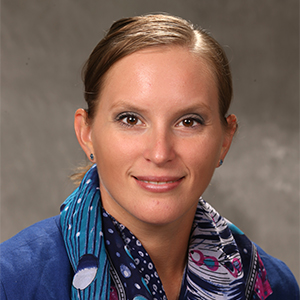 Ashley Varol, PhD
Teaching Professor
Ashley Varol is a proud Cincinnatian. Earning all three of her degrees just down the road at the University of Cincinnati.  She has been able to blend her love of movement, building relationships and improving the health of others into a unique career to date. During her undergraduate studies, Ashley worked with a team of local physical therapists on a study investigating a four-week, task specific neuroprosthesis with patients post stroke, which is where she confirmed her passion for working with individuals experiencing setbacks with their health. As a graduate assistant during her Master's work, Ashley gained the awareness of her love to teach and shifted her professional pathway from the clinical setting and into practice. Ashley worked as a Program Manager in Campus Recreation leading trainers, dietitians, therapists and instructors while working to complete her PhD. She shifted roles after ten years in recreation to create and run the employee wellness program Be Well UC, providing health coaching, workshops and interactive programming to nearly 7,000 employees.
Ashley joined the Xavier faculty as a full time Teaching Professor in the Fall of 2019, however, and served as an adjunct faculty member since 2009. Additional roles Ashley holds include being a Subject Matter Expert and Master Trainer for the American Council on Exercise (ACE), which is an NCCA accredited, certifying body in the fitness industry, and of which she holds all 4 certifications. Ashley is also a contributor for the local Cincinnati Moms Blog, sharing perspectives of her most important role as a mom of three (big brother Gabriel and twins Ari & Ayla) and the wife of Serkan. She loves living on the east side of Cincy and exploring our great city!
Expertise
Fitness with special populations, addressing chronic pain with movement not medication.
Professional Interests
Focus on motivation, behavior change, communication and education to help all people of all abilities to move more and improve health.
Degrees
PhD – Health Education, Employee Health & Chronic Pain focus, University of Cincinnati, 2016
MEd – Health Education, concentration in Community Health, University of Cincinnati, 2008
BS – Health Science, concentration in Sports and Biomechanics, University of Cincinnati, 2006