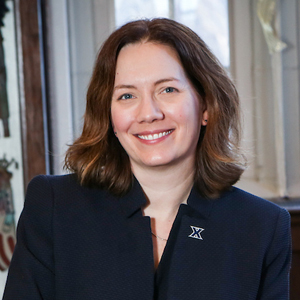 Rachel Chrastil, PhD
Provost and Chief Academic Officer, Office of the Provost
(She, Her, Hers)
Rachel Chrastil, Ph.D., has served as Xavier's Provost and Chief Academic Officer since January 2022. As Provost, she co-led the formation of Xavier' Strategic Plan, X200: The Greater. The Better. The More. which will lead Xavier to its bicentennial in 2031. In the Provost Area, X200 is operationalized through the 2023-2031 Academic Plan. While supporting excellence in the Core Curriculum and existing strong academic programs, Chrastil is leading new investment in our doctoral and professional graduate programs, exploration of bold new programs in the health sciences, the advancement of Ignatian Civic Engagement, and deepening commitments to Experiential Learning and Vocational Discernment.
Chrastil's administrative work is driven by a commitment to Xavier's educational mission and her passion to help the current and future students at Xavier face with courage, conviction, and solidarity the challenges of the twenty-first century. In all this work, Chrastil has made a commitment to shared governance, inclusive excellence, intellectual curiosity, and good process.
Provost Chrastil is an award-winning teacher and internationally recognized scholar of modern European history, with expertise in civilian experiences at the dawn of total war. She joined the faculty at Xavier in 2005 and achieved the rank of Professor in 2017.
Chrastil is a dedicated teacher-scholar with a particular passion for teaching in the Core Curriculum. Her courses include First-Year Seminar: Paris, Historical Perspectives: Europe at War 1914-1945, the French Revolution, and A History of Saving the World. In her courses students learn to describe change over time, to see multiple causes of complex transformations, and to enter into the perspectives of people whose experiences are very different from their own.
In her books Organizing for War: France, 1870-1914 and The Siege of Strasbourg, Chrastil examines civilian experiences in major international conflicts. Chrastil's How to Be Childless: A History and Philosophy of Life Without Children, examines the causes, interpretations, and experiences of childlessness in Western countries during the modern era. Chrastil's work on childlessness has appeared in The Washington Post, Psychology Today, Cincinnati Edition, New Books Network, and the podcast Think Act Be.
Prior to her appointment as Provost, Chrastil served in numerous administrative and leadership roles. As Director of Accreditation, Chrastil oversaw the successful preparation for Xavier University's 2021 affirmation of accreditation with the Higher Learning Commission. From April 2020 to December 2021, Chrastil led the Academic Team on the COVID-19 Task Force. Chrastil also oversaw Xavier's Take It On initiative, which is building the campus capacity for constructive, reflective dialogue and proactively addressing our nation's political polarization and divisiveness, by drawing on our Jesuit Catholic traditions. Chrastil previously served as Associate Dean of the College of Arts and Sciences and as the Founding Director of the First-Year Seminar.
Chrastil earned her Ph.D. in History at Yale University and her B.A. in History and French at Indiana University. She was a Fulbright Scholar in 2009, studied at the Université de Provence, and has researched extensively across France. In 2015 she was awarded the Roger A. Fortin Award for Outstanding Teaching and Scholarship in the Humanities.
First Year at Xavier
2005
Degrees
Ph.D., Yale University, Department of History, 2005
B.A., Indiana University, History and French, Honors, with High Distinction, 1999
Publications
Bismarck's War: The Franco-Prussian War and the Making of Modern Europe (Basic Books, 2023)
How to Be Childless: A History and Philosophy of Life Without Children (Oxford University Press, 2019)
The Siege of Strasbourg (Harvard University Press, 2014)
Organizing for War: France, 1870-1914 (Louisiana State University Press, 2010)
Awards, Honors, Certifications
Fellowship, Gustave Gimon Collection on French Political Economy at the Stanford University Libraries, 2013
Faculty Fellowship for "The Stuff of Everyday Life: Using Quantitative Literacy in the Humanities to Address Sustainability Issues," sponsored by the Xavier University Center for Teaching Excellence, 2013
U.S. Fulbright Scholar: Fulbright-Alsace Regional Council Award for research in Strasbourg, 2009
Commendation by the Jury for the Malcolm Bowie Prize for the article "The French Red Cross, War Readiness, and Civil Society, 1866-1914," The Society for French Studies, 2008