A Modern University 1946 to 1979
Dorm Barracks on Campus

When veterans returned in 1946 from the World War II, 10 army barracks were brought to the campus and erected, some on the present site of Alter Hall, McDonald Library, and Schott Hall. They were a temporary answer to the urgent need for more student housing


Graduate Division
In June 1946, the university established a graduate division. Courses were offered weekday afternoons, on Saturdays and during the summer. There were five academic departments: Chemistry, classical languages, education, English and mathematics. William Hetherington, S.J., was the first director. Raymond McCoy succeeded him in 1947 and served as dean for more than 30 years.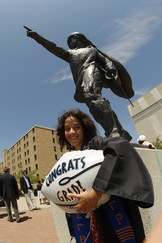 First Musketeer Symbol on Campus
Members of the class of 1962 initiated a campaign to have a symbol of the Musketeers visible on campus. On November 2, 1968, the statue of D'Artagnan found its home on the Musketeer Plaza.
Xavier Becomes Fully Coeducational
In the early 1960's, the board of trustees began discussing whether Xavier should admit female students in the undergraduate day school. By September 1969, the day school became fully coeducational.
Post-war Building Boom
Eleven new buildings were erected on campus from the end of World War II to 1972, eight of which were built during the presidency of Paul O'Connor, S.J., (1955-1972). This included three new residence halls: Brockman (1955), Husman (1965) and Kuhlman (1967), bolstering campus accommodations to a capacity of 1,050 residents. In 1967, Xavier also dedicated the McDonald Memorial Library.
A Growing Campus
Since 1919, when Xavier established its permanent home in Avondale, the campus has grown from 26 acres to 78 in 1990 to 125 acres in 2001 to 190 acres in 2010.