Finance
Undergraduate Program (BSBA)
If you've got a head for numbers, a Xavier degree in finance adds up to a great investment. Discover the techniques for making investments, controlling costs and making effective financial decisions for companies and organizations. Learn about more than just the bottom line through our academics, ethics and real-world experience.
Sample Four-Year Finance Course Sequence
Sample Courses
Xavier is known for providing an education that's both challenging and personal. Here are some courses that are part of the Finance major at Xavier:
Investments (FINC 365) - This course introduces techniques for analyzing investments in equities, fixed-income securities, options, and futures. Emphasis is on asset selection and risk management.
Intermediate Financial Management (FINC 401) - Intermediate Financial Management examines the issues of capital budgeting, capital structure, cost of capital, payout policy, and working capital management at the intermediate level. The course also introduces students to corporate governance and corporate risk management.
Financial Modeling (FINC 485) - This course is designed to develop the student's ability to apply financial modeling techniques in the identification, analysis, and solution to financial problems. Emphasis in this class is on financial forecasting, valuation, and risk analysis.
Cases and Problems in Finance (FINC 495) - This class is a capstone to the Finance major, integrating material from the other required finance courses. The class consists of case studies involving decision making in the areas of financial analysis, capital budgeting, capital structure, valuation, and related areas.
99% of Xavier Finance Majors are employed, attending grad school or working in service or volunteer positions within six months of graduation.
99%
of Xavier Finance Majors are employed, attending grad school or working in service or volunteer positions within six months of graduation.
STAND OUT THAT'S THE XAVIER DIFFERENCE
OUTSTANDING INTERNSHIPS
Benefit from internships at the region's leading companies and organizations from Fifth Third Bank and General Electric to AK Steel Corp. and Raymond James & Associates.
MEET YOUR MENTOR
For more than a decade, our Mentor Program has matched students of all majors with executives and career professionals in the Cincinnati area and throughout the United States.
REAL EXPERIENCE
Xavier's home to one of the largest educational installations of Bloomberg LP financial software – the standard on Wall Street and throughout the global financial industry. Finance and MBA students manage two investment funds with a combined market value of over $2.5 million.
Xavier by the numbers
21
AVERAGE SIZE OF CLASSES
9
FORTUNE 500 COMPANIES IN CINCINNATI
$50,000
AVERAGE STARTING SALARY FOR BUSINESS GRADUATES
75,000+
XAVIER GRADUATES ACROSS THE GLOBE
LEARN OUTSIDE
THE CLASSROOM
At Xavier, a great education comes with a supportive campus and a city full of opportunity. All students have access to a professional, executive mentor through our nationally known Mentor Program.
The Xavier Experience. There's Nothing Like It.
Play Video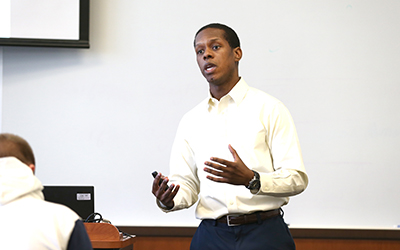 XAVIER PROFESSORS LIKE DR. JONES USE FUN TO HELP STUDENTS SUCCEED
Xavier Finance students can expect quirky fun when they take Tim Jones' classes, which involve Finance and Real Estate.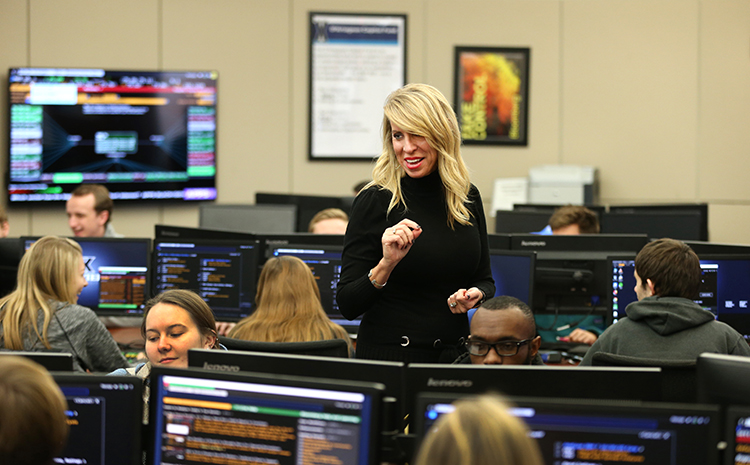 FINANCE PROF KIM RENNERS' GOAL? TO BE MENTOR AS WELL AS TEACHER
Xavier Professor Kim Renners is a mentor to her students. Want help finding a job? She will tap into her contacts in the business world. Need some experience to boost that resume? She will offer some tips to get your resume noticed.
Mentors Needed to Provide Guidance, Advice for Musketeers
The Career Development Office says they need more mentors to sign up. They are especially short in these programs: Sports Management, Sports Marketing, Advertising, Graphic Design, Health Services Administration, Occupational Therapy and Nursing.
Xavier is in the heart of Cincinnati
Careers After Xavier
Graduates go on to work at top companies like