Previous Besl Family Chairs
Dr. Myron Jackson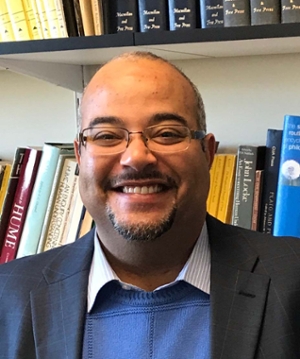 Myron Jackson held the Besl Family Chair in Ethics/Religion and Society from 2018 to 2021. Dr. Jackson holds a Ph.D. in Philosophy from Southern Illinois University, where he wrote a dissertation on Ironic American Exceptionalism and the Myth of the Open Self. He taught at Grand Valley State University before coming to Xavier. His interests include social and political philosophy, philosophy and religion, philosophy of culture, public law, the history of political thought, and philosophy and race.
Dr. Adam Konopka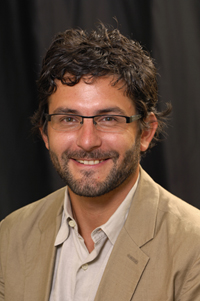 Adam Konopka held the Besl Family Chair in Ethics/Religion and Society from 2013 to 2018. He is a philosopher specializing in phenomenology and environmental ethics. He received his Ph.D. from Fordham University and his M.A. from Boston College. He has published peer-reviewed articles in major journals and is currently completing a book project entitled Environmental Investigations: Husserl and the Human/Nature Distinction in which he appropriates phenomenological resources from Edmund Husserl to develop a philosophical foundation for environmental ethics. Dr. Konopka received the Early Career Scholar Award from the Association of Practical and Professional Ethics in 2013 as well as the 2013 Emerging Scholar Award from the College of Mount St. Joseph. 
Dr. Peter A. Huff
Peter A. Huff held the Besl Family Chair in Ethics/Religion and Society from 2010 through 2013. He also holds the T. L. James Chair in Religious Studies at Centenary College of Louisiana. Dr. Huff studied at Cleveland Institute of Music, Mercer University in Atlanta, Southern Baptist Theological Seminary, and Indiana University before receiving the Ph.D. in historical theology from Saint Louis University. He served for a number of years in Baptist congregational ministry and Catholic campus ministry and is today a popular speaker in churches and commentator for print and electronic media. He entered the Catholic Church in 1987. Active in ecumenical and interfaith affairs, Dr. Huff has served as a board member of the Society for Buddhist-Christian Studies and has spoken at two meetings of the Parliament of the World's Religions. He is a member of Alpha Sigma Nu and Phi Beta Kappa.
Dr. Huff has written extensively on the tension between classical forms of religious belief and practice and patterns of life and thought generated by the experience of modernity. He is a leading authority on fundamentalism and the antimodernist impulse in world religions. His books include Allen Tate and the Catholic Revival (Paulist Press), What Are They Saying About Fundamentalisms? (Paulist Press), Vatican II: Its Impact on You (Liguori Publications), The Voice of Vatican II: Words for Our Church Today (Liguori Publications), and two co-edited volumes: Knowledge and Belief in America (Cambridge University Press) and Tradition and Pluralism (University Press of America). His articles and reviews have appeared in journals and magazines such as Church History, Cross Currents, Dialogue: A Journal of Mormon Thought, Horizons, International Journal on World Peace, Journal of Buddhist Ethics, Liguorian, New Oxford Review, Quaker History, Theological Studies, and The Unitarian Universalist Christian.
At Xavier, Dr. Huff taught courses in world religions, interreligious dialogue, and contemporary Christian intellectual life. He designed and taught two new courses: an E/RS focus elective on C. S. Lewis and a theology elective on Mormonism. In 2011, he conducted an E/RS Lenten workshop on Pope Benedict XVI's book Light of the World: The Pope, the Church, and the Signs of the Times. In 2012, in honor of the 50th anniversary of the opening of the Second Vatican Council, he delivered an E/RS lecture on "Atheism and the Unfinished Business of Vatican II."
Dr. David Loy
David Loy held the Besl Family Chair of Ethics/Religion and Society from 2006 through 2009. Dr. Loy did his undergraduate studies at Carlton College in Northfield, Minnesota, and for a year studied analytic philosophy at the University of London's King College. He did post-graduate work in Asian philosophy at the University of Hawaii, where he received a masters degree. He received his Ph.D. in philosophy from the National University of Singapore. He has taught at the National University of Singapore and Bunkyo University in Chigasaki, Japan.
He is the author of Nonduality: A Study in Comparative Philosophy (Yale University Press, 1988), Lack and Transcendence: The Problem of Death and Life in Psychotherapy, Existentialism, and Buddhism (Humanities Press, 1996), A Buddhist History of the West: Studies in Lack (State University of New York Press, 2002), The Great Awakening: A Buddhist Social Theory (Wisdom Publications, 2003), Money Sex War Karma: Notes for a Buddhist Revolution (Wisdom Publications, 2008), Awareness Bound and Unbound (State University of New York Press), and The World Is Made of Stories (Wisdom Publications). He is also the editor of Healing Deconstruction: Postmodern Thought in Buddhism and Christianity (Scholars Press, 1996) and coauthor with his wife, Linda Goodhew, of The Dharma of Dragons and Daemons: Buddhist Themes in Modern Fantasy (Wisdom Publications, 2004).
In addition to his academic work, David Loy is an authorized teacher in the Sanbo Kyodan lineage of Zen Buddhism where he completed formal koan training under Zen Master Yamada Koun Roshi.
Dr. Farid Esack
Farid Esack held the Besl Family Chair of Ethics/Religion and Society between 2003 and 2006. A South African Muslim liberation theologian, he studied in Pakistan, the UK and Germany and is the author of Qur'an, Liberation and Pluralism, On Being a Muslim, An Introduction to the Qur'an, and with Sarah Chiddy, the co-editor of Islam, HIV and AIDS -Between Scorn Pity and Justice. He has published on Islam, Gender, Liberation Theology, Interfaith Relations, and Qur'anic Hermeneutics.
Esack served as a Commissioner for Gender Equality in South African and taught at the Universities of Western Cape, and Hamburg, the College of William and Mary and Union Theological Seminary (NY) before coming to Xavier University. He subsequently served as the Prince Al-Waleed Bin Talal Professor of Contemporary Islam at Harvard University before becoming Professor in the Study of Islam and the Head of the Department of Religion Studies at the University of Johannesburg.
Dr. James Buchanan
James Buchanan was the first holder of the Besl Family Chair of Ethics/Religion and Society from 2000 to 2003. He studied comparative religions and ethics at Yale University and the University of Chicago, where he completed a Ph.D. He also studied and taught in Paris, Moscow, Beijing and Hong Kong. Buchanan formerly held Carolyn Werner Gannett Chair in humanities at the Rochester Institute of Technology. He has lectured worldwide and published widely on a range of global ethical issues.
In 2003, Dr. Buchanan became the Director of the Brueggeman Center for Dialogue at Xavier University.