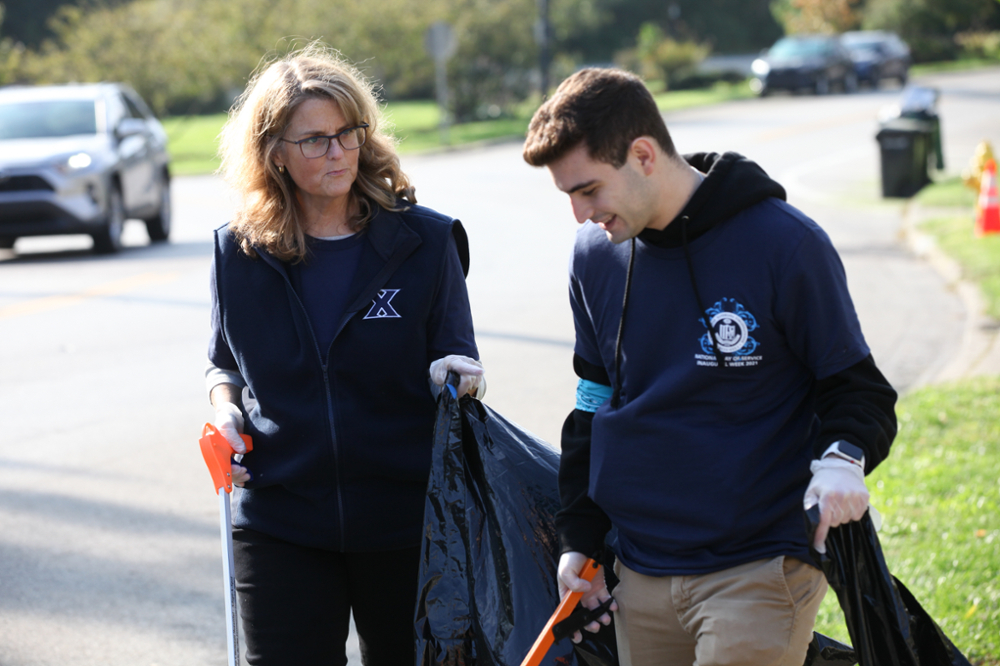 "Ours is also a community that is committed to… community. A community that cares for our neighbors around the corner and across the globe. This is a place where young people arrive, facing inward and leave, transformed, having turned outward in their focus. They tell us and show us that they are devoted to making the world better."  Inaugural Address, President Colleen Hanycz (October, 2021)
Our Mission
The Eigel Center supports collaborative community-based learning experiences that prepare our graduates for a world that is increasingly diverse, complex, and interdependent. Leveraging engaged faculty and community assets, the Center guides the development and integration of meaningful immersive and service-learning courses that bridge classrooms to communities and provide a mutually beneficial exchange of knowledge and resources.
Established in 2008, the James & Delrose Eigel Center for Community-Engaged Learning is named in honor of  Jim Eigel, a 1956 Xavier alumnus, and his wife, Delrose. As longtime Xavier supporters, the Eigels were compelled to help found the Center as a way to leverage the assets of the University to address racial and economic disparity in our community. Learn more about Jim, and how his journey through Xavier inspired he and Delrose to establish the Eigel Center for Community-Engaged Learning.
Our Priorities
Build and foster external partnerships that extend Xavier's academic footprint into the community.
Work with Programs and Academic Departments to design and support curriculum that integrates community-engaged learning into faculty teaching and research.
Act as a primary resource in advancing and coordinating institutional resources that support community-engaged learning for all students, faculty, and staff.
Direct the Community Engaged Fellows Scholarship Program.
Support the promotion and growth of Engaged Learning into all areas of Xavier's academic endeavors including all components of the Road Through Xavier.
Students and Faculty
Learn about opportunities to incorporate community-engaged learning into your Xavier experience.
Building A Community 
The Eigel Center continues its leadership role in advancing collaboration and communication between our faculty, students and campus with the community at large through engaging learning opportunities.  Service-learning is a mutually beneficial exchange that addresses community needs, usually through a nonprofit's work in the community, and provides a learning opportunity through an existing course.
If you are a community partner, please  contact us for more information.