Community Engaged Fellowship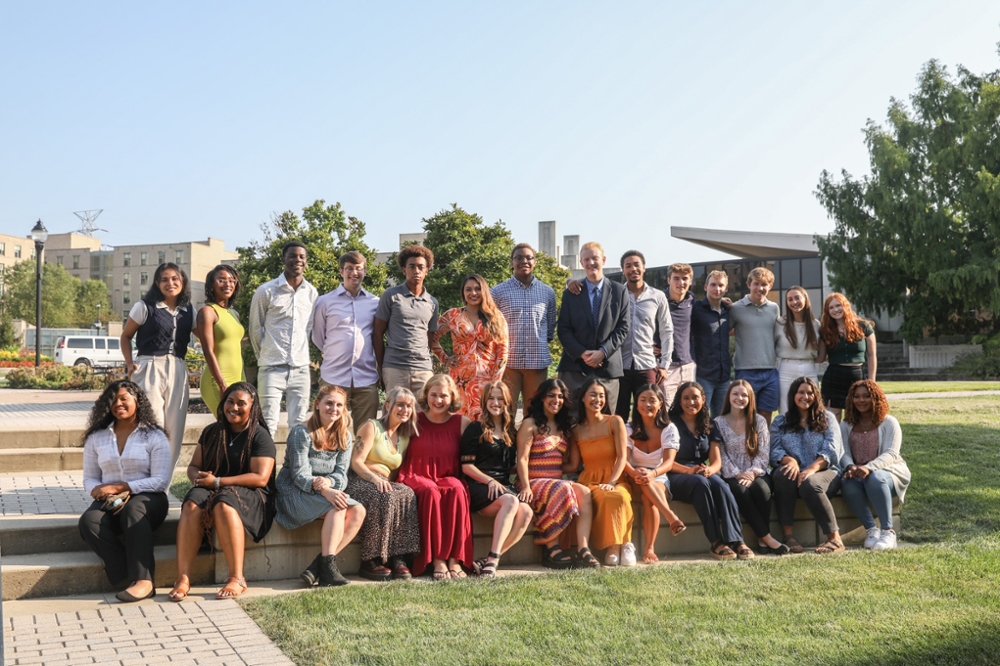 At Xavier, the concept of service is lived out in many ways - in classrooms, on retreats, in the community. But a select group of students choose Xavier precisely because of its focus on service - and are awarded scholarships to make service a central focus of their Xavier education. Students who want to continue volunteering in college love that Xavier backs up its commitment to service by offering a scholarship to students who commit to 10 hours of service a week. But the Community Engaged Fellowship is so much more than counting service hours.
Mission Statement
"We are a community of students, united in fellowship and committed to engaging others through service and solidarity.  We partner with communities to celebrate their assets and affect lasting, positive change as we strive to live out our Jesuit mission to become one for and with others."
About the Fellowship
Established in 1989, the Fellowship was established to reward incoming freshmen who excelled in service and chose engagement as part of their undergraduate experience. Recipients of the scholarship are required to perform ten hours of service each week during the course of their college careers while serving as role models for other students and promoting Jesuit ideals on campus.

At the time it was introduced, the Fellowship was fairly groundbreaking - few schools had demonstrated such a commitment that rewarded and encourage community engagement. In 1991, CBS's Sunday Morning with Charles Kuralt ran a feature on the program, interviewing Fellows and the organizations and individuals they served. Over the years, the Fellowship has continued to grow a culture of engagement on Xavier's campus as well as impact surrounding communities with thousands of hours of community-focused service. Fellows are recognized by the University as student leaders and alumni of this important program have gone on to successful careers in government, nonprofit, academic, and private sector pursuits.
The Eigel Center serves as the director of this program and as a connector to community partners and projects. Outside of their weekly service commitment, Fellows' experiences include site visits, intensive workshops, and programming geared toward developing them into engaged leaders and community partners that create innovative, service-based initiatives and projects.

The Fellowship is a strong community that brings Xavier's most engaged leaders together to learn and serve for and with others.