Community Engaged Scholars (CES) Faculty Research Mini-Grant Program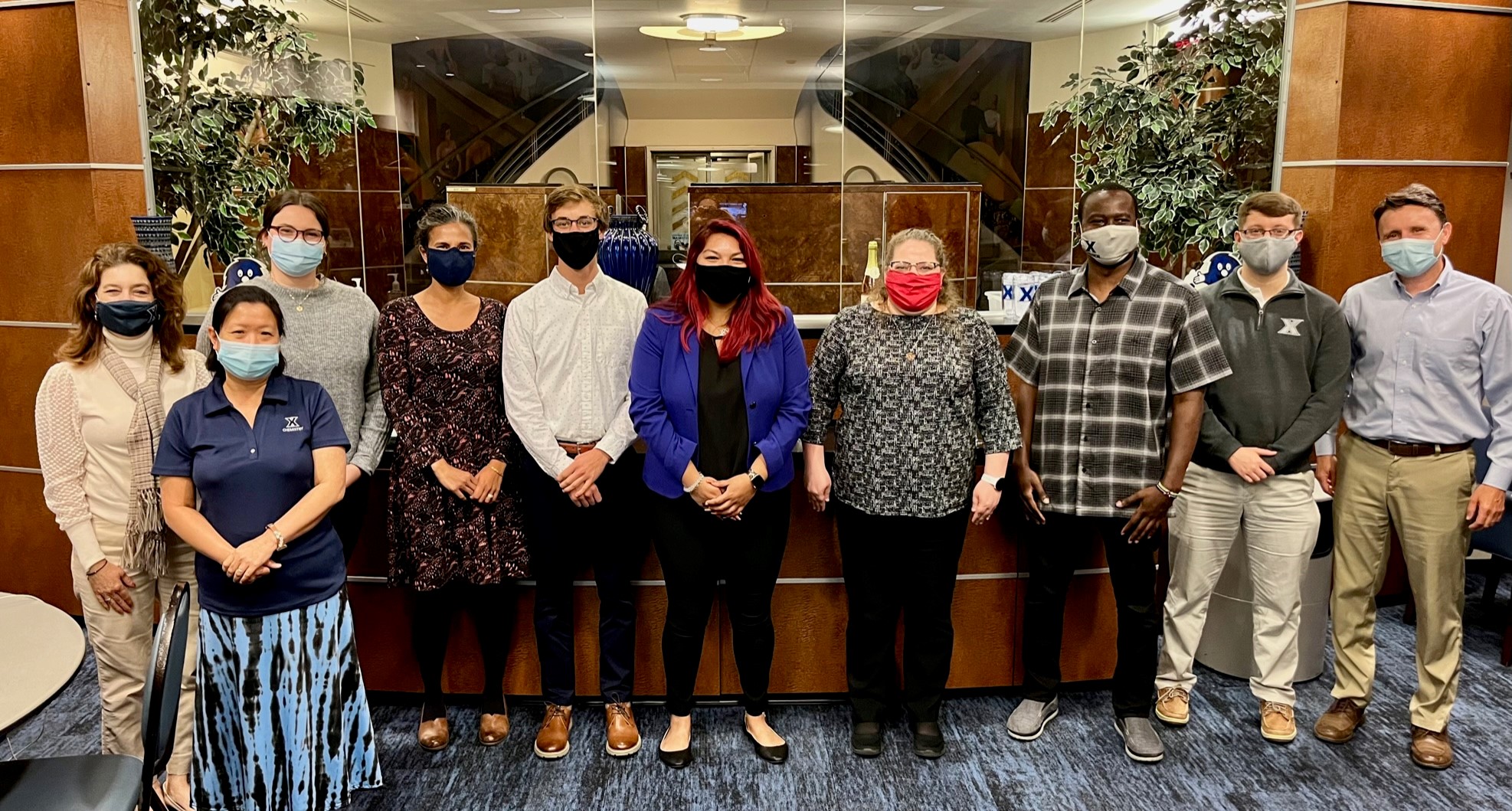 Are You Looking for Support for your Research?
The Community Engaged Scholars (CES) Faculty Research Mini-Grant Program is open to faculty who propose a research project that focuses on an investigation of service-learning pedagogy and practices here at Xavier University or pursues research that engages community partners through shared academic and community goals. The program provides the opportunity for a Xavier University Community-Engaged Fellow (four-year service scholarship recipients) to support the faculty member's scholarly work during the summer and provides additional assistance with the project through the fall semester. Grant recipients participate in a community of practice, engaging with faculty across the university.
Up to eight upper-class Fellows are invited to be paid summer research assistants for Xavier faculty to support projects that address an identified community need or opportunity with a nonprofit partner and examine the broader impact of our teaching and learning.
2021 Participating Faculty and Research Projects
The Impact of Community Engagement on Student Perception and Persistence
Dr. Kathleen Timmerman, Computer Science
This project involves investigating the impact of using a department-wide, multiple semester, community engaged learning initiative on students' perception of computer science, persistence, and their decision to add the major or minor.  It also includes an examination of the impact of community engagement on students' technical skills and their vocational awareness.
Chicago Footwork
Dr. ShaDawn Battle, Gender and Diversity Studies
Work on this project will contribute to Chapter 1 of an in-progress manuscript, Chicago Footwork: [Re]-Imagining Community and Interrogating the Politics of Home, and explore Footworks' potential for national-building, homeworking, and self-actualizing, in response to the socio-political exile, "homelessness," and ontological negation experienced by its practitioners.  The research goal of this chapter is to illustrate how community is re-imagined, and, homemaking made possible, by harnassing Chicago Footwork as a vehicle of Afro-spiritual transcendence.
Teacher Solidarity in the (Post?) Pandemic Classroom
Dr. Lauren Angelone, Education
The goal is to provide an opportunity for education faculty to have a sustained engagement with a teacher in a K-12 classroom (place TBD based on which schools are in person in Fall 2021) in order to engage, reflect, and subsequently improve the experiences of Xavier education majors through substantive changes to courses, field experiences, and programs.  The work that will be completed for this project will be a pilot with one faculty member to explore the possibilities and pitfalls before engaging further faculty.
Green Chemistry and Collaborative Online International Learning
Dr. Supaporn Kradtap-Hartwell, Chemistry
This project aims to create intercultural experiences in STEM for high school students in order for them to explore science and experience a global connection at low cost.  Limited resources in some high schools make it impossible to provide hands on science experimentation and international experiences (e.g. study abroad, or second language classes) for their students.  Through this project, students will be provided with opportunities to learn about green chemistry through scientific articles and lab experiments using low cost materials, and to work in a team with high school students in Thailand.
Impact of Developing a Sense of Place by Bicycle
Dr. Kathleen Smythe, History
The aim of this research is to describe and assess the ways in which learning about the Cincinnati community by bicycle fosters in students: a sense of place; physical and emotional well-being; and, an appreciation for all the effort that others past and present have made to make this a livable community.
Culturally Authentic Children's Books
Dr. Stacey Raj, Psychology
This project supports local elementary schools in introducing books capturing diversity that is representative of the experiences of children in their classrooms.  It engages Xavier students enrolled in a community engaged learning course, (PSY-245), and involves the development of surveys to assess the impact of this project on all three groups of participants: Xavier students, and teachers and children at partner schools.
Teaching in Times of Crisis
Dr. Mich Nyawalo, Diversity and Gender Studies
This project aims to examine how comparative methods can be instrumentalized to engage with community projects in Cincinnati.  It will analyze how specific novels, poems, plays, and essays stemming from both domestic and international contexts and tacking social issues such as immigration, state violence, and LGBTQ rights, function as "lifelines for cultural sustainability" that provide students with conceptual maps through which they can reflect and make sense of community engagement opportunities available to them in gender and diversity studies courses.
Community Engaged Learning as a Catalyst to Ignite the Ignatian Gifts and Their Impact on Capstone Course Student Learning Outcomes Through Reflection
Dr. Thomas Wagner, Communication Studies
This research project aims to study the effect of a community engaged project in the Communication Studies capstone course on student achievement of learning outcomes.  These learning outcomes will be ap plied with a community engaged learning project where the goal is to improve the communication effectiveness of the organization and its members.  Data will be collected during a Spring 2021 Senior Seminar in Communication Studies. 
---
2020 PARTICIPATING FACULTY 
2020 Community Engaged Scholars research projects.
Christine Anderson, Associate Professor, Department of History
Diane Ceo-DiFrancesco, Associate Professor, Department of Classics & Modern Languages, Jennifer Gibson, Associate Professor, Department of Psychology, and Leah Dunn, Assistant Professor, Department of Occupational Therapy
John Fairfield, Professor, Department of History
Anne Fuller, Assistant Professor, Department of Psychology
Tammy Sonnentag, Assistant Professor, Department of Psychology
Joan Tunningly and Stacia Galey, Clinical Faculty, Department of Occupational Therapy
Carol Winkelmann, Chair & Professor, Department of English
---
2019 Participating Faculty
Eileen Alexander, Assistant Professor, Health Services Administration
Christine Anderson, Associate Professor, Department of History
Leah Dunn, Assistant Professor, Department of Occupational Therapy
Diane Ceo-DiFrancesco, Associate Professor, Department of Classics and Modern Languages
Renea Frey, Assistant Professor, Department of English
Jeffrey Gerding, Assistant Professor, Department of English
Cheryl Jonson, Associate Professor, Department of Criminal Justice