Road Through Xavier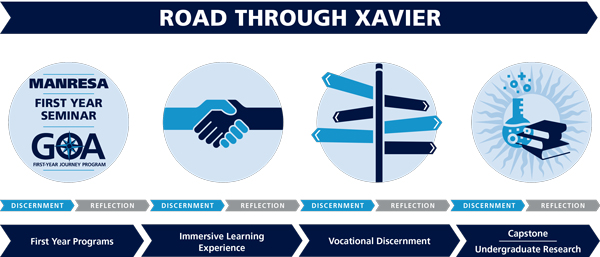 Opportunities for Immersive Learning & The Road Through Xavier
In 2017, the Signature Experience Task Force proposed a four-year "Road Through Xavier" where all students are directed toward multiple, year-specific, high-impact learning experiences that engage diverse communities and ideas in a discerning and reflective way.    Following participation in First-Year Seminar and GOA, a student's "Road Through Xavier" would now include a guided, immersive learning opportunity that could be fulfilled through existing and new curricular and co-curricular programs.
The Eigel Center is tasked with furthering this initiative including supporting faculty that want to incorporate immersive learning into the curriculum through individual course design; short term experiences that leverage academic department assets; and enhanced preparation and student reflection through immersive opportunities.
Learn more about the Eigel Center's progress implementing the Task Force's charge on Immersive Learning in 2018-19 (link to Executive Summary) 
What is immersive learning?  Immersive learning is an academically based learning opportunity that incorporates an examination of social justice issues while immersing students in a community affected by systemic challenges and injustices. Prompted by observation, direct experience and reflection, students consider various worldviews and perspectives different from their own through direct interaction with diverse populations. Immersive learning provides students with both meaningful engagement opportunities in interactive partnerships with local, domestic or international communities and academic structures for analysis, reflection on their learning, and application to future action (ILE Attribute).
Immersion Experiences  honor the Jesuit vision of educating the whole person, offering the opportunity to explore our sense of self and sense of connection to the world around us. These programs encourage students to engage in difference through direct contact, appreciative inquiry and reflection. Students are encouraged to appreciate the circumstances, knowledge, and resources of our neighbors and to invest their lives in the well-being of our neighbors. ( Faculty Learning Community on Immersion, 2014)
Dr. Marcus Mescher and his "Solidarity: Possibilities/Limits" theology students traveled to El Salvador to learn from and with Jesuit-educated students at the Universidad Centroamericana José Simeón Cañas (UCA). Students quickly bonded with the UCA students and learned about social issues from Salvadorians. The second half of the semester looked for more ways to build bridges between our communities.  You can view the students' reflections here:  https://www.youtube.com/user/xavieruniversity/videos
Xavier Students that participate in immersive learning will be able to:
1. analyze systemic challenges and the causes of injustices within the context of the immersive experience;
2. articulate an awareness of other perspectives and worldviews through direct contact and interaction with diverse populations;
3. demonstrate the development of intercultural competence through engagement, discernment, and reflection;
4. identify personal and societal responsibilities in the promotion of social justice.