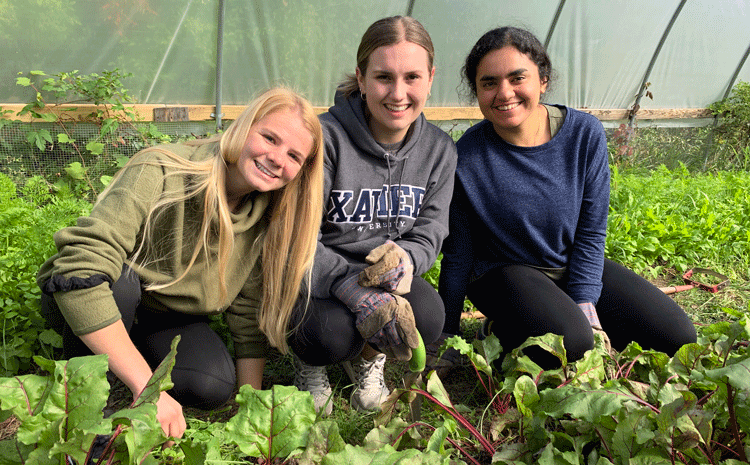 Immersive Learning: Students Dig into Food Solutions in Detroit
Oct 29, 2019
Standing next to a 15-passenger van, James Wood, PhD, waited outside the Gallagher Student Center. It was a cool Thursday morning in early October, the first day of fall break, and he was anxious to get on the road with the nine students who were about to have their first immersive learning experience as part of his class called Slow Food. One by one the students trickled in, hauling sleeping bags, backpacks and pillows, and loaded them into the van's back end. Once the head count hit 11, the group piled in and headed north.
Destination: Detroit
Ahead for the group was three days of visits to neighborhoods whose residents have converted empty properties into community spaces where vegetables, fruits, herbs and art have sprung from the ground to nourish both bodies and imaginations. The students looked forward to learning about the roots of food insecurity and how local residents can change the narrative by taking ownership of the problem through community involvement and good old hard work.
Slow Food is a 300-level honors class co-taught by Wood, Associate Professor of Philosophy, and Kathy Tehrani, Teaching Professor of Biology. The course, which focuses on the philosophical and scientific causes of food insecurity and injustice, includes the immersive learning trip to Detroit to help students better understand food issues of the urban core by delving into solutions developed by the residents themselves.
Immersive learning goes beyond basic volunteering to include actual engagement with the community where the hands-on learning is taking place. Nathan Wendt, S.J., of the Eigel Center for Community-Engaged Learning, supported Wood and Tehrani with the logistics of the Slow Food experience by partnering with Campus Kitchen, a program run by Clara Gamalski at the University of Detroit Mercy. Campus Kitchen sponsors student-led projects related to food justice for the Detroit community, such as composting, delivering fresh food to elderly residents, and operating a food pantry for students.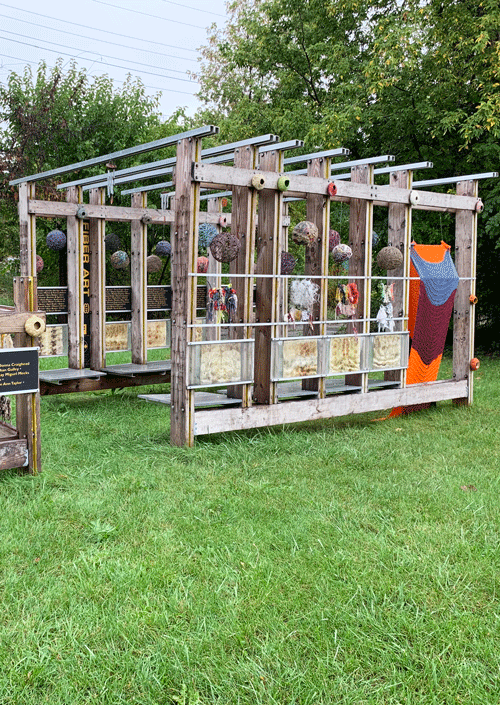 "That urban perspective, where you have people who are native to Detroit, is important because a number of the people we have read had come from a more rural perspective," Wood said. "To get that urban perspective, how food is perceived and addressed from this environment, is especially helpful."
Immersive learning experiences like the one in Detroit are not new to Xavier but are now a central component of the Road through Xavier, a four-year plan of intentional, high-impact learning experiences for students. As program coordinator for the Road through Xavier, Wendt supports the Eigel Center's efforts to create additional learning experiences with faculty to broaden opportunities for students. A key element of the program is to create experiences that allow students to confront current critical issues that need broad solutions, and food insecurity was a perfect topic for the first trip.
Tackling food insecurity and injustice is no small task. Food deserts become food swamps in areas where poverty prevails and institutions like banks and grocery stores pull out, leaving residents, who often don't have transportation, to rely on corner shops and liquor stores for food. To better understand potential solutions, the class visited areas in Detroit that have suffered for decades from this type of economic depression, ever since the race riots of the mid-1960s that triggered massive white flight to the suburbs. Now amid rows of nearly empty streets are sprouting the fruits of local community gardens.
Oakland Avenue Urban Farm
After dropping off their bags at a retreat house near the university, the group visited Oakland Avenue Urban Farm just a few miles southeast. It was founded in 2000 to create sustainable communities by cultivating healthy food and cultural enrichment in Detroit's North End neighborhood. The farm is hard to miss with its displays of art on one side of the road and roaming chickens on the other. Surrounded by fresh eggs, homemade jams and vegetables for purchase, the students gathered in a yellow house with a blue porch to learn about the goals of the six-acre urban farm before taking a tour of the grounds and having their photo taken for a Facebook post.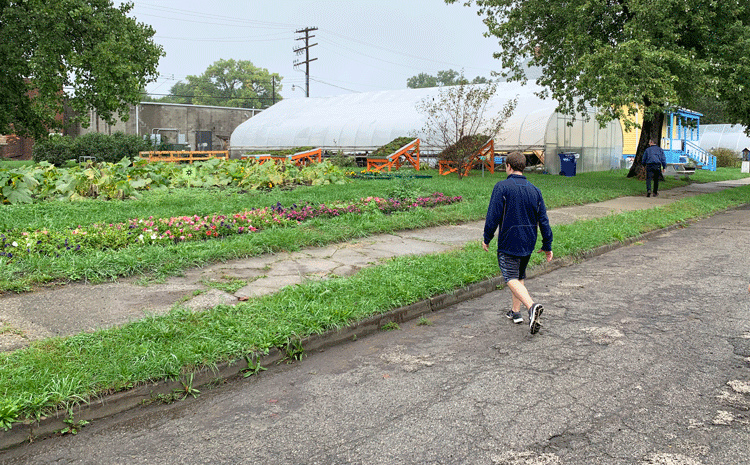 Natasha Talbot, program director of North End Christian Development Corporation, explained how the organization incorporates art and community into the farm, and encouraged the students to become aware and involved.
"Food justice is food access—to give people access to healthy, locally grown, organic food in areas that are in an economic downfall," she said. "It's college students that are helping us with that. Use your mind and your own research and change policy around urban agriculture, water issues, and any injustice that you see." 
Azl Saeed, a Xavier senior majoring in biology and psychology, said getting out of the classroom and onto the farm showed her that things are actually being done to create concrete solutions. It gave her a sense of hope. "It's more hopeful to see that we are heading in the right direction, instead of being so focused on the negative," she said.
Eastern Market
On Friday, the students toured the iconic Eastern Market which has been a reliable source of real food for the surrounding neighborhoods since its founding in 1891. Located several miles south of the university near downtown, the market is now popular with tourists and residents alike, but with renewed interest in Detroit's renaissance, it has begun experiencing the effects of gentrification.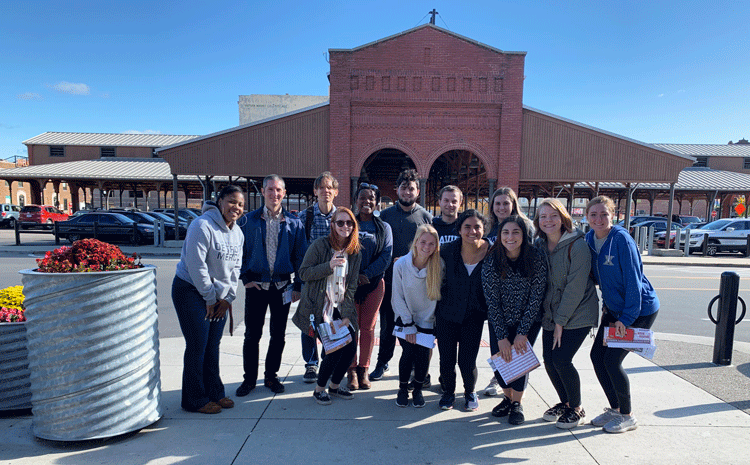 At the market, the students studied handouts that outlined the goals for the market, but they also learned about how quickly the area around the market was changing. Still local restaurants lined the streets with their outdoor barbeque, vendors sold produce and trinkets, and others gathered along a nearby bridge to sell jewelry and clothes. 
Melba Dearing, a Detroit Mercy senior whose family owns and runs the well-known Burt's Market Place in Eastern Market, described the recent struggles the market has been facing because of gentrification. As the market became more popular, developers have bought up properties and raised rents for local businesses to the point where some have had to close. On their tour, Dearing pointed out vacant buildings where family-owned businesses used to be.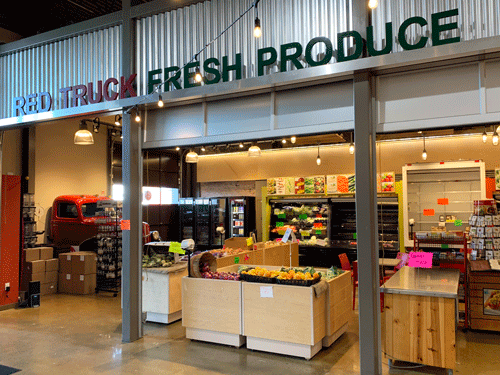 Seeing the challenges of food insecurity up close was an important part of the immersive learning experience, Wendt said.
"My hope is that through the immersive learning experience, the students now concretely feel and know their social responsibilities toward food justice and its interconnectivity with other social justice issues," he said.
"Because of the hands-on learning activities in Detroit with leaders in the movement, I think the students now realize more than ever that the work of justice is hard, but ultimately fulfilling and hopeful."  
Princeton Street Block Club
Later on Friday, the students joined the Princeton Street Block Club to deliver fresh groceries to elderly residents. The visit also helped them to see first-hand the financial instability and food insecurity of those who live on Princeton Street, a one-way street of modest houses with a few empty lots only five blocks from Detroit Mercy.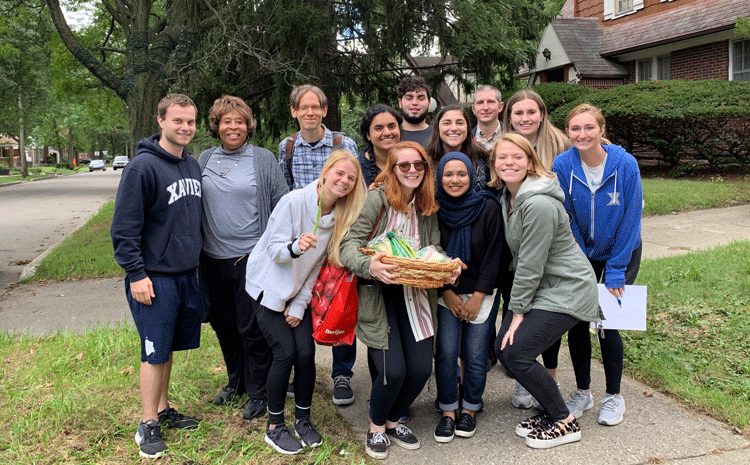 In groups of three, the Xavier and Detroit Mercy students walked down the block, carrying large baskets of fresh groceries. The smiles grew on the residents' faces as each door opened and they ushered the students inside. While picking out which fruits or vegetables they wanted to keep, the residents dove into stories about their families and reminisced about the past with the students. At one house, an older man greeted the students with a platter of homemade sandwiches and chips. They were clearly glad for the company.
"One thing I've enjoyed is while we do talk about a lot of different kinds of inequality and how that impacts the food system, the majority of the readings we have done have come from white men," Saeed said. "So it's been really nice to hear folks of color, especially women of color, give their perspective, because a lot of the things that are said are similar, but there is still an importance of hearing that perspective."
D Town Farm
On Saturday, the students went to D Town Farm just west of the university to experience firsthand what goes into running an urban farm. Malik Yakini, executive director of the Detroit Black Community Food Security Network, welcomed the students with an introduction to the history of the farm. Its goal, he said, is to create self-reliance and food security within the black community.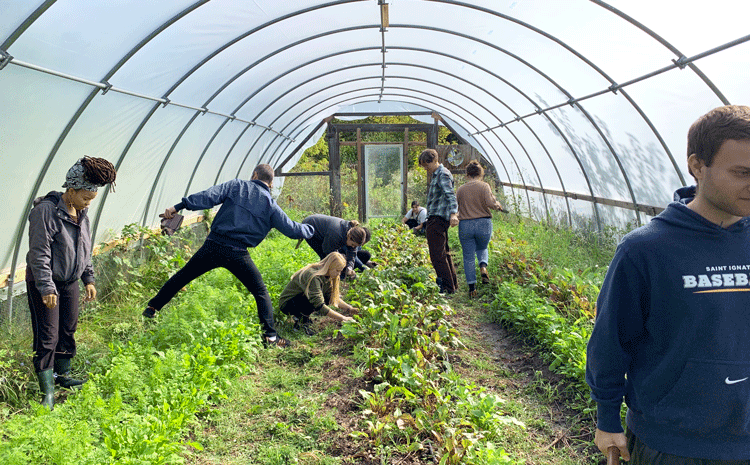 Then Yakini led the students to a shed next to a greenhouse on the corner of the seven-acre farm to experience a bit of farming for themselves. They passed hoes and rakes down one by one until each student had a garden tool, then they pulled on work gloves as they made their way to the greenhouse. There they found rows of vegetable beds that were overgrown and infested with weeds. They got down on their knees and began weeding the rows, while one student hoed the sides of the bed. After an hour, the greenhouse was transformed into three perfectly groomed and weeded rows of carrots, lettuce and beets.
As the students packed up Sunday morning for the return trip to Cincinnati, they tucked in the fresh groceries they'd picked up along the stops—tomatoes and eggs from Oakland Avenue Urban Farm and trinkets from the Eastern Market. Reflecting on their immersion experiences, which included several other meetings, tours and dinners with Detroit food justice activists, Saeed said one big takeaway for her was learning that everyone can do their part.
"It doesn't have to be the end-all solution, but doing your own part, coming up with your own solutions and educating yourself as well as those around you," she said. "These issues come up in our class a lot and seem so daunting and big, as if we can't really do anything to solve it on our own. We talk about what are concrete things we could do, but I think we're seeing that come to life here. We're seeing individual efforts coming together and making a difference."
 By Molly Duffey, Class of 2021

Learn more about Immersive Learning at Xavier's Eigel Center for Community-Engaged Learning.