Lindner Family Physics Building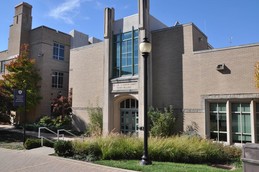 There are no buttons for the restroom and it's very small and narrow.
Accessibility
Are there accessible restrooms in the building?
Yes
Are there single-user wheelchair accessible restrooms with push button entrances?
No
Is there an elevator in the building?
Yes
Are there clear signs pointing to the elevator?
No
Is this Entrance Free of Steps?
No
Accessible Ramp?
Yes
Doors Have Buttons?
No

Accessible Door?
No

Clear signs for door?
No
Accessible door buttons reachable?
No
Comments:
This entrance has a ramp but it is not accessible as it leads to stairs inside the building.
Is this Entrance Free of Steps?
Yes
Accessible Ramp?
Yes
Doors Have Buttons?
Yes

Accessible Door?
Yes

Clear signs for door?
No
Accessible door buttons reachable?
No