Design Elements
Logos
The Xavier "X" is a powerful symbol. Instantly recognizable, iconic and energetic. Visually, the logo X commands attention as both a design element and our brand identity. It is at the heart of all our communications. When using the X logomark symbol by itself, the words "Xavier University" must appear in copy.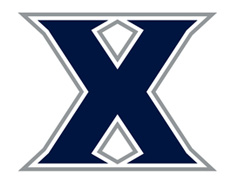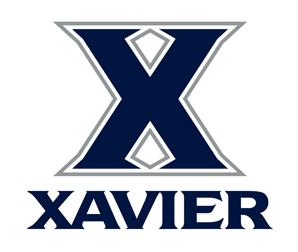 All For One Primary Logos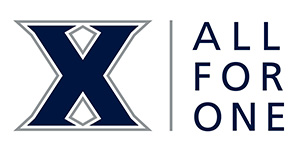 Secondary Logos
Secondary logos are developed for schools, centers, institutes and colleges.


» Request a logo for your department
Colors
Color is an essential part of any visual identity. Xavier University colors are blue and grey. Specifically, Pantone 289 blue and Pantone 422 grey, or Pantone 877 when using metallic silver.
Xavier Blue

PMS 289
CMYK 100/76/12/70
RGB 12/35/64
HEX #0C2340
Xavier Silver

PMS 422
CMYK 19/12/13/34
RGB 158/162/162 
HEX #9EA2A2
Pantone 639 bright blue is a complementary color that does not appear in the signature, but is a complementary primary color to be used in any other marketing communications where color is used to strengthen the Xavier brand. 
PMS 639C
CMYK 100/0/5/5
RGB 0/153/204
HEX #0099CC
Typography
The correct font is as important as the correct logo, color and tagline. Xavier University fonts are Frutiger and Bembo. Frutiger is a robust, simple and clean sans serif type that is highly legible. Bembo is a classic font with oldstyle figures that projects a sense of quality and refinement. Both come in a wide variety of weights for flexibility.
Substitute Fonts
The following typefaces are recommended for text on the web and as alternatives when Frutiger and Bembo are not available. 
Frutiger can be substituted with Helvetica 
Bembo can be substituted with Georgia.
Photography
Our photography is candid, spontaneous, and  "journalistic". It should be natural and unstaged, using their environment as a backdrop. 
A selection of  recommended photos has been chosen for your use. For specific requests, submit a project request form.
Request A Logo
The words "Xavier University" and all logos, seals, names, symbols, and slogans associated with Xavier University are trademarks and are the exclusive property of Xavier University. They may not be reproduced without express written permission of the university.
Xavier University monitors all uses of its trademarks to assure compliance with federal trademark law. Unauthorized uses of Xavier University's trademarks are subject to civil and criminal penalties. University written authorization is required to reproduce these marks for resale or other commercial purposes. Xavier University reserves the right to approve or disapprove any use of the trademarks.