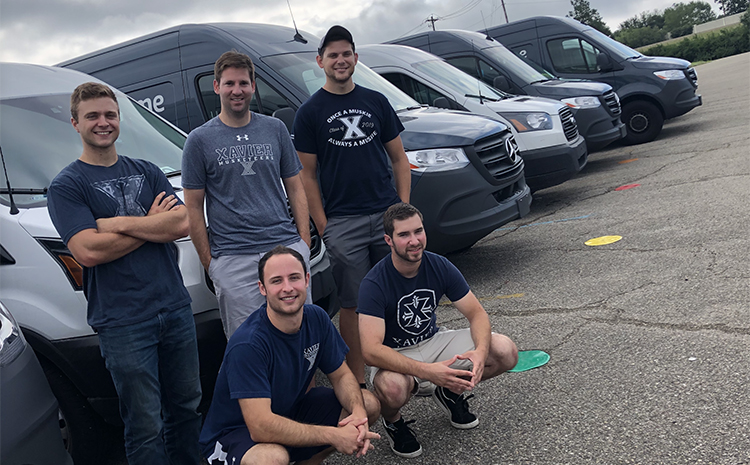 'We're just crazy busy right now'
Apr 13, 2020
Alex Burkhart says he's never been busier.
A year ago, Burkhart ('11 BSBA, Marketing and Entrepreneurship) started Prime Prospects LLC, an Amazon delivery service partner company that delivers Amazon packages throughout the Greater Cincinnati region.
He was able to recruit current Xavier students and alumni, too, including: Operations Co-Managers Luke Berger ('19, BBA, Marketing), Sam Flamini ('19, BSBA, Marketing), and interns Cole Heflin ('20, BSBA Marketing) and Will Perry ('20, Marketing & Business Analytics).
Now, because of COVID-19, the delivery business is booming — and essential. 
"We're just crazy busy right now," Burkhart says. "I'm hiring more people and we're doing more runs than we ever have. But at the same time, it makes you feel good because you know you're bringing people the things they need to survive. We're a lifeline for some people, and we know how important that is."
Burkhart had already started and sold a successful business called Tixers back in 2016. Then, after stints at Everything But The House and Procter & Gamble, he was ready to be his own boss again.
But it's true that nothing can prepare you for a pandemic. He's hired delivery drivers from all around the area, including students from Cincinnati, Miami, Wright State and Xavier. He wants to spread the word that this is a good gig when you're trying to balance school and work. And you're providing a valuable service.
"It's a very Xavier-thing," he says. "Yes, we're a business, but we're helping others, and that makes you feel good."
Burkhart now serves on The Sedler Family Center for Experiential Learning in Business Board at Xavier, and says the University prepares you to think about others.
"There's a close-knit community at Xavier," he says. "They really prepare you to be All For One and One For All."
By Ryan Clark, Office of Marketing and Communications
IMAGE CAPTION: (Top) Sam Flamini, Alex Burkhart , Luke Berger. (Bottom) Cole Heflin and Will Perry.
Read more stories about Xavier on the Front Lines of COVID-19.