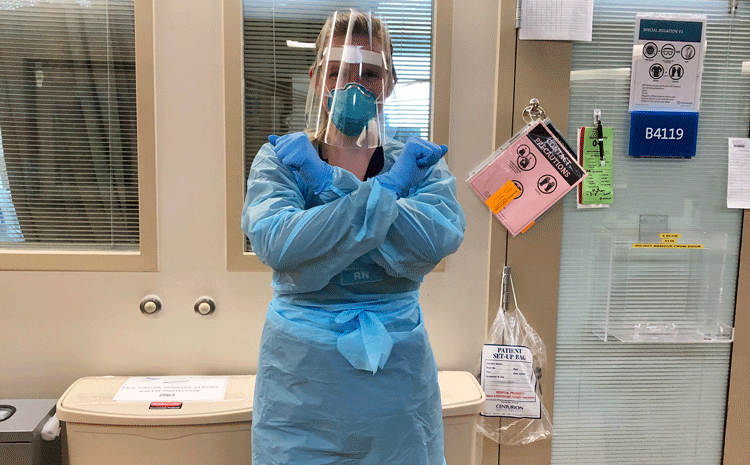 Xavier on the Front Lines of COVID-19
Apr 8, 2020
They're in hospitals, clinics and offices in greater Cincinnati and places like Indianapolis, Chicago and Boston. They're nurses and doctors, researchers, administrators and part-timers, responding as needed to the COVID-19 pandemic. They worry about being overwhelmed with too many patients and not enough staff or gowns or masks or ventilators, unsure if there will be a surge, or if the curve has actually flattened the number of new cases.
Yet they'll keep working, smiling behind their masks, sweating into their scrubs, stripping down on their doorsteps at home to wash the virus from their clothes—and themselves—before rejoining their families. They're critical members of the Xavier family who are putting their lives on the line, testing and treating and caring for patients, losing some but healing most. They are braced for the worst but hoping for the best. Armed with a shared belief in the value of humanity, they gird themselves for the work that must be done on the front lines to stem the impact of COVID-19. Here are some of their stories.
Take A Deep Breath
Dr. Brad Bemiss got his first taste of coronavirus in late February when an elderly lung transplant patient of his came to the hospital for an issue unrelated to COVID-19. Bemiss, who is a pulmonologist and professor at Loyola University Medical Center in Chicago and a 2004 Xavier graduate, treated him and sent him back to the nursing home where he lived. Two days later, the man came back.
In the OR
These days, Elizabeth Bancroft is pulling long shifts as an operating room nurse at a hospital in the Indianapolis Community Health Network system. She's as likely to be scrubbing in to assist an emergency surgery as she is to be intubating a growing number of COVID-19 patients.
'Preparing Has Been My Waking Life'
He describes it as a massive surge, a tidal wave, an unprecedented volume of patients infected with the coronavirus pouring into their hospital seeking help. It hasn't happened yet, said Dr. Justin Held, section director of hospital medicine at University of Cincinnati Medical Center and 2004 Xavier graduate, but it will start ramping up soon and peak in just a few weeks.
'Preparing Has Been My Waking Life'
Drug Trial Offers Hope for COVID-19 Patients
Tim Schroeder spent the first part of his career as a faculty member teaching and researching transplant pathology after graduating from Xavier in 1979 with a degree in biology. For him, it was all about the science and the value of research—especially into the causes and effects of diseases. He never imagined, however, that his interest in the scientific study of diseases would land him in the middle of the response to what is likely to be the worst pandemic the world has ever experienced.
Drug Trial Offers Hope for COVID-19 Patients
'I never thought I'd be helping during a pandemic.'
They call her a "screener." It's a role that could be viewed as one of the most important in the entire hospital. Emily West, a 21-year-old junior Communications major from Boston, wanted a summer job that could help her with her future career—she wants to be a speech pathologist. So last summer, she applied at Brigham and Women's Hospital, one of the largest in the area, ready to do whatever was asked of her. She really just wanted to get familiar with the hospital environment.
'I never thought I'd be helping during a pandemic.'.
Delivery Business is Booming—and Essential
Alex Burkhart says he's never been busier. A year ago, Burkhart ('11 BSBA, Marketing and Entrepreneurship) started Prime Prospects LLC, an Amazon delivery service partner company that delivers Amazon packages throughout the Greater Cincinnati region. Now, because of COVID-19, the delivery business is booming—and essential.
Delivery Business is Booming—and Essential
'Together We Will Move Forward'
It's been a long couple of weeks for Christa Hyson.
"Slammed is an understatement," she wrote. "Happy to take questions via email. After two weeks of 12-plus hour days on the phone—I have no voice." So that was how we interviewed the 2008 alumna, and we don't blame her one bit. Hyson is currently serving as the senior manager for external affairs at The Health Collaborative, a nonprofit that helps solve challenging health problems.
Like how to respond to a pandemic.
'Together We Will Move Forward'
Lessons Learned from COVID-19
Dr. Edmond Hooker has seen and done a lot in his 60 years, but he's never seen anything like COVID-19. The emergency room physician and Xavier professor has relied on his years of medical experience and academic knowledge to make his way through the minefield that is the new landscape of coronavirus patients and their caregivers. Yet he's highly concerned about how little is known about this disease.
Lessons Learned from COVID-19.
Saying Goodbye
Shortly after arriving home from her Wednesday shift after Riverside Memorial Hospital in Columbus, Allison Largent Bruce sat down at her computer and began writing. As the words began to flow, so did the emotions—and the tears.
Putting Front-Line Workers First
For Angela Sims, the proper response to a pandemic like COVID-19 for a hospital like hers is to put the front-line workers where they belong—out front.