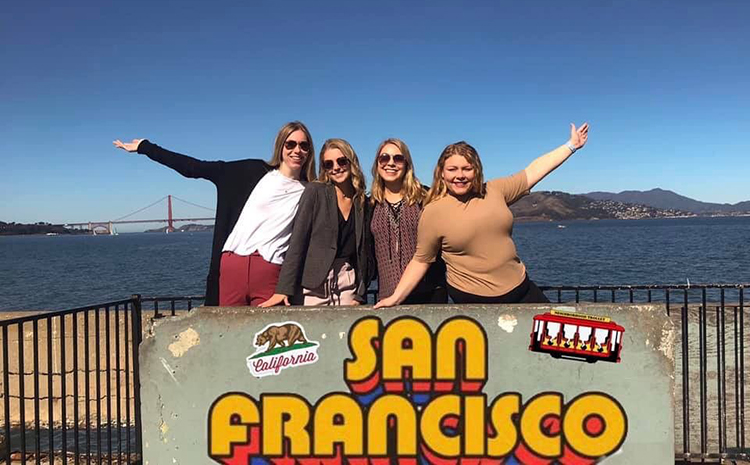 Fall Break Allows Students to Learn, Serve and Network
Oct 9, 2019
By Ryan Clark

When junior Lauren King learned there'd be a group of students going to San Francisco and Silicon Valley to network with Xavier alumni over Fall Break, she knew she had to go.
The marketing major from Milwaukee had always been fascinated with working in California, and this seemed like a great opportunity to meet people just like her — people who started out at Xavier — and had made it on the West Coast.
"It just seemed like a great opportunity to see California and make some connections," she said. "I don't know if I would've had this kind of an opportunity if I'd gone to another school."
The reason? While other universities certainly take networking trips across the country, Lauren traveled with just 12 marketing students and the Sedler Family Center for Experiential Learning in Business. That meant their trip could take unexpected new turns, and she could spend real time bonding with alumni at exciting companies.
The group were able to tour four companies — Google, Facebook, Visa and Lime — and at each stop, a Xavier alum served as host.
The advice, Lauren said, was priceless. Like Madeline Martini, who serves as a brand associate for the scooter company Lime.
"Definitely continue to make friends while you're at school," Martini said. "They can be your professors, faculty, and of course your peers, but remember that these people will be your network for life. You never know what that could lead to."
It was also good advice while on the trip, as Lauren and her classmates made friends with several of their hosts. It was just one of the reasons Xavier students traveled with their peers during Fall Break, and Lauren said she got more out of it than she expected.
"When I think of Silicon Valley and these places, I think of tech jobs, and those are certainly there," she said. "But I was able to see a lot of other possibilities that a marketing major could do, too, and that was inspiring."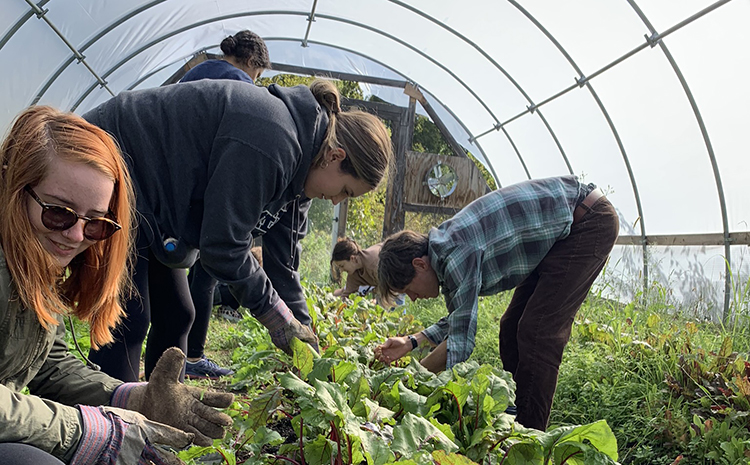 When junior Molly Duffey learned that a class of psychology students were traveling to Detroit during Fall Break to learn about food insecurities and help farm some land, she was ready to sign up and leave.
"I didn't know too much about food insecurity and injustice," says the public relations major from Boston. "For instance, there are food deserts in America, where people can't get food because there isn't any. Then there are places like Detroit, which is known as a food swamp, or a place where there is food available, but people still can't get to it."
Molly traveled with a group of students who learned about the situation and actually helped farm food and uplift the area. It was all part of an immersive learning trip with Prof. James Wood and his class on Slow Food, organized by Nathan Wendt, S.J., at the Eigel Center.
They stayed at a Jesuit retreat house and joined a class at Detroit Mercy for a weekend of scheduled lectures, visits and tours of urban farms, food pantries and volunteer groups that focus on food security. They also assembled food packages to take to shut-in elderly in the neighborhood.
Other students were able to attend Alternative Breaks focusing on preserving Appalachian ecosystems and studying the effects of gentrification on different communities.
"It's important not just to know this is a problem, but to actually go in to a community, you can see it up close and in-depth," she said. "You get a real understanding of what is happening, and what you can do to make it better."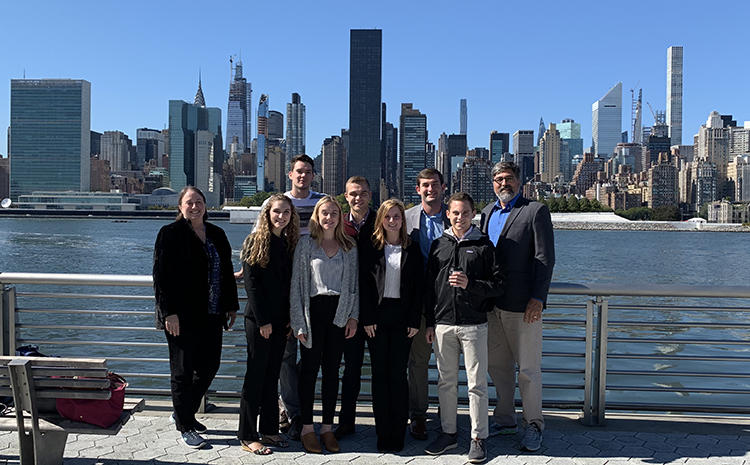 When senior John Schoepf learned a group of seven Management & Entrepreneurship students would be traveling to New York City during Fall Break to network with Xavier alumni, he knew he had to be there.
Besides getting to travel to the city that never sleeps, John would get to join some of his own faculty and participate in the Management and Entrepreneurship Connect Program, where the students visit alumni and businesses in the city to better understand opportunities for future careers.
"It was an incredible experience for students to network with alumni, explore corporate culture, and learn from the experiences of professionals in Finance and Management," John said. "The four-day, three-night trip, was truly transformational in helping students understand what they can do with their degree after graduation, and for creating connections at some of New York's flagship companies such as Bloomberg, Morgan Stanley, and the Brooklyn Nets."
All of the students said their trips helped them significantly.
"This is why we came to Xavier, to get these kinds of opportunities," Lauren said. "This is what makes the Xavier experience so special."
Some of the alumni they were able to meet:
Rachel Bonds, Diversity Program Manager – Google
Josh Arthur, Recruiter – Google
Ricardo Sutherland, Business Development and Partnerships Manager – Google
Darian Richardson, (former asst. director, Experiential Education and External Relations at Xavier) Program Manager, Infrastructure (Diversity & Inclusion) – Facebook
Camille Richardson, Global Diversity and University Recruiting Brand Lead – Facebook
Doug Rappoport, Vice President, Global Loyalty and Benefits – Visa
Madeline Martini, Brand Associate – Lime
Kevin O'Hare, Vice President — Goldman Sachs
Patrick Beehan, Team Leader, Implementations — Bloomberg AIM
Daniel Francis, Global Sustainable Finance, Thought Leadership-Driven Sustainability Initiatives — Morgan Stanley
Myles Thomas, Inside Sales — Brooklyn Nets 
Zach Aliberti, sole owner, Real Estate Development Manager — Bottomline Real Estate Services, LLC
Scott Silver, Co-Founder, Managing Partner, Chief Financial Strategist — Fountainhead Advisors