The "Gifts of Our Ignatian Heritage" Banners


Some words from the artist:
Why fabric?
One of the highlights of the 2007 Heartland-Delta V conference for me was the huge, colorful tapestry that rose behind the podium. Looking at it, one couldn't help but be reflective; and the most intriguing part, I thought, was its form. The banner was made up of thousands of pieces of fabric. Up close, you could see only part of the beauty; taking many steps back, you could see how the shapes worked together-and only then could you get the full impact. This, surely, was an ideal metaphor for our Jesuit universities. Small contributions by many come together into a final, vibrant piece of art, something bigger and more beautiful than any of the individual parts alone. We see this in our departments and divisions, our university communities, our partnerships with local and global neighbors, and the Heartland-Delta gatherings.



After returning to Cincinnati, I suggested to Debra Mooney that we create a similarly large art piece for our hosting of the conference in 2010. I didn't know how we would actually do it, nor did I realize that the piece I admired so much in Cleveland had been created by a highly skilled artist to honor a papal visit. Thinking too hard about either point would've shut down the project. As a professor of medieval literature in Xavier's English Department, I knew I wasn't a great artist, but I could at least sketch out an interesting design. I'd done stained glass and mosaic projects before, and the idea of working with fabric intrigued me-especially since this wouldn't require the delicate planning of a quilt. Fabrics represent people; they serve a function while being beautiful; they symbolize warmth and home, and also hard work.

Fabric donations for this project came in from all over the Xavier community-from on campus (including buildings that have been torn down) and off campus, as well as from around the globe. Every piece of fabric in our banner has a story behind it, and that fascinated me-in the same way I'm fascinated by the pieces that make up a literary work. Close eyes will be able to spot the dinosaur fabric, as well as the smiley face and Smurfs.

Why this design?
Initially I had created three or four abstract designs for the project-colorful, but ultimately unmemorable. The landscape design I settled on grew out of a very practical desire for me to remember the five Gifts of Our Ignatian Heritage. I'd created mnemonic pictures before (to memorize the kings of England and U.S. Presidents, for example), so I designed this picture to move the viewer's eye through a series of memorable scenes from left to right and from the top left corner to the bottom. The scene in each banner tells a story, and together the five make up a larger narrative.

Reflection: we start up in the mountains because, for me, reflection is often a mountaintop experience; the reflective lake in the mountain valley helps reinforce this.
Discernment: one moves down from the mountains into a forest where many paths branch off; here, one needs discernment to help make choices.
Solidarity and Kinship: this is the central scene; a bridge and roads allow many kinds of communities to come together.
Service Rooted in Justice and Love: the crops and fields represent where the real work gets done; here, people come together, and with effort they enact real growth and change.
Mission: this final scene represents a culmination, where land and sea and sun come together; the groves of fruit trees represent mission coming to fruition.

I don't think any symbols (or an artist's interpretation) should be too intrusive in an art piece, so I'll leave viewers to consider the rest of the imagery. However, it's not accidental that the sun touches all five of the banners, or that water and vegetation appears in each one.

How did a community form?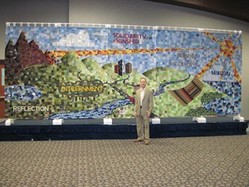 The community that grew while building these banners proved to be the most surprising, and certainly rewarding, part of the project for me. Working on art together is not only an extremely calming activity in the middle of a busy work day, it's an excellent way to get to know other people. For this project there were countless individuals who helped in donating fabric, cutting it, laying it out, making design suggestions, and gluing. These banners belong to all of us, and I appreciate everyone's efforts.

There was also a small group of individuals who rose to the great challenge of contributing in all five of these areas, from our first debating of designs in January of 2010, to the cutting of fabric in March (Madness), and to gluing for endless hours over the past two months-and these I'd like to thank individually: Mary Kochlefl, Debra Mooney, Diana Rischmann, Rebecca Schroer, and Joe Shadle. All of us would like to thank Father Graham for his support of the project from the very beginning. We are also thankful for Deb Del Valle's documentation of our efforts, and for the Department of Physical Plant's construction of the custom-made frames. I would also like to thank Kitty Uetz in Xavier's Department of Art for providing guidance when I had no idea where to begin. And finally, we are especially grateful to Robert H. Macdonald, whose generous donation allowed the project to be funded.


Stephen Yandell
Department of English
Xavier University
May 2010