St. Ignatius of Loyola
---
St. Ignatius of Loyola is the founder of the Society of Jesus, an order of Catholic priests and brothers that have created the largest global network of colleges, schools, and universities known for academic excellence. St. Ignatius was born in 1491 and died in 1556. St. Ignatius' feast day is July 31. See information on the special Ignatian Year running now until July 31, 2022.
---
The Society of Jesus
---
---
Ignatian Artwork
---
---
On Xavier University's campus
---

St. Ignatius Loyola
This brief biography by George Traub, S.J. and Debra Mooney provides an easy-to-read description of St. Ignatius' life. It is illustrated with original sketches by artist Holly Schapker. It is beautifully printed on cream colored textured paper and measures 4 1/3"x11". Purchase St.Ignatius Loyola brochure for $1.25
---

Understanding Ignatian and Jesuit Spirituality 
Ever wonder how to describe Ignatian and Jesuit Spirituality? This brochure written by Darrell Burns, S.J., does just that. Providing a contemporary description of the tradition, it is an ideal resource for new students, faculty and staff. 
Order Understanding Ignatian and Jesuit Spirituality
---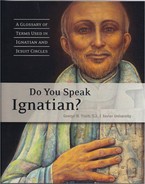 Do You Speak Ignatian?
A mini-dictionary that defines many of the terms used in conversations in Ignatian and Jesuit circles. More than 70,000 copies of this publication have been distributed around the world.
---

To provide feedback, please email: jesuitresource@xavier.edu
Jesuitresource.org is developed by The Center for Mission and Identity at Xavier University with support from the Conway Institute for Jesuit Education. Learn more about Jesuit Resource.
---