Pedro Arrupe, S.J.
Pedro Arrupe, S.J., was the central figure in the renewal of the Society of Jesus (the Jesuits) after Vatican Council II, paying attention both to the spirit of Ignatius Loyola the founder and to the signs of our times.  On February 5, 2019, the Roman Catholic Church began a process towards the beatification and canonization of Fr. Pedro Arrupe, S.J.
---
This page will continue to be updated throughout Pedro Arrupe's beatification and canonization process. Check back often for updates.
Highlights of Pedro Arrupe's Life
Beatification and Canonization Process of Pedro Arrupe, S.J.
Who Was Pedro Arrupe?   
Jesuit Refugee Service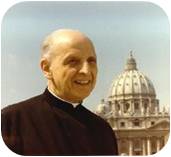 How Does Someone Become a Saint?
Writings of Pedro Arrupe, S.J.
Prayers of Pedro Arrupe, S.J. 
Personal Prayer of Pedro Arrupe
Grant me, O Lord, to see everything now with new eyes,
to discern and test the spirits
that help me read the signs of the times,
to relish the things that are yours, and to communicate them to others.
Give me the clarity of understanding that you gave Ignatius.
- Pedro Arrupe, S.J.
Excerpt from Hearts on Fire: Praying with Jesuits, edited by Michael Harter, S.J.
Teach Me Your Ways
Teach me your way of looking at people:
as you glanced at Peter after his denial,
as you penetrated the heart of the rich young man
and the hearts of your disciples.
I would like to meet you as you really are,
since your image changes those with whom you
     come into contact.
Remember John the Baptist's first meeting with you?
And the centurion's feeling of unworthiness?
And the amazement of all those who saw miracles
     and other wonders?
How you impressed your disciples,
the rabble in the Garden of Olives,
Pilate and his wife
and the centurion at the foot of the cross. . . .
I would like to hear and be impressed
by your manner of speaking,
listening, for example, to your discourse in the
     synagogue in Capharnaum
or the Sermon on the Mount where your audience
     felt you "taught as one who has authority."
 - Pedro Arrupe, S.J.
Excerpt from Hearts on Fire: Praying with Jesuits, edited by Michael Harter, S.J.
In the Hands of God
More than ever I find myself in the hands of God.
This is what I have wanted all my life from my youth.
But now there is a difference;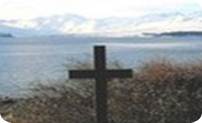 the initiative is entirely with God.
It is indeed a profound spiritual experience
to know and feel myself so totally in God's hands.
- Pedro Arrupe, S.J.
Excerpt from Hearts on Fire: Praying with Jesuits, edited by Michael Harter, S.J.
Fall in Love 
Nothing is more practical than
finding God, than
falling in Love
in a quite absolute, final way.
What you are in love with,
what seizes your imagination, will affect everything.
It will decide
what will get you out of bed in the morning,
what you do with your evenings,
how you spend your weekends,
what you read, whom you know,
what breaks your heart,
and what amazes you with joy and gratitude.
Fall in Love, stay in love,
and it will decide everything.

- Joseph Whelan, S.J., former provincial of the Maryland Province and American assistant to the superior general (sometimes mistakenly attributed to Pedro Arrupe, S.J.)
Prayer to Pedro Arrupe, S.J.
Pedro Arrupe, Servant of God,
song of God's Mercy and Love,
from birth to death
you were a walking Magnificat.
Throughout the various changes
in your life and ministry—from medical student,
witness and first responder to the tragedy of Hiroshima,
General of the Society of Jesus,
to paralyzed stroke victim—
you were always sensitive
to the movements of the Spirit.
We pray, during this coming year,
deepen in all of us—
Jesuits and Companions-in-Mission—
the gift of discerning where God's Spirit
is calling us and leading us today.
Son of Ignatius,
you made your own the Pilgrim's prayer—
"Place me with your Son."

That great desire led you to the presence of Christ
in the poor, in the immigrant and the refugee.
Obtain for us the grace
to find Christ and accompany him
in those without voice or power,
without food or family or home.
Second Founder of the Society of Jesus,
you wanted us to be people of Amen and Alleluia.
We pray for those who pronounce first vows
and those who join them to build Christ's kingdom
in the classroom, on the bread line,
in the parish or retreat center,
writing or working at the border.
May their lives proclaim the desire
to always seek and do God's will.
May this Amen lead them,
to experience the joy of Alleluia
in acting ever and always
for the greater honor and glory of God.
Friend of the Trinity,
ask the Three-in-One
to bless our Province and its works.
May God the Creator give us imagination.
May God the Redeemer give us compassionate hearts.
May God the Sanctifier give us wisdom and courage.
May the Holy Trinity set our hearts on fire
to seek God on the frontiers,
to serve God in the needy,
to find God wherever justice flourishes.
Pedro Arrupe, Servant of God, pray for us.
- Michael Moynahan, S.J. 
Pastor, St. Ignatius Parish, Sacramento



General Congregations while Pedro Arrupe Served as Superior General
GC 31 - 1965-1966 
Election of Fr. Pedro Arrupe as the new Superior General of the Society
General Congregation 31 met during 1965 and 1966 and issued 56 decrees. During this time, Pedro Arrupe was elected as the 28th Superior General. The decrees fall into multiple categories including: introductory decrees, the Institute, the formation of the Jesuits, religious life, the apostolate, congregations, government, and a general appendix. 
GC 32 - 1974-1975
General Congregation 32 occurred between 1974 and 1975. The congregation established Decree 4 which stated the committment to promote the issues of justice and world peace, and inculturation of the church in non-Western cultures. The discussion was in part due to the large number of delegates coming from Africa and Asia. 
---

To provide feedback, please email: jesuitresource@xavier.edu
Jesuitresource.org is developed by The Center for Mission and Identity at Xavier University with support from the Conway Institute for Jesuit Education. Learn more about Jesuit Resource.
---