The Ethics/Religion and Society (E/RS) Program realizes Xavier University's Catholic and Jesuit mission by providing opportunities for the ethical and/or religious analysis of socially significant issues. E/RS promotes critical attention to the philosophical and theological implications of social problems, encourages attention to questions of peace and justice, and promotes compassionate solidarity and service.
Upcoming Events
The Ethics/Religion and Society Program sponsors visiting speakers and community roundtables. The theme of our current Distinguished Speakers Series is
Imagining the Human Future: Contemporary Challenges and Ethical Resources.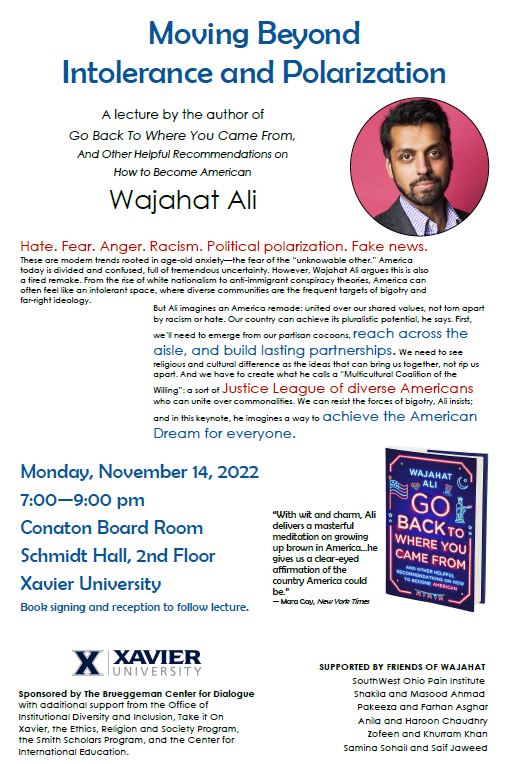 On Monday, November 14th, Wajahat Ali, the author of "Go Back To Where You Came From, And Other Helpful Recommendations on How to Become American," will present a lecture on how religious and cultural difference can bring us together, not rip us apart. Ali will discuss how, while America today is divided and confused and can often feel like an intolerant space where diverse communities are the frequent targets of bigotry and far-right ideology, he imagines an America remade, united over our shared values, not torn apart by racism or hate. He calls to create a "Multicultural Coalition of the Willing," a sort of Justice League of diverse Americans who can unite over commonalities. Ali insists in this lecture he imagines a way to achieve the American Dream for everyone. A book signing and reception will follow the lecture. The event is sponsored by the Brueggeman Center for Dialogue with additional support from the Office of Institutional Diversity and Inclusion, Take it On Xavier, the Ethics, Religion and Society Program, the Smith Scholars Program, and the Center for International Education. Additional support was provided by friends of Wajahat Ali.

Monday, November 14th @ 7PM, Conaton Board Room, 2nd floor, Schmidt Hall
Ethics/Religion and Society and the Core Curriculum
Xavier University's core curriculum includes the Ethics/Religion and Society Focus. The goal of this sequence of courses is to foster students' understanding of socially significant issues from the perspectives of the humanities, especially literature, philosophy, and theology, as well as the social and natural sciences. The Focus is comprised of four courses:
Ethics as an Introduction to Philosophy
Theological Foundations
Literature and the Moral Imagination
An elective course concerned with the ethical and/or religious dimensions of socially significant issues.
The Besl Family Chair in Ethics/Religion and Society is held by a visiting professor who focuses on socially significant issues.
The E/RS Focus has received recognition from the National Endowment for the Humanities, the McGregor Fund, and the John Templeton Foundation.
Connect with us on Social Media