2019 Student Employee Supervisor of the Year
Xavier student employees had the opportunity to nominate their supervisor for the 2019 Student Employee Supervisor of the Year. There were 5 nominees for this award. Nominees were rated and a winner was chosen by a Xavier volunteer committee comprised of supervisors and staff from various campus departments. Supervisors were rated on their level of mentoring, professionalism and leadership as described by the nominating student(s) in their letter of nomination.
2019 Winner: Marybeth Sullivan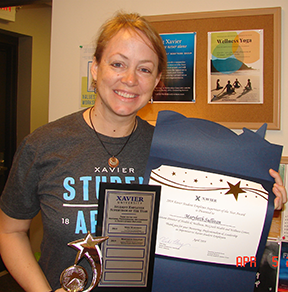 This year's recipient is Marybeth Sullivan, Assistant Director of Health & Wellness at the McGrath Health and Wellness Center.   Although there could only be one winner, they all deserve recognition for a job well done. The positive impact  supervisors have on their student employees directly affect the success of the students.

Congratulations to Marybeth and the other 4 nominees below!   
---
Other Nominees