XU Alert Me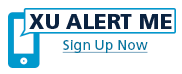 Providing a safe and secure environment for our students, faculty and staff is a top priority at Xavier. The University has created XU ALERT ME which will contact members of the campus community through text, e-mail and voice messages in the event of an emergency situation.
XU ALERT ME will provide Xavier with another communication tool to keep students, faculty, and staff informed during threatening situations and weather-related closings. In order to receive text, e-mail and voice messages, you must provide your cell phone number, preferred e-mail account and telephone number to the University by going to the XU Alert Me tab on the MyXU campus portal. For more information on how to subscribe to XU ALERT ME.
XU ALERT ME will be activated when the University determines a serious threat exists and the campus community must take immediate action to remain safe and secure. The system will also be used to announce an unscheduled University closing or cancellation of classes due to severe weather.
XU ALERT ME will make up to three attempts to call each phone number in the call distribution list. The first attempt will be completed in less than 10 minutes. For those phone numbers not reached because of a busy signal or no answer, the system will attempt to reach those phone numbers up to two more times. Once a call is answered by a human or voice mail, the system will not attempt to reach that phone number again. Text messages and e-mail will only be sent once.
There is no cost to sign up for this notification service. Whenever the system sends a message to your personal phone, you are responsible for any charges from your phone service provider associated with receiving voice or text messages.
In addition to XU ALERT ME, the university will continue to use its well-established communications methods including:
Sign up for XU Alert Me or visit our Frequently Asked Questions for further details.