8 Students Advance to Xavier Pitch Competition Finals
Nov 21, 2022
Several Xavier undergraduates are moving on for a chance to win prize money and represent Xavier in a pitch competition against other BIG EAST universities.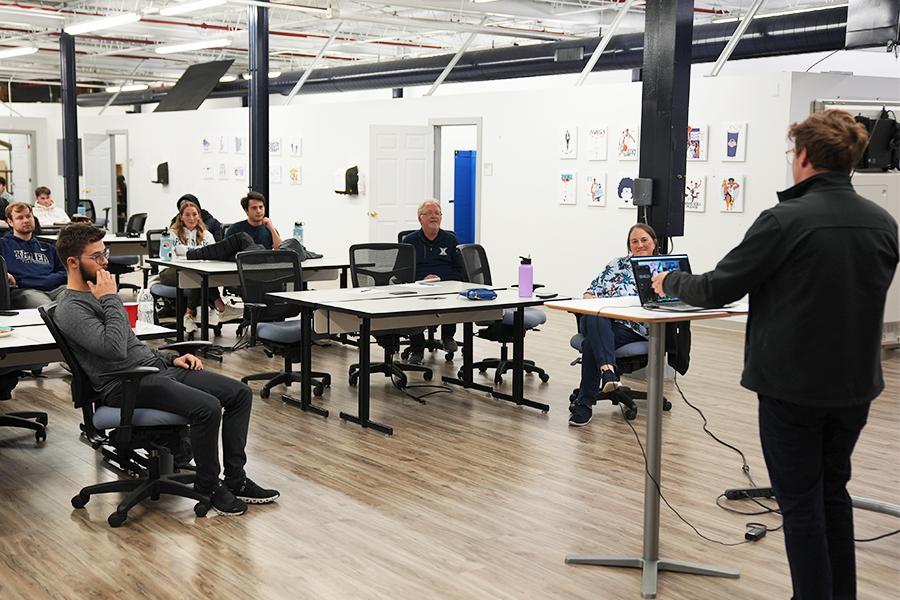 As part of the Xavier University Pitch Competition, 13 students gave 60- to 90-second pitches in front of roughly 70 people Thursday night at Xavier's newly renovated
Center for Innovation
(CFI). After hearing about ideas that ran the gamut— from a college student care package delivery service to a nonprofit that would fight inner-city food insecurity —judges selected these eight students as finalists:
Coaches and mentors will help these students to refine their pitches and prepare slide decks in the months leading up to the pitch competition finals on Feb. 15, when one winner will earn up to $2,500 to support their business idea and represent Xavier in the BIG EAST Startup Challenge, which will be held virtually this year.
Most of those who presented at Thursday's events had never made a pitch before. While putting your idea before others for judgment can be a daunting task, the center supports students by providing "a safe space to be creative," said CFI Coordinator Ben Alegre, a 2022 Xavier graduate who took part in the Xavier University Pitch Competition during his time as a student.
"It absolutely takes a lot of nerve to get up there," Alegre said. "Last year, we did this on Zoom. When you're standing in a room full of people with a microphone, it's just a whole different experience. I think that's really important for students."
Senior Kat Seebeck, one of the eight finalists, pitched her idea for Mixie Sticks having started the company with her sister the week of the competition. Seebeck wants to help protect bar patrons by selling establishments disposable sticks that will indicate if a drink has been tampered with by turning a certain color.
Seebeck said speaking in front of her peers was equal parts fun and scary, but she is excited at the opportunity to gain support for her business.
"This idea was something my sister and I came up with a while ago, and then this pitch competition came around," Seebeck said. "I've been practicing every day for this speech, so it was really freaky when I got up there. But this is a really big problem, and I'm excited to fix it."
Regardless of whether students advanced, they received the invaluable opportunity to present their ideas in front of an audience and receive coaching from Xavier faculty and staff members.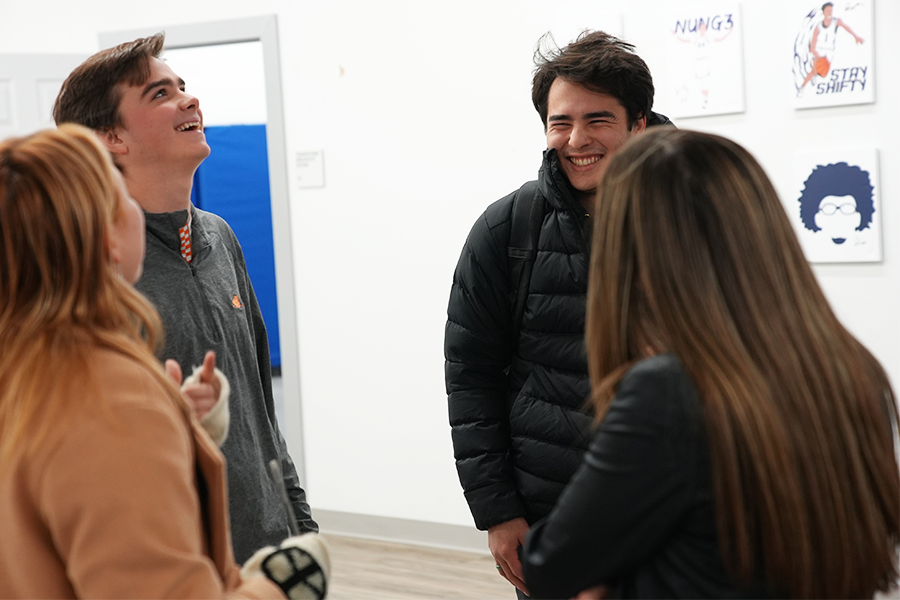 "That's what the Center for Innovation is all about," Alegre said.
Xavier won the inaugural BIG EAST Startup Challenge in 2019, following that up with third- and fourth-place finishes in the two most recent competitions. Alegre said the university will aim to return to the top three this year.
The CFI serves as an inter-disciplinary experiential learning center for students, faculty and staff. In a world that is increasingly diverse, complex, and interdependent, the ability to identify problems, analyze them and solve them is a critically important skill that the Center strives to develop. The breadth, depth and scope of the ideas that the pitch competition has brought forward is a wonderful testament to Xavier students and to the work of the University's faculty and staff.
The CFI is supported by a task force of passionate professors that represent each college, led by Associate Provost of Academic Affairs Dr. Rashmi Assudani and professors Mike Halloran, Karen Eutsler, Dr. Victor Ronis-Tobin, Shelley Hurles, and Jonathan Gibson.
Learn more about the Center for Innovation.