Program Details
Xavier's 16-month Executive MBA program (EMBA) is designed for seasoned corporate executives looking to immerse themselves in leadership, team-building and strategy. Admission is highly selective and competitive. Classes meet two times per month on Fridays and Saturdays from 8:00 a.m. to 5:00 p.m. 
No GMAT or GRE required to apply
The EMBA program at Xavier University does not require the GMAT or GRE test scores of applicants.
What is an EMBA?
An EMBA is a graduate degree program designed for experienced professionals who are looking to polish the managerial and leadership skills they already possess. Classroom discussions are on a higher level and the focus of the coursework is experiential, enabling you to take your career, and your company, to the next level.

EMBA programs and traditional full-time MBA programs have similar core curriculums, so you can expect to take foundational business classes like finance, statistics, management and accounting. EMBA courses and discussions, however, go beyond the basics and are tailored to the needs of experienced business leaders.

EMBA programs typically have cohort-based curriculums that range in length from 16 months to two years. Courses often occur on the weekends and weeknights, enabling students to continue working full-time while earning their degree.

EMBA students generally have a higher level of business and leadership experience than traditional MBA students, and, as working professionals, they're able to immediately apply what they learn in the classroom to their workplace setting.
Xavier's EMBA program provides students with
An in-depth study and analysis of some of the world's most important emerging markets including an immersive international business trip
The solutions industries are developing when facing disruptive business models (and how to lead disruption in your organization)
Experience working amongst and with high-caliber professionals from across industries on real-world, client-facing strategy projects
The study of 21st-century strategic business models and processes
Identification of strategic implications and ability to understand the underlying financial drivers in today's financial markets
A survey of today's emerging technologies
What does EMBA stand for?
EMBA stands for Executive Master in Business Administration. It is a graduate degree program for individuals with business experience who are looking to earn their MBA in a fast-paced setting with other working professionals.
Is it worth it to get an EMBA?
According to the 2019 Executive MBA Council Student Exit Survey (https://embac.org/research-in-context.html), EMBA students received a 13.5 percent increase in their salaries after graduating from their programs. In addition, 40 percent of students who completed the survey earned a promotion during the program, while 53 percent reported increased responsibilities.

The average salary and bonus package at program start for students who responded to the survey was $205,008. By the end of the program, the reported average salary and bonus package rose to $232,663.

Aside from higher earnings, promotions and increased job satisfaction, EMBA students graduate from the program with a deep knowledge of
The world's most important emerging markets
The solutions industries are developing when facing disruptive business models (and how to lead disruption in your organization)
Experience working amongst and with high-caliber professionals from across industries on real-world, client-facing strategy projects
The study of 21st century strategic business models and processes
Identification of strategic implications and ability to understand the underlying financial drivers in today's financial markets
A survey of today's emerging technologies
What can I do with an EMBA?
An EMBA will help you make a bigger and better impact inside your business or organization. It will help supplement and polish your already-existing managerial and leadership skills, expose you to other business leaders in your area and give you a better understanding of business models and processes. In addition, many EMBA students report benefiting from higher salaries and increased leadership roles by the time the graduate.
How do you get your employer to pay for your EMBA?
Most EMBA students self-fund their education, however some have their tuition covered partially or fully by their employers. It's best to first understand your company's tuition reimbursement policy.Talk to your HR department or review your company handbook. Some companies will cover some or all tuition, while others will reimburse you for tuition costs. Many companies who sponsor individuals require a few years' commitment after finishing the program as well. Be sure that any commitments you may be asked to make align with your future career goals.
There are many different programs for individuals looking to study business at the graduate level, including EMBA, full-time MBA, part-time MBA and online MBA. It's important to know the differences between programs to so you can earn your degree in a way that works best for you.
What is the difference between an EMBA and an MBA?
While EMBA programs and MBA programs have similar curriculums, there are a few key differences. Generally, the biggest distinguishing feature of an EMBA will be the students you're going through the program with. EMBA students are high achieving individuals who are currently working within a leadership of managerial capacity at a business or organization. They're ready to discuss the basics and nuances of business and immediately apply it to their workplaces.
EMBA programs also typically employ a cohort-based model of learning, allowing students to form deep connections with each other and other business leaders in their area.

Other differences include:
Applicants
EMBA - Generally need five years or more of managerial or corporate leadership experience, but may have less.
MBA - Can apply directly out of undergraduate school.
Course Schedules
EMBA - Courses are typically scheduled during weekends and weeknights to accommodate business leaders who work full-time.
MBA - Full-time program course schedules are generally offered during the daytime. Part-time programs may offer courses during the weekend and on weeknights.
Program Length
EMBA - can take anywhere from 16 months to two years.
MBA - can take anywhere from two to four years, depending on whether you're going full-time or part-time.
Lifestyle
EMBA - EMBA students typically work full time and hold positions in management and corporate leadership.
MBA - MBA students can work full-time or part-time, or they might be full-time students. They may have entry-mid level experience, or none at all.
Who can apply for an EMBA?
EMBA program applicants typically work full time and have managerial and leadership experience. They already have earned an undergraduate degree and are looking to polish their skills to make their companies and organizations better.
Does it matter what your first degree is in?
Students in EMBA programs have many different undergraduate degrees, including BSBAs, BAs, BSs and BFAs, or a combination of these. Regardless of your undergraduate degree, there will be an assumption that you have a foundational knowledge of common business practices, including finance, economics and marketing. Prerequisite courses can help you can foundational knowledge in these topics.
What are the prerequisite courses?
Qualifications for EMBA programs vary by institution. Speak with an admission counselor to get details about prerequisite courses specific to individual programs. Common prerequisite courses for many EMBA programs include:
Business Math
Business Economics
Statistics
Marketing
Finance
Financing Your Education
Your financial needs are integral to selecting the right MBA program. It's important to explore all possible avenues to assist you in this endeavor.
Curriculum
The EMBA is Xavier's most fast-paced MBA program, designed to allow busy professionals to achieve the degree in an effective, but efficient way. Classes meet two times per month (every other weekend) on Fridays and Saturdays from 8 a.m. – 5 p.m., for 16 months.
Participants experience a transformative immersion in business, guided by elite faculty from academia and the business community. What you learn today, you will apply tomorrow.
The program consists of 22 business courses for a total of 50 credit hours. You will attend these classes with the same group of professionals, from the first day to the last. The close interaction among classmates and faculty promotes the importance of team and creates relationships that will last a lifetime.
Experiential Education
The Xavier EMBA is one of the oldest in the country, founded in 1978 by the first Williams College of Business Dean Thomas Hailstones.  Since its inception, the program has been rooted in academic excellence and experiential learning. 
During the 16-month program, students participate in real-world integrative consulting projects with regional companies, providing recommendations for corporate growth. Hands-on consulting projects make up 8.5 credit hours, and other courses during the program include various forms of experiential learning.
BUAD 751 – A 12-week course in which students apply an integrated approach of classwork from Strategy, Finance, and Marketing to develop a strategic recommendation for a local small business ($1M - $10M in annual sales).
BUAD 752/754 – A 6-month Capstone project with a different set of client companies and requiring a full-scale internal and external analysis. Students identify, select, plan, and provide an implementation strategy to senior management.
International Residency
Tuition includes a 10-day international residency experience. The location visited is different each year, and largely driven by the interest and input of students. While many students in the program have traveled international personally and/or professionally, this residency remains one of the most memorable and influential parts of most every student's experience.
Learning objectives include:
Understanding the cultural, economic, political, and business environment of the countries visited.
Identifying important issues associated with the global business environment.
Achieving a working knowledge of local business practices through direct interaction with local managers and government officials.
Exploring the value of different economic models as benchmarks for global business practices.
Developing greater appreciation of the many differences and similarities among people living in other parts of the world.
Admission
The program is built around creating a strong cohort of students each year, all of whom will bring a unique perspective to the classroom and an innate desire to learn. Our application process is built on analysis of each candidate's professional experience and potential to both learn and contribute within the structure of the program. The program begins one time per year in the fall semester, and our goal is to admit between 15 and 20 students annually.
Applications are considered on a rolling basis throughout the year and will be accepted until Aug. 15; however, we will begin considering scholarship requests as of May 1. Priority will be given to those students who have applied and been accepted by this date.
Please note: Individuals with significant professional experience who have not obtained an undergraduate degree can be considered for admission into the program.
You will be considered for admission when all application materials have been received. A completed application should be submitted via our online Application Management System and include the following:
Resume listing complete professional work history and showcasing career progression
Official transcripts from all undergraduate and graduate institutions attended, sent directly from the institution (electronic transcripts are accepted)
Organizational chart, including a brief summary of the organization's business activities and your specific duties
Professional letters of recommendation (2) prepared by someone familiar with your qualifications and capacity for MBA study
Essay speaking to your interest in the program and what unique knowledge and experiences you believe you can contribute to the program. You may also include any additional information you would like the Admissions Committee to know about you. The essay should be no longer than 2-3 pages, double-spaced.
These application materials will be reviewed within one to two weeks of receipt. Those candidates the Admissions Committee believes to have the potential for admission into the program will be invited for an on-campus interview with the Assistant Dean of Graduate Programs, the EMBA Director and EMBA faculty.
Sample Courses
BLAW 751 (Ethics): - Teaches students to critically assess the legal and ethical implications of business decisions; resolve conflicts between legal and ethical responsibilities in the business context; incorporate legal and regulatory principles into organizational decision-making and strategic planning; integrate the concepts of respect and inclusiveness into decision-making; and identify the ethical path.
BUAD 790 (Corporate Governance): - Explores the factors necessary for overall board effectiveness and considers the relationship between governance and strategy as applied to publicly held corporations, privately owned corporations, and nonprofit organizations. Aspects of corporate governance covered includes the market for corporate control, corporate governance failures, shareholder activism, nonprofit boards, board diversity, board compositions, board structure, international corporate governance, alternative methods of governance, and executive compensation.
ECON 751 (International Microeconomics): - Introduces the economy's behavior as a whole in today's globalized economy. Topics include: national output and national income, aggregate demand and supply analysis, economic growth theory, unemployment, inflation, monetary and fiscal policies, trade theory and policy tools, and cultural/ethical issues in international business.
FINC 751 (Financial Strategy): - Applies financial theory to corporate finance decisions and issues in practice. Topics covered include valuation of real and financial assets, the market for corporate control, financing decisions and market efficiency, dividend policy and capital structure.
MKTG 751 (Marketing Strategy): - Provides a senior management level analysis of the major issues in the marketing management function. Class discussions are used to provide an understanding of how companies deliver superior customer value and profitability. Students will have an opportunity to develop strategy analysis skills by applying concepts and methods in case analysis of a variety of U.S. and multinational companies.
Tuition and Fees
Classes meet two times per month (every other weekend) on Fridays and Saturdays from 8 a.m. – 5 p.m., for 16 months. Participants experience a transformative immersion in business, guided by elite Xavier faculty members. 
The program consists of 22 business courses for a total of 50 credit hours with tuition including experiential hands-on consulting projects and a 10-day international residency experience. 
Additional Amenities Included with Tuition
Breakfast and Lunch on class days
All textbooks, calculators and course materials
International travel immersion that includes economy air, transportation and hotel accommodations
Career Services – lifetime usage
Concierge model of student support to manage student and programmatic needs
Access to the Health United Building (HUB) fitness center (free during the16 months of the program)
Xavier University Parking Pass & merchandise including: T-shirts, tunics, bookbags and tumblers 
Executive Alumni in Residence access
EMBA Lounge access on days when not in class
Graduation regalia and 16x21 diploma frame
Various social events and outings
Discounts on a variety of experiences with Xavier University Student ID
Take the Next Step
Loading...
---
EMBA Program Capstone Experience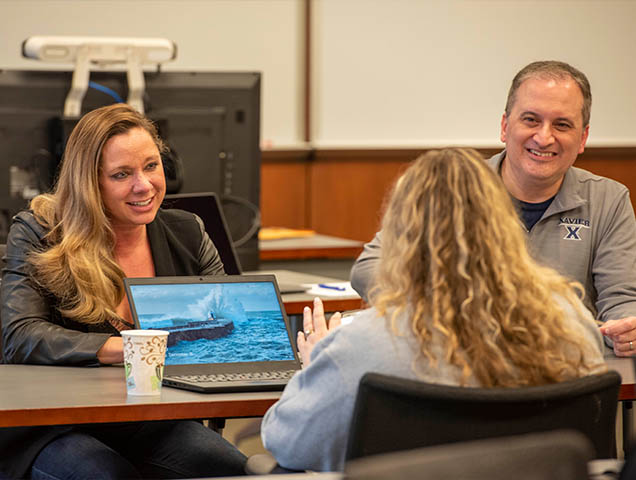 The Xavier EMBA program culminates in a capstone that has students working with Cincinnati businesses — from its Fortune 500 companies to local workplaces. Here, students gain experience that they can bring back to their own companies.
---
---
Congressman Landsman to Speak at EMBA Graduation Dinner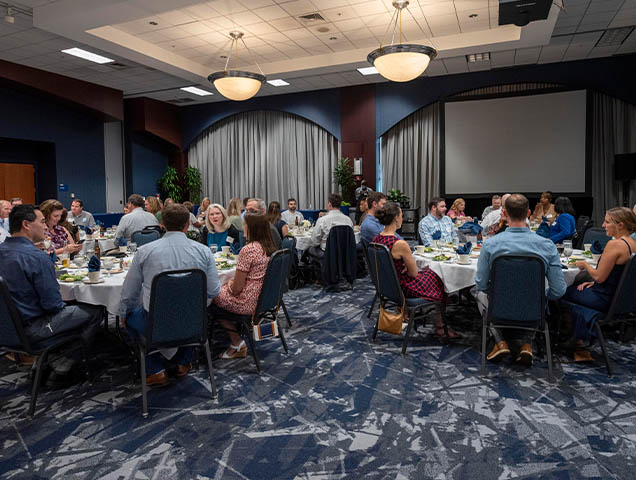 Congressman Greg Landsman will be the featured speaker at this year's Xavier University Executive MBA Graduation Dinner on Friday, April 21. The event will celebrate Xavier EMBA graduates alongside their families and distinguished guests at the Maketewah Country Club.
---
---
Nationally Ranked Programs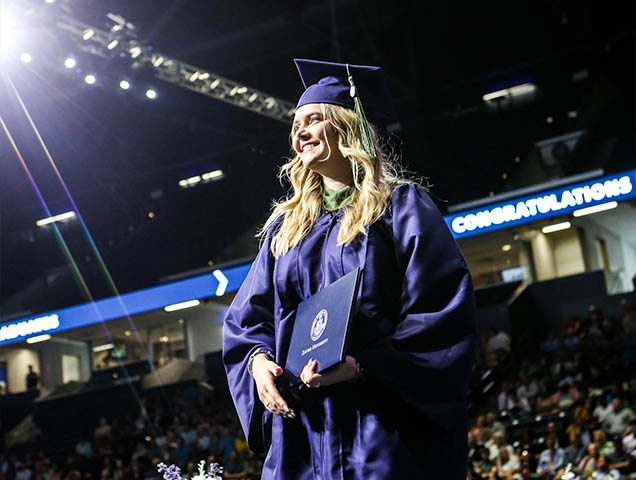 The Williams College of Business, home to Xavier's MBA programs, has been nationally recognized for its outstanding educational experiences and the success of its students and faculty.
---
Faculty Spotlight: Richie L. Liu, Ph.D. - Marketing
Get to know Richie L. Liu, Ph.D., professor in the Marketing Department at Xavier University.