Workshops, Retreats, and Events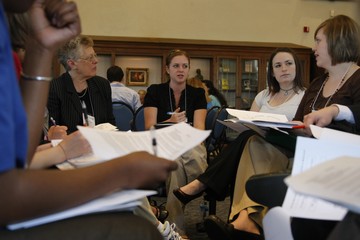 The Institute's programs, workshops and retreats are designed to allow professionals to develop their knowledge and skills in a very specific area-multicultural proficiency, inter-religious dialogue, sustainability, retreat design and implementation, immigrant issues, professional ethics-as well as explore the full resources of the Institute and consider further graduate coursework.
These programs, workshops and retreats are offered locally and nationally, with some tailored to suit the needs and interests of particular entities, such as healthcare institutions, non-profits, social justice ministries and churches.
Lecture and Event Immersion Series 2023-2024 TBD
We will announce our up coming lecture and event series by the end of summer 2023...
"Embracing God's Creation" Lecture and Event Series 2022-2023  
"A Trinitarian Spirituality of Attentiveness" with Dr. Vincent Miller
"The Spirituality of Agriculture" Panel
"Listening and Responding to the Cry of the Earth, the Cry of the Poor" with Sr. CJ Willie, SC
"Knowing and Loving Our Ecological Place" with Sr. Leanne Jablonski, FMI
"Water is Sacred: A Panel Presentation on spirituality, watershed science, and environmental justice"
"Climate Change: What Can We Do? Responding Faithfully to the Call of Laudato Si'" with Dr. John Sniegocki
"Multiplying Our Image of God" Lecture Series 2021-2022
Bellarmine Chapel and Xavier University's Institute for Spirituality and Social Justice provided this engaging series. Explore how we can enrich our Christian tradition, prayers, music, and liturgies by multiplying our language and images of the Holy.
September Lecture "'

God Talk:' A Psychological Approach" with Dr. Don Maloney

October Lecture "God Language in the Hebrew Bible" with Rabbi Jennifer Lewis
November Lecture "Images of the Holy in Buddhism and Indigenous Spiritualites " with Dr. Won-Jae Hur & Dr. Leon Chartrand
January Lecture "Gender, Race, Identity, and God Talk" with Dr. Ashley Theuring
February Lecture "Divine Images Found in the Mystical Tradition" with Dr. Gillian Ahlgren
March Lecture "Revealing the Divine in Art and Music" with Kathy Stockman and Scot Buzza  
April Final Retreat and Discussion
Covid Lecture Series 2020-2021
Our outstanding theology faculty worked together with Bellarmine Chapel throughout 2020 to present events that spoke to our need for connection and conversations of depth over a range of important and timely issues. We have linked these events below as an ongoing resource.
Part 2 of Fratelli Tutti: The Invitation to New Forms of Integrity, Faith and Connection
with Dr. Gillian Ahlgren
Join Bellarmine Chapel, the Institute for Spirituality and Social Justice, and Resources for Renewal for a Zoom-based presentation and dialogue with Dr. Gillian Ahlgren.  Building upon Dr. Ahlgren's first livestream on Chapters 1 and 2 of Pope Francis's recent encyclical, Fratelli Tutti, this talk will walk us through the remaining chapters, with a focus on integrating the challenges and possibilities of solidarity, our only path toward genuine human flourishing.  
Catholicism, Social Justice, and the Elections
Join Sr. Tracey Horan, S.P., Dr. John Sniegocki, and Rev. Deacon Royce Winters for an evening in which we consider some of the justice issues defining this election, including immigration, racial justice, and climate change
www.bellarminechapel.org/elections
EVER ANCIENT, EVER NEW: EXPLORING THE FEMALE DIACONATE
Dr. Anna Miller, Casey Stanton and Luke Hansen, S.J
MODERATED BY: Allison Borden
The topic of the ordination of women as permanent deacons has emerged at three consecutive global synods in Rome, most notably the recent Synod of Bishops on the Pan-Amazonian Region (October 2019) , which formal y requested that Pope Francis reestablish a papal commission to study the topic. Now that commission has been formed, which continues the dialogue and discernment in the church. Join this evening of dialogue about the ministry and leadership of women in the Catholic Church, specifically the history of women deacons and the contemporary practice and theology of the permanent diaconate.
CATHOLIC SOCIAL TEACHING, COVID-19, AND THE PATH FORWARD
With Dr. John Sniegocki
Catholic social teaching advocates economic equity and concern for the most vulnerable, providing a valuable lens for exploring the coronavirus crisis and its effects. Professor Sniegocki will draw on Catholic social teaching to consider the disparate impacts of the Covid crisis and what these impacts reveal concerning the need for structural changes in the United States and the broader world. He will show that Catholic social teaching offers critical insights for the path forward in this challenging moment.
SEMINAR AND RETREAT-IN-PLACE
With Dr. Gillian T. W. Ahlgren
Courage. Insight. Strength. Who doesn't't need these things in today's world? The Institute for Spirituality and Social Justice is pleased to offer a four-week virtual seminar rooted in the Spiritual Exercises.
Facilitated by Dr. Gillian Ahlgren, author of Spiritual Exercises for the 21stCentury: A Workbook, this seminar will empower you with principles and practices to guide your reflection, discernment, growth, goal-setting, and purposeful action. These extraordinary times call for new forms of reflection, solidarity and social analysis that enable us to re- imagine ourselves and our communities. Take four weeks to engage an empowering process that will ground you in hope and give you new purpose in today's world.
The Color of Covid and the New Jim Crow
Conversation with Rev.Damon Lynch, Iris Roley, and Rev. Nelson Pierce.
Moderator: Dr. Adam Clark
In a society that often sees itself as color blind or color neutral, why have the negative impact of Covid-19 been color coded? How do you physically distance in places of confinement? This conversation will address the disproportionate impact of Covid-19 on the African American population and health care ethics within prison systems.
Trauma and Recovery in Time of Covid
Previously Live-Streamed Event
We are in a unique moment, where we are being asked to purposefully isolate ourselves, disrupt our daily routines, and wrestle with the notions of our mortality and the mortality of those we love. Join us for an exploration in the field of trauma theology, in the hopes that what we already know about trauma and recovery can help us survive and thrive in this moment.
THE COURAGE TO CHANGE: WISDOM FROM ASSISI
Previously Live-Streamed Event
Turning to Assisi for wisdom in challenging times, Gillian Ahlgren, theologian, parishioner, and author of The Tenderness of God: Reclaiming Our Humanity, will explore the steps of radical change as Francis and Clare created communities of solidarity, resistance, and creative possibility.
Ethics of Encounter 
Previously Live-Streamed Event
The coronavirus highlights the need to sacrifice self-interest for the sake of the most vulnerable members of our communities. In a crisis like this one, there are temptations to panic, to blame, and to hoard. Long before the coronavirus reached our communities, we have been operating from a framework that presumes scarcity and feasts on cynicism. In this cultural moment, the "culture of encounter" calls us away from self-concern and apathy in the face of others' suffering. We can and should use our digital tools and networks to check in on friends, family, and strangers. We have a special obligation to those who endure social isolation due to age, illness, disability, poverty, and any deprivation that increases insecurity.